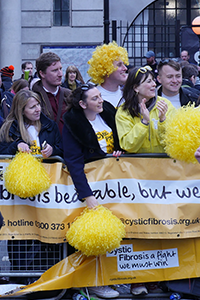 Over 100 runners and an army of supporters took to the streets to represent the Cystic Fibrosis Trust at the Virgin Money London Marathon last weekend.
The runners demonstrated tremendous dedication as they completed the 26.2 mile route around the city of London, with many inspired by or running in memory of a loved one with cystic fibrosis.
The marathon is the top event in the Trust's fundraising calendar, with employees turning out to line the streets with balloons, pom poms and even a samba band. Many runners took advantage of the Team CF post-event hospitality, including some well-earned hot food, a sports massage and the opportunity to experience the gratitude of Trust employees first-hand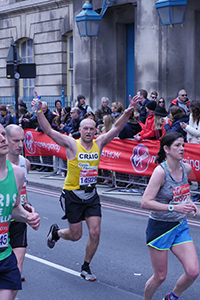 The Trust would like to thank everyone who made it such a special day, from the runners themselves to the supporters on the sidelines. If you were inspired, take a look at the range of marathons you can take part in for the Trust, or start with something a bit shorter like the fabulous Dulwich Park Fun Run, which is still accepting sign-ups for this year's event.
Want to take part next year? The ballot opens on Monday 2 May for just five days, so don't forget to enter!