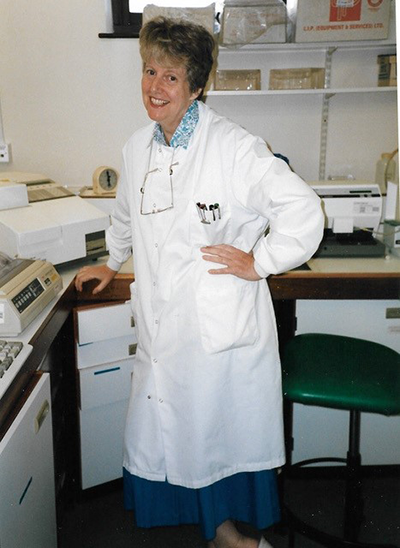 In memory of Mary Heeley, we wanted to share a feature from a previous edition of CF Life on the newborn screening programme and its incredible impact. We join the whole CF community in mourning Mary's death and our thoughts are with her family and friends at this time.
A true pioneer
Anthony and Mary Heeley are both retired clinical biochemists with a special interest in inborn errors of metabolism (rare genetic or inherited disorders, like cystic fibrosis). They have been married for 59 years and met when they were working in neighbouring labs as research fellows in London. They were the pioneers behind the world's first regional screening programme for CF, established in 1980 in East Anglia.
The importance of early diagnosis for babies with CF was first recognised by Dr Harry Schwachman, a paediatrician at Boston Children's Hospital in the 1950s. He realised this would provide the best possible outcome for children to receive the necessary support they needed. However, at the time, no neonatal screening test had been developed.
Anthony recalls, "There had been a screening test before immunoreactive trypsin (IRT) [the test used to screen for CF in newborn infants] which was undertaken by midwives in the delivery ward or at home. It measured pancreatic insufficiency, but many CF infants were born without pancreatic involvement so there was a huge population that were not detectable by screening. So, our task in the lab was to prove that there was a screening test that would detect all cases of cystic fibrosis.
"By the time the laboratory had moved from Cambridge to Peterborough in 1976, we had got into the second phase of newborn screening, which was for congenital hypothyroidism. For this we had to deal with a difficult technology for use with dried bloody spots, and this experience was singularly important for what followed.
"In 1979, a paediatrician rushed into the lab with a report from researchers in New Zealand who had been measuring the pancreatic protein trypsin in the blood of CF newborns. They had found, to their surprise, that trypsin was actually elevated in the blood of CF newborns. We were very fast out of the trap following this up, and with some research funding, followed by support from Cystic Fibrosis Trust, we got the first regional newborn screening service going in early 1980."
"The funding from the Trust was very, very important," says Mary. "In fact, it would not have got off the ground without the support."
Changing the CF landscape
It was through this newborn screening that Polly was diagnosed with CF – the first baby to officially be diagnosed through an established screening programme.
"I consider myself lucky," she reflects in her feature for CF Life. "If I had been born 100 years earlier, my illness would not have had a name, let alone a treatment of any kind. Knowing that I had CF, pretty much from birth, meant that it was just a part of my life. It meant that my parents could put into place everything they possibly could to ensure they looked after me in the best way possible."
It also meant paediatricians like Dr Jim Gould – Polly's childhood doctor – could offer better support to families at an early stage. "Experience from before the times of screening show that quite a few children did not survive their first birthday," explains Jim. "That changed as diagnosis was made earlier – we could offer nutritional and physiotherapy support, and start the early use of antibiotics, and giving a relatively good prognosis became almost the norm."
After East Anglia became the very first region in the UK to fund neonatal screening for CF, it took another 20 years for it to be rolled out across the rest of the country. In April 1996, the Trust launched a campaign for all babies to be tested for CF as part of the newborn screening programme. At the time, 80% of babies were not tested for CF, with only a small number of health authorities offering testing. A quarter of children were over 18 months old by the time they were diagnosed.
A community campaign
The CF community drove the campaign, writing to and meeting MPs, talking to the media and sharing their views through a major Trust survey. It was not until 2007 that an expanded screening programme was rolled out across the whole of the UK, but it has changed the way CF is understood and cared for forever.
Dr Anjay Pillai, Consultant in Paediatric Respiratory Medicine and director of the paediatric CF service at the Jenny Lind Children's Hospital in East Anglia, says, "Before newborn screening, children were usually diagnosed later in the course of the illness, when they presented with symptoms. This screening now detects nearly 97% of cases within two weeks of birth and provides an opportunity for early intervention and preventing complications. Together with specialist multi-disciplinary care and multiple medical advances, this has significantly improved outcomes and markedly enhanced life expectancy for people with cystic fibrosis."
Feature published in November 2020
"We were very sorry to hear news of Mary's death. The introduction of nationwide screening of newborns for cystic fibrosis has had a major impact on the wellbeing of people with CF and reduced the anxiety and uncertainty many parents felt when their children had symptoms due to undiagnosed CF. The pioneering work of Mary in the early 1980s was central to the subsequent development of the UK wide programme. Our thoughts are with Mary's family and friends at this time."


Keith Brownlee, Director of Medical Affairs at Cystic Fibrosis Trust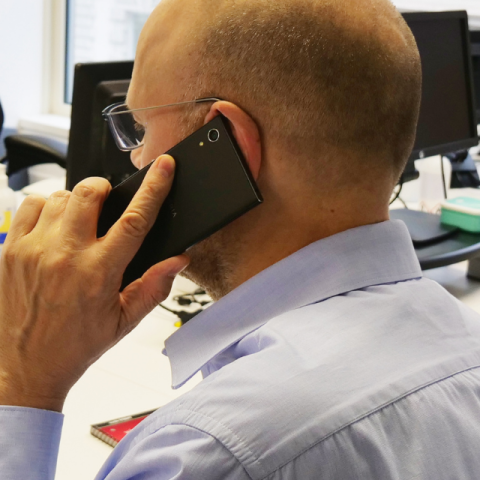 Here to help
Our friendly Helpline team are here if you need us - whether you're looking for information, support, or just someone to talk to.