A week in the life of... Sean
We asked Sean to talk us through his weekly exercise routine and tell us what keeps him inspired to stay active. So whether you're training for this year's London Marathon or just looking to improve your fitness, Sean has loads of useful tips that can help you to keep fit and healthy.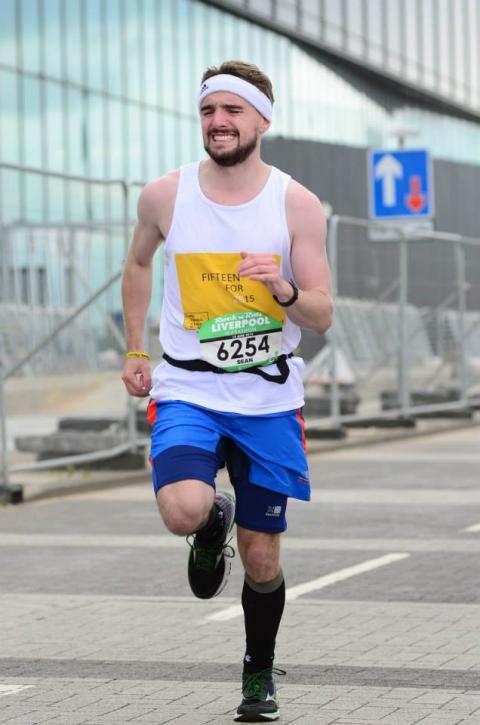 CF, exercise and me
As I am sure you have been told by your doctors, exercise is a great supplement to your everyday treatment plan, and can make a huge difference to your overall health. I have cystic fibrosis and exercise is a HUGE part of my life.
I feel quite fortunate in the sense that I am in relatively good health and I tend not to let my CF get in the way of what I want to do. I have led an active lifestyle from an early age and have always kept fit doing whatever activity takes my fancy, from hockey to cycling or running to weight training. It's been of massive benefit to me in terms of my health, helping to keep my lung function where I want it to be and removing some nasty mucus along the way.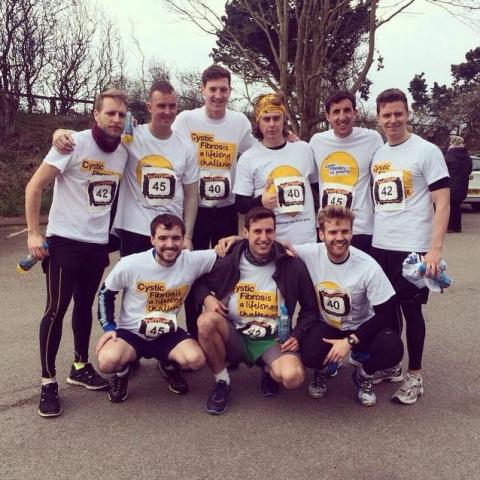 Starting in 2015, I decided that I would use my ability to keep fit to raise some money for the Cystic Fibrosis Trust while promoting an active lifestyle among people with cystic fibrosis. So I started the 'Fifteen for '15' campaign whereby myself and my motley crew of friends and family signed up to 15 different events throughout 2015, which included the Liverpool Rock 'n' Roll Marathon, the Coast 2 Coast Cycle and the Yorkshire Three Peaks Challenge to name but a few. The year was a complete success and we managed to raise over £14,500 (£9,500 over our target).
After a year off, I have decided to resurrect the campaign and take it to the next level, trying to raise £30,000 by the time I hit 30 (November 2020) whilst encouraging as many of you as possible to get active along the way. So, what better way to do it than to give you an idea of what I do in a typical week? To try and give a few pointers and a bit of inspiration, I kept a diary of the exercise I'm doing, and for each day I've got a top tip for how you can increase the amount of physical activity you're doing.
My week
Monday
Everyone's favourite day of the week… perhaps not if you're working or you've got school or college to go to, but having some form of exercise is always something for me to look forward to. I work full time, so I have to fit my treatment and exercise in around my day job.
I start my day with a short cycle to the train station and from the train station to the office. Nothing too strenuous, but a good 20 minutes on the bike is a great way to wake up every morning.
If I've had a fairly inactive weekend, I'll also go to the gym on my lunch hour. If I've been busy at the weekend however, I'll give that a miss and save my energy. It's important to listen to your body.
Monday night is football night. I've been playing six-a-side for a number of years now, every Monday night. It's a great way to get your body working and because you're playing football, you don't realise how much running you're doing!
Top tip: You have to travel to and from work/school/college anyway, so why not fit in some exercise? Walking or cycling can be an easy way to get from A to B, increase your heart rate and get your lungs working a bit harder, making it easier to clear your chest.
Tuesday
I'm going out after work today so I had to drive in, which meant no cycling.
As long as work permits it, I always try to go to the gym on my lunch hour at least three out of five working days a week. At the gym I will mainly do weight training and core stability exercises.
Top tip: A common barrier that prevents people from exercising is having the time to do so. If you've already got a busy schedule, it isn't always easy to fit in exercise or physical activity. Using your lunch hour can be a great way to fit it in without adding any time on to the start or the end of your day.
Wednesday
It's back on the bike today for a 20 minute cycle to work, split up by the train ride.
Again, work permitting, I go to a circuit training class at lunch time. I don't stay for the whole class as it's a struggle to fit it in my lunch hour, but I make sure I do at least half an hour of it. Although the idea of circuit training can be quite intimidating, it is a great way to exercise. It gives you a full body work out, you can work within your limits, and it's a great way to meet new people who you can exercise with – it is always easier to exercise if you're going to meet a friend.
Another weekly regular is badminton. About a year or so ago, a group of friends and I decided to go along to our local sports centre and book a badminton court and we've played every week since. It's a cheap and easy sport to get involved in (my first racquet cost £5) and court hire is around £12 (split between 4-6 players). It's another fun way to get active and much more entertaining than simply going for a jog.
Top tip: It's important to vary your training or your exercise. This keeps it interesting and is more likely to keep you coming back for more. Keeping it varied will also help you improve your overall fitness and strength. For example, you use your core in pretty much every form of exercise, so if you improve your strength here, it's amazing what a difference it will make.
Thursday
As well as the 20-minute cycle to and from work today, I play squash at lunch time. Apparently the healthiest sport (according to Forbes magazine in 2015), squash is one of the best ways to increase your fitness levels. I've only recently started playing and absolutely love it. It's another easily accessible sport as long as you've got a partner to play with, and court hire generally seems to be under £10 for 40 minutes.
Top tip: Do what you enjoy. From years of playing all sorts of sports at different levels, the best advice I could give to anyone who wanted to be more active is to find things you enjoy doing and stick with them! My favourite thing is cycling but I've got a list as long as my arm of what I enjoy doing. If you force yourself to do something you're not enjoying it just becomes a complete chore and it'll be harder to stick at it. If you're looking at joining a club or a gym, ask about a taster session and make sure you enjoy it first.
Friday
My Fridays are usually shaped by what I've done during the week and what I'm planning over the weekend. So if I've had a heavy week and done a lot or if I'm planning a big cycle or run at the weekend, I'll have a light Friday. The session of squash yesterday has left my legs feeling particularly heavy today so the cycle to and from work is the sum total of my activity today.
Top tip: Listen to your body. One thing that probably every athlete has been guilty of at some stage is over-training. I have definitely done this on numerous occasions and whilst there are dangers for everyone with this such as injury or fatigue, as someone with CF it can often be even worse. If I'm heavily fatigued, my body struggles to cope and seems to leave its guard down. This means I'm much more likely to pick up a chest infection, which can lay me out for a couple of weeks. If you think you might be too tired to do something then you probably are, so rest and let your body recover and you'll only need a day or two off instead of a week or two.
Saturday
With the next lot of major events I'm taking part in coming up in the summer, it's important that I start training now. So today I went on a 30 mile cycle and was out for just under two hours. It's not a huge ride but it's enough to work my legs and my lungs. It's still early in the season and a few months before the first serious event so I don't want to burn out too soon.
Top tip: Set yourself goals. Whether you are an active person already or whether you are just starting out, it's good to set yourself some goals. Whether it is an event you want to compete in or a time you want to complete something in, it makes it so much easier to get active and stay active with that goal in mind. Do your research and make sure your target is achievable but is something that will push you outside of your comfort zone.
Sunday
Again, depending on how I'm feeling and what I've done the day before, I may use Sunday as a rest day or I may do a small amount of exercise. After a pretty strenuous few days, I decided to use today as a rest from strenuous exercise but did go for a walk for a couple of hours in the afternoon.
Top tip: Little and often. If you're just starting to get active and do more exercise, make sure you don't overdo it at first. You may well be full of energy but if you push yourself too hard at the outset, you'll end up having to take a week to recover. By doing short bouts of exercise regularly, you'll build your fitness quicker and be able to go for longer and longer as well as decreasing the time you need to recover.
If you want to see more of what Sean is doing for his 30 for 30 challenge, take a look at his blog.