Alan leaves lasting legacy inspired by young friend Edith
Edith was born in 2008 and was just two and a half weeks old when her parents received a call from the hospital to say they needed to go in the next day.
Edith's mum Anita said: "We have no family history of CF, so receiving Edith's diagnosis was the first we knew of the condition. It was a total shock."
When they received Edith's diagnosis, the family were living on Brownsea Island off the coast of Dorset, which has only 28 permanent residents and a thriving tourist community that visit the island by boat every day.
The family's house overlooked the jetty, and this would come to be where they made a relationship that would last a lifetime.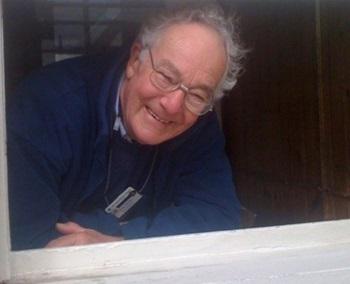 The double act
Alan and his friend Gerry volunteered on the island and assisted on the boats that ferried tourists and residents back and forth every day.
Anita said: "They were a bit of a double act, both bouncing off each other and always having fun with the Islanders and Customers. They were both also such down to earth people, always wanting to help. Alan was always so lovely with Edith, and so sad for her when we got the diagnosis. We developed a really strong relationship with him."
Edith's dad, Trevor, said: "I would really look forward to the days that they were both on the pier and I loved having time to sit and chat before the customer boats rolled in. Conversations were always heartfelt and fun."
Gerry fondly remembers when "this special couple" arrived on the island. He said: "They had the great gift of bringing the island residents together. Then came the amazing, funny little Edith. Ask anyone on the island and you'll hear lovely stories of the family."
There were hard times over the following couple of years as the family adjusted to Edith's diagnosis.
"I often felt resentful of other families who weren't going through the same journey and a lot of stress at the thought of having more children. Alan was an absolute rock during this time," Anita recalled, "he was always there for me, especially when we fell pregnant again with Eric, helping me to step off the boat, often with arms full of shopping! He understood how hard it was for me, and he was there for me and my family in a very tough time."
Blown away
When Edith was four years old Alan stopped working on the boats, but Edith ended up going to school near to the bungalow where he lived and the family continued to see him regularly.
When the family moved away, Gerry said: "Alan was, as were we all, very sad when they left the island for a better future."
Three years later the family were blown away to hear that Gerry, now one of the Trustees of Alan's estate, had chosen to leave some of the money to the Cystic Fibrosis Trust, inspired by the close relationship that Alan had had with Edith and her family.
Anita said: "The whole family cried, including Edith. She remembers the man on the jetty and how nice he was."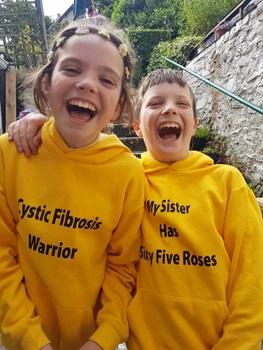 Fundraising superstar
Over the years Edith herself has got involved in fundraising for the Trust and raising awareness of cystic fibrosis whenever she can.
Anita said: "She's done a couple of presentations to her class on CF, and she even held a CF night and fundraising event at her swimming club where she got her mates from the club to swim lengths breathing through a straw and blow up balloons using snorkles!
Edith's school has also chosen the Trust as their charity of the year for two years running, and Edith's family have taken part in a number of events to help raise funds to fight cystic fibrosis. These include two sponsored walks and a family three peaks challenge. Including the money raised through the school, the family have helped to raise over £8,000 to date for the Trust.
When speaking of her hopes for Edith, Anita said: "Edith is a warrior, and while I never want her to lose the fight, I don't want her to feel the battle either. I want her to live her life as a warrior, but not to feel like she's in a war. I hope that she continues to stay ahead of it all, and never feels the burden of cystic fibrosis."
Gifts like Alan's help us to grow a better future for people with cystic fibrosis for years to come. You could do the same by taking advantage of our Free Wills Offer before the end of September and considering including a gift to the Trust in your will.