Benefits and the burden of care: Tyler's story
As many people with CF and their families will know, applying for benefits when you have an 'invisible' condition can present a number of hurdles, most significantly assessors underestimating just how much of an impact it can have on your life.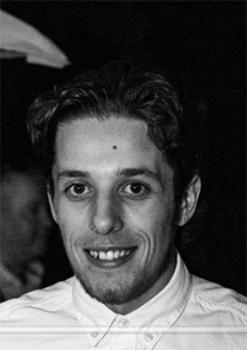 Tyler's story
Tyler is 23 and has CF, but he wasn't diagnosed until he was 10 years old, something he thinks has caused him challenges from the start.
"I think because of this I've always struggled taking meds and doing therapy," Tyler says. "I was just going into secondary school and felt conscious of being different. I relied, and still do, on family and now my girlfriend for support and encouragement."
Tyler received Disability Living Allowance (DLA) but around his 19th birthday in 2015 he was informed that he would have to apply for PIP, which would be replacing DLA. The forms used to apply for PIP were very different to those he had used for DLA, so Tyler and his mum Gaynor contacted the Cystic Fibrosis Trust for help filling them out.
When Tyler received a decision, he found he had been refused points on an area of PIP that has posed particular issues for people with cystic fibrosis. 'Activity 3,' which is covered in question five on the PIP claim form, considers the ability of the applicant to "manage therapy or monitor a health condition," and depending on the applicant they will receive between 0 and 8 points for this activity. In Tyler's case, this could mean the difference between receiving £58.70 per week or no benefit at all. Tyler received 0 points for this activity and said that the assessor felt that "as I was driving a car, I had the cognitive skills to complete these tasks without help from anyone else."
Receiving 0 points on this activity meant that Tyler didn't have enough points to qualify for PIP, so lost his benefits completely. He was supported by the Trust in asking for a mandatory reconsideration, and then an appeal, and eventually received a date to attend a 'First-tier Tribunal', which deals with appeals against benefit decisions.
In preparation for the appeal, Tyler and Gaynor worked with Sangeeta, the Trust's Welfare and Rights Advisor. Tyler says: "She guided us through the next step and gave me an idea of what to expect at the hearing. When attending the hearing we were told that their questions weren't intended to mislead us, but I felt they did. I was asked about my education, when and how I get to work, do I go on holiday... I felt the way they asked wasn't directly related to my CF and treatments."
After the hearing Tyler was awarded four points, two for cooking, and two for managing treatments, but he needed at least eight points to receive PIP.
Taking it to the Upper Tribunal
Gaynor got back in touch with Sangeeta, who investigated further and found that Tyler had grounds to appeal to the 'Upper Tribunal,' which deals with appeals against decisions made at First-tier Tribunals.
Sangeeta says: "Appeals to the Upper Tribunal have to be based on points of law. In other words, you have to say more than that you disagree with the decision, you have to show that the tribunal made what is called an 'error of law'."
Errors of law include things like the Tribunal getting the law wrong or misinterpreting it, failing to take account of relevant facts, or taking into account facts which it should not have, and not properly explaining its reasons for how it arrived at its decision.
Sangeeta believed that the Tribunal did not apply the correct legal test in relation to Activity 1, which is about cooking, and that it failed to give adequate reasons for how it arrived at conclusions in relation to Activity 2, which is about nutrition, and Activity 3.
Tyler had submitted a detailed diary of the help he needed with his therapy to the First-tier Tribunal. Sangeeta says: "I felt that the Tribunal had not shown why certain parts of Tyler's therapy should be managed by himself and why they disregarded the hour's help a day that he received from his mother."
Before the Upper Tribunal even took place, the judge working on the case decided that it was "complex in nature and had potentially wide implications," so called for an oral hearing as well to allow all parties to make their submissions more fully. Tyler was advised to get legal representation, and barrister Tom Royston, from Garden Court North Chambers, and Child Poverty Action Group, agreed to work on his case for free.
Errors of law
Just before the oral hearing, the Department for Work and Pensions (DWP) agreed there had been two or three errors of law in the decision made about Tyler's PIP claim. This meant that Tyler's appeal to the Upper Tribunal was successful, but it would now be down to the judge to decide how his PIP entitlement should be decided, as this is a decision usually made by the First-tier Tribunal.
The matter of how the DWP should interpret Activity 3 in future cases still needed to be considered by the judge, so the Upper Tribunal went ahead.
Tyler's social worker, Eileen Reynolds, who works at King's College Hospital, attended the tribunal.
Eileen says: "Everybody acquainted with CF understands how hard treatments are to adhere to, especially when feeling below par. But the DWP pursued a line of thought which said something like, 'these patients are not usually mentally impaired, therefore they can understand what is required to do treatment. They are also not physically impaired, so there is no obstacle to them carrying out treatment'"
At the Upper Tribunal, the only people to speak were the judge and two barristers: Tom representing Tyler and another barrister representing the DWP. Gaynor, members of the Trust and CF professionals from around the country watched in the public gallery.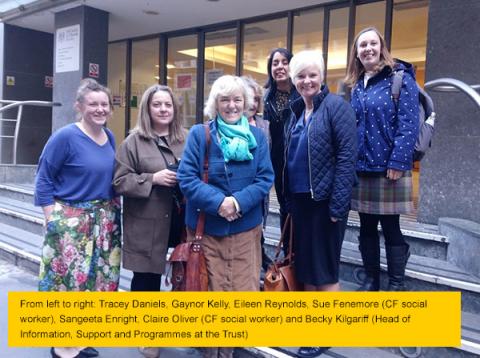 Reassured from the start
Eileen was reassured by the judge's assessment of CF from the start: "She said she didn't see how even a healthy person could sustain such a burden of treatment consistently, which seemed promising."
Gaynor was apprehensive about attending the Upper Tribunal, but was glad that she did: "It wasn't the daunting experience I had expected, but instead very interesting, particularly hearing the arguments from both sides."
At the end of the day, the judge asked that several further statements and counter statements be made in writing before she gave her judgement about Tyler's case and the overall question of Activity 3 and how it relates to people with cystic fibrosis.
Tracey Daniels, a CF physiotherapist at the York and Hull Adult Cystic Fibrosis Centre, was also able to attend the tribunal, and helped Sangeeta to submit a more detailed case about Activity 3 to the judge.
Tracey says: "Physiotherapists are well placed to do this as we tend to be the people who prescribe these treatments and who teach the practicalities and develop routines alongside people with cystic fibrosis. Sangeeta and I were able to clearly describe the need for support with the complex and burdensome treatment routines needed for people with cystic fibrosis."
The judge's decision
In February this year, the judge gave her decision. Firstly, she found that the First-tier Tribunal made an error of law in relation to Activity 1. She then went on to deal with Activity 2, which relates to nutrition. Needing a 'special diet' isn't usually considered to be a reason to score points under PIP, but the judge decided that if someone needs to eat a lot repeatedly, due to a medical condition, they may need help to do so, and therefore could claim points under that activity.
She then went on to discuss Activity 3, which relates to how much help you need managing your therapies. Decision-makers often decide that this doesn't apply unless the individual has a mental or cognitive impairment that stops them from doing their treatments. The judge decided after hearing about the condition from CF specialists in this case, that people with CF are usually required to complete burdensome but essential treatments, which they may need help to complete. In her opinion, if they need this help, this should mean they should score points in Activity 3.
Martin Williams, a Welfare Rights Worker from Child Poverty Action Group, praised Tyler and Gaynor and the CF professionals that helped make this decision happen: "The presence at the hearing of our client's family members and carers, along with so many CF social workers and other experts visibly demonstrated the importance of this issue to people with cystic fibrosis and their families."
Tyler's lawyer Tom said: "It makes a real difference to the outcome of important test cases like this when expert organisations like the Trust are able to contribute their expertise."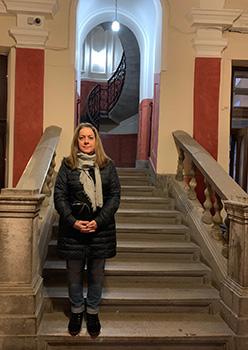 On your side
While Tyler will have to have his own case heard again, Sangeeta is hopeful that the outcome is more likely to be positive now that these new interpretations have been made legally binding. Tyler and Gaynor's persistence in taking Tyler's case higher up the courts will also have a huge impact on people with CF applying for PIP now and in the future.
Despite these decisions, in practice it might take some time for decision-makers to apply them, and Sangeeta encourages anyone applying for PIP to speak to their CF social worker or contact the Trust's Helpline for support in making sure they present all the relevant information in their own applications for PIP.
Gaynor says of their experience: "We would never have been able to do this without the help and support from Sangeeta and the Trust, throughout this whole process.
"Unfortunately, the people that do the assessments for PIP have very little or no knowledge of CF and how it impacts people's lives both physically and mentally, and not everyone is affected in the same way."
Sangeeta is hopeful for the future and encouraged by the help and perseverance of all involved.
"All it takes is a few dedicated people to care and work together, and we can make a big difference," she says. "People with CF should know they have all these people on their side."
Read more about this case here. If you are applying for benefits or think that these changes might impact your application, email our Helpline at helpline@cysticfibrosis.org.uk or call 0300 373 1000. Please bear in mind that due to the current COVID-19 situation we are receiving a large number of calls and our lines are busier than usual.