As part of Activity Unlimited, the Cystic Fibrosis Trust's programme investing in improving the lives of people with cystic fibrosis through exercise and activity, we have been working on CF Fitness Space, a group of videos demonstrating safe exercises that can help to improve your fitness from the comfort of your home.
With the help of Rebekah Mills-Bennett, a specialist CF physiotherapist, and Steve Howard, a personal trainer, we have put together this online fitness space designed for people with cystic fibrosis of all ages and levels of fitness.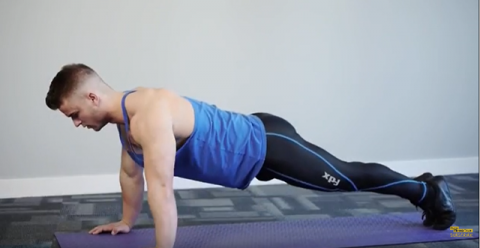 Take control of your health
Joe Tonge and Sophie Holmes are two young people living with cystic fibrosis who are passionate about fitness and agreed to feature in our exercise videos. Joe is a barber and weight trainer and one of our 'Activity Unlimited Ambassadors', and Sophie is the star of our 'Breathe – Life Unlimited' video.
Sophie said, "I take control of my health because if I don't then my CF will take control of me. If I just sat still my health would plummet very quickly."
Investing in you
As part of this programme, the Trust has also invested £750,000 into ground-breaking research into physical activity led by Professor Craig Williams at the University of Exeter. This Strategic Research Centre will explore how to best prescribe exercise to people with CF in a way that is potentially safer and more beneficial than a standard exercise programme.
There will be opportunities for people with CF across the country to get involved in this research as the project develops.
CF Active Scotland
In addition, the Trust has established a partnership in Glasgow with Kelvin College and Queen Elizabeth University Hospital. This project will assess the benefits of an exercise programme supported by a personal trainer for people with CF, and is being overseen by CF physiotherapist Lisa Morrison and Kelvin College tutors, with the assistance of Paul Rymer at the Cystic Fibrosis Trust. The idea for this exciting programme came from Kelvin College sports student Kieran Innes, who has cystic fibrosis. Kieran and his family have supported the Trust to steer the project and will continue to be involved throughout.
Keith Brownlee, Director of Impact at the Cystic Fibrosis Trust said: "Being physically active has important clinical benefits for people with cystic fibrosis, including improved lung function, aerobic fitness and lung clearance. Despite this knowledge there is limited evidence in this area and as such, we're delighted to be investing in these research projects to explore the benefits of activity further, and we look forward to sharing the results."
We will be adding to our CF Fitness Space in the coming months – watch Joe breaking a sweat in our push up, front squat, and burpee videos, and keep checking back for more exclusive content!
Projects like our CF Fitness Space are made possible by you - donate now to help people with cystic fibrosis to live a life unlimited.