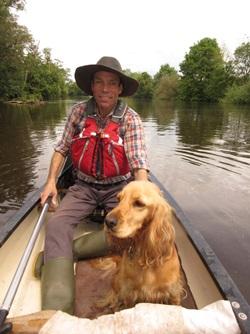 Having reached the dizzy old age of 54 living with CF, I'd like to share a few thoughts on my experiences of trying to keep some balance in my life.
I live on the Wirral with my wife Kathryn and we have a lively cocker spaniel called Molly, who keeps us fit and provides a good dose of sanity every day. The main things I enjoy in life include walking in the countryside, canoeing, maintaining my elderly Series 3 Land Rover, DIY tasks around the home and spending time with family and friends. I worked as a computer programmer for many years but decided to retire early in order to manage my health better.
In the last 10 years, living with CF has become more challenging as I have developed CF-related diabetes and use portable oxygen for strenuous walking. However, it's all been manageable, and I've been very fortunate and extremely grateful to have been looked after by a team of dedicated people at the Liverpool Heart and Chest hospital for many years, and all aspects of the care they provide are of an exceptionally high standard.
Tips for finding balance
Over the years I've found that managing the condition is about trying to balance living for what you enjoy in life and doing all that's deemed necessary to stay well. Finding or even getting close to this balance point is the key to staying reasonably healthy in both body and mind.
Daily treatment
A lot of time is consumed with daily treatment tasks such as nebulisers and physio, on top of which there are sometimes home IVs and possibly periods of being an inpatient, all of which can add up to many hours a week. It's therefore worthwhile trying to 'dual process' where possible, using the time that you need to be on your nebuliser, for example, to plan your next holiday or read up on something that you are working on, or whatever you can make progress on. This approach helps to recover some time and addresses the balance a bit.
Exciting new developments are happening in the treatment of CF, in the form of CFTR modulator drugs, which are already starting to change for the better many aspects of the condition and how it is managed, all of which will hopefully reduce the burden of care in the near future and give a better balance to life, which is really great news for many people.
Exercise
When it comes to daily exercise, which is a key component of staying on top of the condition, choose an activity or activities that you enjoy doing, so that you actually look forward to it each day and this way it doesn't feel like a chore, which again helps to balance things up.
Being careful in terms of what you choose to do or not do comes into play all too often and increasingly so as you get older, but you can still achieve a lot by thinking ahead, establishing some routines and avoiding obvious hazards. At the moment of course, heightened social distancing means that getting out and doing things is very difficult, so home-based activities are best, but at least technology is proving useful, allowing us to still be sociable online. Buying shares in Zoom might prove to be a good investment!
Maintaining good relationships
Keeping family, friends and colleagues informed about your situation is a generally a good idea, as it promotes understanding and smooths the way for maintaining good relationships. I've been very lucky on this front for many years, as everyone, not least of all my wife Kathryn, has kindly been prepared to accommodate my various issues, concerns and limitations – not without a degree of comment and stick at times of course, but this good humour just helps to keep everyone sane!
Check out more stories of balance or share your own on social media with the hashtag #balancingCF.
We are facing a substantial drop in our fundraising income, at a time when we're seeing an enormous increase in demand for our services. Please consider making a donation to help us continue our work to support people with CF.