CF7: Changes to shielding guidance, the Big Yellow Quiz, and more
1. Changes to shielding guidance
Last weekend the Government announced changes to the shielding guidance, stating people in the clinically extremely vulnerable groups could go outdoors on their own or with household members, or if they live on their own, could meet up outdoors with one other person. The guidance applies in England and Wales. This week the Welsh government announced an extension to shielding, and we expect an update in Northern Ireland soon. Shielding in Scotland is due to be reviewed on 18 June and further info will be communicated 'in advance'. Find out more. 
2. Recipe inspiration from #CFChefs 
We've been working with the fantastic chef Luke, who has cystic fibrosis, on some easy recipes that you can make with the contents of your cupboards or even taking inspiration from the government food packages.  
Watch Luke's video and head over to the @thecfrecipebook Instagram account to see their recipes in action and share your kitchen creations with the hashtag #CFChefs.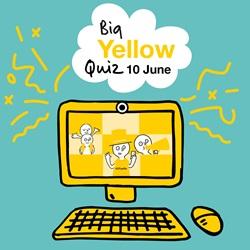 3. Get your team together for the next Big Yellow Quiz!  
We held the first of three Big Yellow Quizzes this week on Facebook Live. At the height of the quiz, 181 teams joined in as Quiz Master Oli Dillon tested their quizzing skills with questions on pop culture, yellow, space and general knowledge. Oli, who featured in the Trust's Oli and Nush video when he was younger, chatted along to the teams during the quiz. The quizzes are free to enter, with teams making generous donations to the Big Yellow Party and Quiz Facebook fundraiser and raising the current total to over £1,200.  
Oli will be quizzing live again on Wednesday 10 June from 7.30–8.30pm, so do join in the fun on our Facebook page. 
4. Thank you to all our volunteers! 
This week is Volunteers' Week and we want to say thank you to all of our volunteers throughout this last year, from cheer crews to campaigners across the UK. We appreciate all you do for the Trust and for everyone affected by CF. Find out about volunteering for the Trust.  
5. Surveys to capture your experiences of shielding 
The coronavirus (COVID-19) pandemic has meant huge changes to day-to-day lives particularly for the CF community, who have all been affected by the Government advice to shield. We have been working with two research teams to develop surveys that capture the experiences of people who are shielding. Find out more and take part in the surveys. 
6. Frequently asked questions on face masks 
On Thursday, it was announced that face coverings will be compulsory on public transport in England from 15 June. We've also received lots of questions about whether people with CF and their families should be wearing masks if and when they leave the house. Take a look at our FAQs on face masks to help you make a choice about whether to use them.  
7. In the news: people with CF speaking about shielding 
People with CF have featured in the national media discussing their thoughts on the Government's shielding advice. Danielle Henshall was interviewed on Radio 4's Today programme last Friday morning to talk about how life has been while shielding, and how she would like more guidance from the Government. You can listen here – the piece starts at 1:37:00. 
Michael Winehouse was interviewed on Channel 4 news last Friday evening to discuss how shielding during this time has impacted him and his family, and the uncertainty they face going forward. You can watch it here. 
If you'd like to give us feedback on this new blog, please get in touch by tagging us on Twitter and using #CF7.