Composer takes concert to the clouds for cystic fibrosis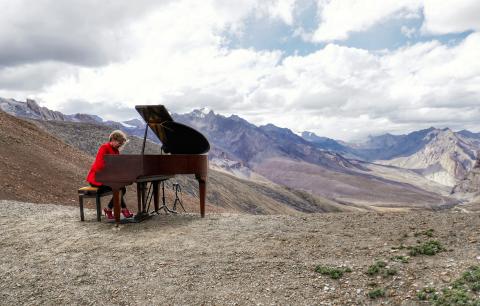 Concert in the Clouds, a team of musicians and explorers, has raised an incredible £7,500 for the Cystic Fibrosis Trust by taking a piano 4,800 metres up into the Himalayan mountains where they performed a record-breaking concert under a concert hall built out of plastic bottles.
One of the pieces performed during the concert was composed by 28-year-old Alex Stobbs from Kent in England, a composer and musician with cystic fibrosis. Alex based his composition on the music of famous 19th century composer and pianist Frédéric Chopin, who some people believe might have had cystic fibrosis.
The team started the challenge to demonstrate the breathing difficulties people with cystic fibrosis encounter every day of their lives, which can be simulated by high altitudes.
As well as raising awareness of the condition, the team built an environmentally friendly concert hall from plastic bottles, where their performance was held. The team wanted to show that plastic bottles can be used as a strong building material, and to raise awareness of the issues with waste in India.
During the live performance, musicians played music by Alex, Janet Harbison, Anne O'Farrell, Frédéric Chopin and Evelina De Lain. The musicians were Neil Latchman, Siobhan Brady and Evelina De Lain. For further information on the performers visit Concerts in The Clouds.
The idea was originally brought to life by Desmond Gentle of Camden Piano Rescue, an eccentric piano tuner with a passion for inventing exciting ways to raise money for worthy causes.
Of his trip to the Himalayas, Desmond said: "I was shocked to find myself go from a strong and independent individual to being someone who had to measure every footstep and fight for every lungful of air." 
Today, the piano has been donated to the Students' Educational and Cultural Movement of Ladakh, an organisation based in the region the concert was performed and founded in 1988 by a group of young people with the aim of reforming the educational system of the area.
For updates on Concerts in the Clouds visit their Instagram .
Feeling inspired to create your own creative event for the Trust? Head over to our fundraising page and find out how you can make a difference to people with cystic fibrosis.