Motorsports-mad Chris wins Dragon's Den backing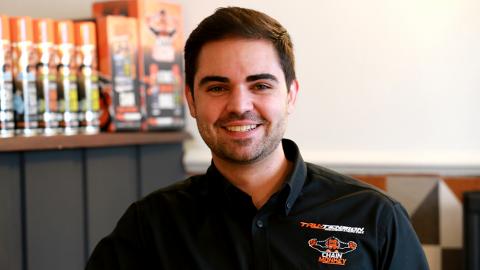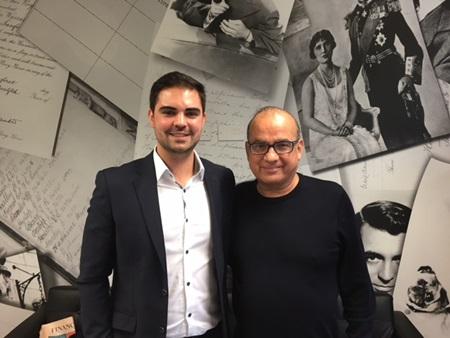 26-year-old Chris, a young inventor from Nailsea in Bristol, founded Tru-Tension in 2015 when he designed and developed the world's first precision chain tensioning tool, 'Chain Monkey'. Chris' company now produces a wide range of products, from tools and cleaning products for commuters and adventure bike riders, to lubricants and accessories for high-performance racing.
Chris said: "I was completely thrilled that Touker Suleyman agreed to back Tru-Tension. With his investment, we'll be able to expand the brand significantly and branch out to new retail partners. Tru-Tension products will now be available in over 300 Halfords stores from April which is a fantastic partner for the company. From there I want to expand into the cycling industry under the Monkey-themed branding to provide lubricants, cleaning products and tools to the everyday cycling enthusiast.
"It was such an amazing and exciting experience pitching to the Dragons. Being on the show has given my brand and range of products more exposure than a small business that started in a garage in Nailsea could possibly imagine! After three years of hard work, it was amazing to see my unique products on one of the biggest business shows in the world."
Bright ideas
Wowing the Dragons isn't the first time that Chris has won over a panel. In 2017, Chris impressed the Cystic Fibrosis Trust's Helen Barrett Bright Ideas Awards assessment panel with his application for funding to take his products to the American market and was awarded £1,000 to make his dream a reality. The Bright Ideas Awards were established in memory of Helen Barrett, a successful entrepreneur with CF who set up a gym that is still thriving today, and provide funding to people with CF with budding business ideas.
In an interview in the last issue of the Trust's magazine, CF Life, Chris said: "My dad and friends were keen that I applied for a Bright Ideas Award so that I could fund my trip to the USA and help demonstrate what can be done even when coping with cystic fibrosis. The trip was a huge success, and I have now secured one of the largest motorcycle distributors in the country who will distribute the brand nation wide. All of this would not have been possible without the Bright Ideas Award, and I will always be grateful for the amazing opportunity."
A life-long passion
Chris' love for motorcycles started at age five, and by eight he had started racing karts and dismantling anything mechanical that he could get his hands on, most impressively his grandparents' lawnmower engine.
"That didn't go down too well when they wanted to mow their lawn and I couldn't work out how to put it back together!"
By the time Chris was 16, he had saved up enough money to enter himself into a national kart-racing championship, where he was seeded 18th in the country. He designed his first product, Chain Monkey, after hearing his mechanic using "some very choice words when trying to achieve the correct chain tension". Using his own money, Chris developed his motorcycle chain-tensioning product in 18 months and launched it in 2015. In three years, he has expanded the brand to nearly 14 products.
Are you an entrepreneur with cystic fibrosis? Think you've got an idea that could benefit from funding? Applications for the 2018 Helen Barrett Bright Ideas Awards are opening shortly, so keep an eye out! In the meantime, check out last year's inspiring winners.