Five things our CF researchers are working on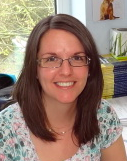 1. Understanding the impact of newborn screening
After heavy campaigning by the Trust and the CF community, from 2007 onwards newborn screening for CF has been available across the UK (and from 2003 in Scotland). This means that babies born with CF and their families can get the right help and support as soon as possible. 2007 was also the year that the Trust began to host and maintain the UK CF Registry.
Dr Daniela Schlüter is working on the CF-EpiNet Strategic Research Centre (SRC) and using UK CF Registry data to understand more about when and how health inequalities in CF arise. As part of her research she is investigating what effect the newborn screening programme has on the health of young children. Earlier research has shown that children with CF from disadvantaged backgrounds do worse than those from more affluent ones. Daniela and the CF-EpiNet team wanted to look at whether newborn screening has changed things. It's early days in Daniela's research, but so far she's shown that all children are healthier if they're diagnosed with CF from birth, however, children from more affluent backgrounds still do better for longer, than those from disadvantaged backgrounds.
2. An easier way to find test cells for CF research? We nose the answer!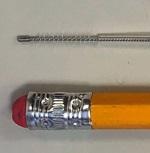 Rather than working on correcting the CFTR gene that causes CF, researchers at Newcastle University are developing ways of treating it by changing the activities of other proteins that do a similar job in the lungs. However, in order to be able to do their research they need cells to work with in the lab, commonly known as lab 'models'.
The most representative cells are those taken from people with cystic fibrosis. One way of doing this is to collect cells from the breathing tubes inside the lungs from so-called 'brushings'. These can be taken during a bronchoscopy, a special camera test to look inside the lungs, that is performed as part of someone's clinical care.
Dr Iram Haq, based at Newcastle University and the Great North Children's Hospital, is investigating whether cells taken from brushing inside of the nose would tell us the same things as cells from the lungs. In particular, she's interested in whether this could be a way of learning more about CF in young children, where it's harder to take samples from the lungs. She's found that cells from the lungs and from the nose are both good ways of studying CF in the lab.
3. What triggers inflammation in cystic fibrosis?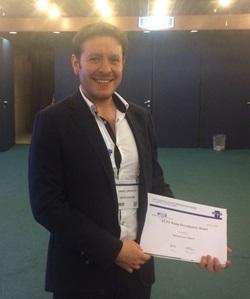 We know that some of the effects of CF are caused by inflammation, whether that's lung inflammation or in the joints in the form of CF arthropathy (approximately 9% of adults according to the 2016 UK CF Registry report). In the lungs, one trigger is the bugs that you're infected with. Researchers in Leeds, working on our inflammation and arthropathy SRC, are looking at another possible trigger – the effects of the faulty CFTR protein. Could it be that the faulty CFTR protein makes inflammation more likely?
Proteins are being made and degraded continuously in cells in our body. There's a specific method for managing proteins that need to be degraded, or for proteins that weren't made (or 'folded') correctly in the first place, known as the 'unfolded protein response' or UPR. When there's an excess of unfolded proteins to manage, the UPR can't cope, and triggers inflammation to begin. Samuel Lara Reyna, a PhD student, is investigating exactly how this system triggers inflammation, and whether the effects are different for different CFTR mutations.
We were delighted to hear that Samuel won one of the Young Investigator awards at the European Cystic Fibrosis Society (ECFS) conference in Belgrade earlier in the summer for his research in this area.
4. Pseudomonas treatment double whammy
In December last year we heard that the multiple sclerosis drug glatiramer acetate (GA) also has antibiotic properties. Imperial College London-based Ronan Murphy who works within the Pseudomonas SRC led by Professor Jane Davies has continued his investigation of GA, in partnership with Cycle Pharmaceuticals. He recently presented this work at the ECFS conference.
Ronan has been looking at the antibiotic effects of GA on strains of Pseudomonas, from samples collected from people with cystic fibrosis. Some strains of Pseudomonas are resistant to antibiotics, and to tackle this Ronan added both GA and a range of antibiotics to cultures of Pseudomonas in the lab. So far, Ronan has found that using GA and tobramycin allows the dose of the antibiotic to be reduced for strains that are sensitive to antibiotics. For strains that are resistant to antibiotics, the combination of GA and tobramycin makes antibiotics effective again. These are preliminary results and need to be confirmed in further studies.
5. NTM infection in children
NTM is an infection that some people with CF develop. Although its currently found in only a small proportion of patients, it is a cause for concern because it is difficult to treat and can make you ineligible for a lung transplant until you are clear of infection. In order to understand how big a problem NTM is for children with CF in the UK, Dr Malcolm Brodlie with colleagues Dr Matt Thomas and Dr Aaron Gardner, based at Newcastle University and the Great North Children's Hospital, requested some data from the UK CF Registry to help them find out.
"We are interested in NTM in both children and adults because it is a topic of growing clinical concern - to both people with CF and clinicians. Certainly, we've seen this locally. There is a feeling that the incidence has increased over recent years but there's little detailed data, specifically in children."
To address this Dr Brodlie and colleagues looked at Registry records from people with CF who were 16 and under for over 5 years from 2010-2015 (approximately 5,000 young people with cystic fibrosis). They found that the number of people who develop NTM is increasing – highlighting the urgent need for better treatments for it.
And finally, why cystic fibrosis is like an onion...
We got an insight into these research studies from the work presented at the ECFS Conference in Belgrade at the beginning of June. The researchers working on our SRCs are based all over the world, so conferences like this – and our very own UK Cystic Fibrosis Conference (UKCFC) - are a great opportunity to get together to update each other on how the work is going. It's also a chance to find out the latest news from other labs and clinics, and maybe to forge new collaborations for SRC collaborations in the future.
For David Ramsden, the Trust's Chief Executive, the ECFS conference was an opportunity to network and immerse himself in CF research for a few days. He said: "Cystic fibrosis is so complex, it's like an onion, as you understand one part of it you see that there's another layer underneath".
"For example at the poster session, there was research about the CF gene, about the complications that people with CF develop, as well as the socio-economic and psychological effects of living with cystic fibrosis."
Want to learn more about CF research? Check out UKCFC in September, and see how you can join in person or online.