Football fanatic to fiction aficionado
The reason Charlie struggled to run was because he had poorly lungs. He had cystic fibrosis, which clogged up his lungs with a horrible sticky gunge. it made it hard for him to breathe - and he was NEVER hungry. He had to do physiotherapy each day and take a load of medicine too. Apart from the boring visits to hospital, Charlie didn't mind too much. He had grown up with it and cystic fibrosis was simply part of his life.

The Football Boy Wonder' by Martin Smith
Meet Charlie Fry
Charlie is 11 years old and football mad, but can't run far because he has cystic fibrosis. One day, a freak accident gives Charlie super-human football skills, and his life changes forever.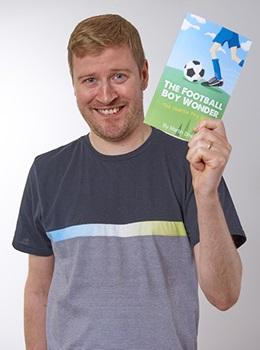 Meet Martin Smith
Martin is 38 years old, also football mad, and lives in Northamptonshire with his wife Natalie and five-year-old daughter Emily. After being told that he could no longer work full-time due to his CF, Martin turned to his love of writing and began a series of children's books called 'The Charlie Fry Series'.
Writing a best-seller
"When my consultant at the Royal Brompton told me I could no longer work full-time, it was a terrible time. I had been a journalist for 15 years and had worked so hard to build a successful career. Despite my condition, I have always strived to be like my friends but, as their careers flourished, mine looked to be over. I was devastated.
"In fact, being told I couldn't work full-time was the best thing to happen to me. I was able to spend more time on physio, exercise and medication as well as look after Emily.
"I realised I had always wanted to write a book, and Natalie reminded me of a story about a young footballer that I had started ten years earlier during a particularly long stint in hospital. I dug it out, rewrote it and 'The Football Boy Wonder' was born."
Martin's first book is now a #1 Best Seller on Amazon, and has sold over 35,000 copies. Martin has now written a total of five books in the Charlie Fry series: 'The Demon Football Manager', 'The Magic Football Book', 'The Football Spy', and 'The Football Superstar', and the Charlie Fry series has sold 50,000 copies in print and on Kindle to date.
"The response has been incredible. The books are written for children – they're not a warts-and-all breakdown of cystic fibrosis. But I simply wanted to put CF on the radar of young children, raising awareness at an early age. With the main character having CF, his battles with his health are entwined in the plot."
Personal battles
Martin's own battles with his condition have not been easy: he was diagnosed with CF not long after he was born in 1979, and had a lobectomy (the removal of one of the lobes in the lungs) when he was just two years old. He spent almost half of 1981 in the Royal Brompton Hospital fighting for his life, and his health remained unstable until he was about six years old.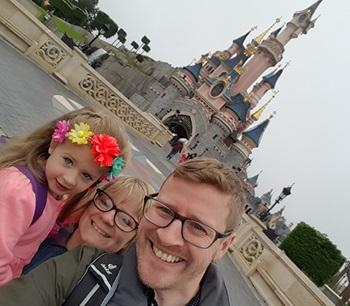 When discussing his condition today, Martin says: "I have the usual chest issues that CF brings, but I am pancreatic sufficient and don't require enzymes. Another bad spell in 2004 saw another long stretch for me in the Brompton where it was confirmed that my lungs had picked up ABPA (allergic bronchopulmonary aspergillosis) – so another infection to fight – and I developed osteoporosis as a result of steroids. I had what's called 'substantial haemoptysis' (coughing up blood) in 2012, the year Emily was born, requiring two operations. This continues to cause problems for me today, although on a much smaller scale."
As well as the time he spends on treatments, Martin also spends a lot of time exercising and has a special passion for walking:
"I can walk for miles, but it is getting harder as I get older. I had a sinus operation in May and need a cataract operation too at some point. I am a 30-something in an 80-year-old's body!"
Raising awareness
Martin hopes his books can raise awareness of CF among the younger generations, and since its release he has spoken about CF to children at numerous schools and spoke at Banbury Literary Live, a literary event held in Oxfordshire, in November 2016.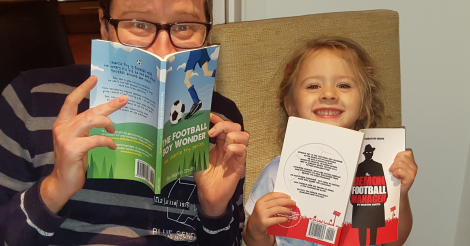 "Speaking at schools is great. The way that kids talk excitedly about Charlie Fry is amazing. It's like he's with us. But when I ask pupils if they have heard of CF, no-one puts up their hand. It is terribly sad – and something we need to change."
 "My writing is my sanctuary. It provides me with an outlet; an opportunity to live in a different world. I only write on topics that I find interesting or enjoy – I don't have the time to do otherwise. To hear on a regular basis that children are inspired by my work is a wonderful thing.
Martin's books have had fantastic feedback on Facebook from parents whose children have CF. One parent said: "My son's friend brought him this book. He has cystic fibrosis and he only got the book last night and he can't put it down. Like the character Charlie Fry, he loves football.
"As a mother, I think the books are amazing. CF children can't meet other CF children so they can feel alone sometimes. But reading about another child that is like my boy has got him thinking and being positive about his illness. Thank you."
Find out more about the Charlie Fry series on Facebook and Instagram.
Take part this Christmas
Martin and his daughter Emily are the faces of our Christmas appeal this year - find out more about Martin's story and how you can make a difference to the lives of people with CF by taking part in one of our Christmas activities this year.