My third Great Strides: From volunteer to trekker
What made you decide to take on Great Strides this year?
My son has cystic fibrosis and we have done various fundraising activities for the Trust over the years. When I saw the Great Strides event in Brecon advertised, it was entirely different to anything we had done before. My husband, Chris, and I volunteered as marshals in the first year in the Brecon Beacons to get an idea of the event. I'm not sure how helpful we were, as we managed to get very lost ourselves! We spoke to some lovely walkers and decided to partake in the event in 2017.
Had you done anything like this before?
I have done two half-marathons and a marathon for the Trust, but I had not organised a big group of people like this before.
Who is in your team (and support team) and how did you talk them into it?
My lovely support teams over the years have been friends and family. They all know the impact that cystic fibrosis has had on our family and didn't take too much persuading. However, I'm not quite sure how I manage to get people coming back to do more of the walks!
Do you have a team name?
We call ourselves the Optimistic Striders. We are optimistic for the future treatment and possible cure for cystic fibrosis. We are also optimistic that we'll be able to finish the walks!
What have you found hardest about the training?
The organisation takes a bit of doing, but to be honest, the training walks have been really enjoyable times for people to get to know each other, as different groups of my friends haven't always met each other. We've had great fun on the training walks and explored some beautiful countryside that I never would have seen otherwise.
What have you found most enjoyable?
The fun and camaraderie on both the training walks and the events themselves have created memories that will always stay with me. The exhilaration of completing such a mammoth challenge is also hard to beat! I have also very much enjoyed meeting and getting to know the Cystic Fibrosis Trust staff. They are such a lovely group of people and so passionate and dedicated to the cause.
This is your third Great Strides event – are you going to go for the set?
Possibly! – That depends on who I can blackmail/coerce [ahem] persuade to join us again!
What would you say to anyone contemplating signing up for Great Strides?
Do it! You will have a fabulous time, you'll get fitter and you will really get to know your team mates better. And best of all, you'll raise lots of money towards the work of the CF Trust.
The preparation is so important. Do long training walks so that you can prepare mentally and physically for the challenge, because there is no doubt, it really is a very hard challenge to walk 40 miles in one day! Also, good food at the lunch and supper stops. You get sick of eating cereal bars and energy bars, so a pasta dish at lunch and a hot, hearty bean soup or something similar for tea, is important. Take lots of blister plasters, dry socks and spare trainers/walking boots with you. Ensure you have a good supply of paracetamol and ibuprofen!
What's your best training or walking tip?
Try and work on your walking pace – you need to try and keep up a decent pace on the day, so figuring out roughly what you need to cover per hour is really useful on the training walks. Also – working out which walking boots/shoes are most comfortable is invaluable.
What's one thing you know now that you didn't before you started doing Great Strides?
What an amazing group of family and friends I have, who are willing to put themselves through this in order to raise money for the CF Trust!
If you're interested in taking part in a unique fundraising adventure, find out what you'll need to join our Great Strides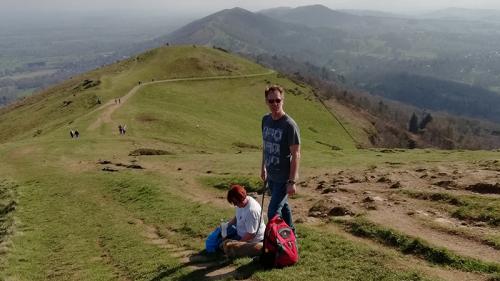 Take a look at some photos from the Optimistic Striders