Gullfiaz's story: taking the jab
What are your reflections looking back on the past year?
The last year has been very difficult. At the start of the first lockdown, I was very scared and anxious – I knew very little about COVID-19, and what I saw on the news only added to my anxiety. As a CF patient, I was significantly worried watching the news and reading articles on how the virus attacked the respiratory system. As weeks and months went by, I stopped watching the government briefings as I found this was affecting my mental health.
Upon reflection, although the last year was hard, I found I opened up about issues affecting my mental health and could speak to friends and family without feeling embarrassed. I had more time to work on myself, to eat healthily, explore the great outdoors, and reconnect with old friends – things I wouldn't have taken the time to do, if it wasn't for the past year.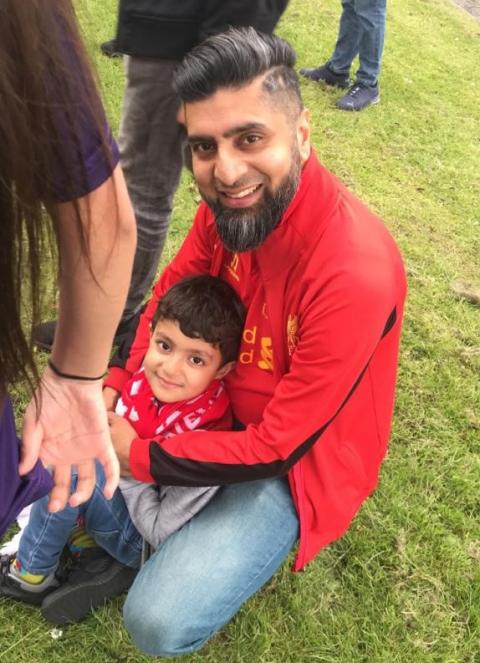 How did you adapt to shielding?
I was indoors for what seemed like an eternity! I'm normally a stay-at-home kind of guy, but after a few weeks of the first lockdown my mental and physical health started to deteriorate. The last year has been difficult, but I've had great support from my family and friends. I'd arrange video calls to check in and have that virtual human interaction. I also resorted to online grocery shopping, which is something I would never have considered before!
Shielding and lockdown have given me a new perspective on life. I no longer waste weekends idling around the house; instead I use the time to get outdoors with my family. We've explored and discovered some beautiful places in Yorkshire. 
How was your experience of getting the vaccine?
When I received the initial call from my GP, I jumped at the opportunity to be vaccinated. Within a few hours of receiving the call, I was booked in to have my first jab. I was slightly worried, due to some of the stories I had seen on the news, but I reassured myself of the benefits and how I wanted to have some kind of normality back in my life. 
After my first jab, I did have a slight temperature and a sore arm, and my body did ache. However, this didn't last very long and after a couple of days I was back to my normal self. I felt more confident knowing I would be I would be somewhat protected in the coming weeks, and looked forward to having my second jab.
What are your thoughts on vaccine hesitancy within BAME groups?
While I didn't hesitate to have my vaccine, there appears to be quite a bit of worry among the BAME community. I believe this stems from negative news stories on social media and an element of fear mongering. 
I believe part of the issue around hesitancy is the lack of understanding about the vaccine. Having already had the vaccine, I have taken the opportunity to educate people within my community and speak of my positive experience. 
What are you looking forward to now that you're vaccinated and restrictions are easing?
Since being vaccinated, I am going out a lot more, whereas during the first lockdown I was advised against opening the door. The freedom to explore outdoors spaces and meet family and friends (while observing social distancing) is something I have thoroughly missed and look forward to doing more of. Although being vaccinated means I am protected to some extent, I am still reluctant to go into potentially crowded indoor spaces, such as shopping centres and restaurants. 
For more on the COVID-19 vaccine and CF, visit our FAQs to access the latest information.