Health and wellbeing grants: Mya's story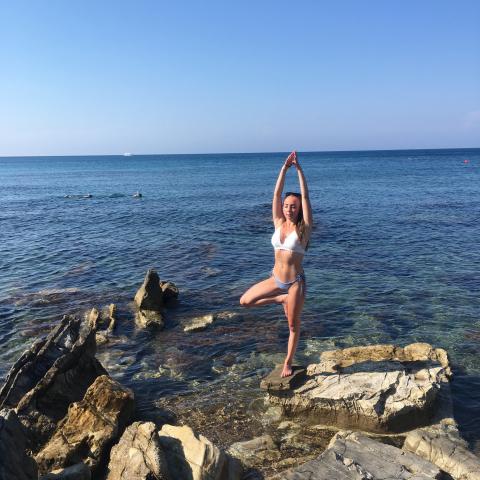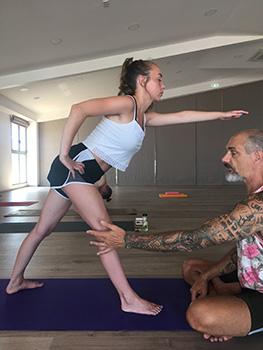 Ever since I was young, I've always been encouraged to participate in as much activity as I can, as exercise is a form of my physiotherapy (airway clearance in the lungs). These grants have given me more opportunities to expand my physiotherapy routine through different forms of exercise.
Throughout the years, the Trust have been extremely supportive to me. They have supplied a beginning for my fitness/physiotherapy routine in more exciting ways than just medication. The health and wellbeing grants have helped towards paying for my gym membership, yoga classes and workshops. The Trust also offer a holiday grant, which people with CF can apply for every couple of years, so we use this opportunity in ways that can benefit my health too. I'm currently in Paphos, Cyprus on a yoga retreat with my mum, and this would not have been possible without the support from the Trust, so we are extremely grateful that we've been able to come here! Back in September 2016, we received our first holiday grant, also for a yoga retreat, in France.
Exercise has really enhanced both my physical and mental health. Weight training in the gym has enabled me to push my limits and work on my mental toughness and strength as well as building a fitter and stronger physique. It's encouraged me to eat healthier too as I've become more enthusiastic about food from taking part in more exercise. Yoga practice has helped me find methods to create ease and comfort within my psychology whilst living with the difficulty of my illness which is something I cannot be more thankful for. Obviously it's also another form of exercise, however the difference being that you are consciously easing your body into relaxation using your breath, whilst using the strength and flexibility of your body to move. I have also been introduced to new breathing techniques that strengthen the lungs, relax the body and help my mind find a focus.
In the past, when people have found out about my CF, they usually say something like "but how are you so positive all the time". But I'm not. No one can be every minute of every day because we are human and are exposed to joy and happiness equally to suffering and sorrow. The challenges I find from my CF vary from time to time. Sometimes I have intense periods where my illness will affect how I think and feel A LOT and other times I push through because there is no other way. 
One of the biggest challenges I face with my CF is overcoming the barrier that makes me different from people who don't have CF, and how conscious I am of myself and my health most of the time. I have always felt like there is some sort of divide between me and others. I feel that because I have grown up dealing with a form of suffering, subconsciously I have matured sooner in comparison to my age. I try to emphasise that cystic fibrosis is equally exhausting both physically and mentally. As an invisible disability, it can be almost impossible for people to understand this, which is why I find my illness so draining to deal with at times.
I have always had to use my disease as a motivation, ultimately I wouldn't be alive. In some ways I am thankful that I have been forced to look after myself in the way that I have. I'd be scared to see what my life would look like without my disease as I don't think I would have taken similar life choices otherwise. Equally most of my problems stem from living with CF, and I am jealous of people that don't have to worry about the state of their health constantly. I don't know who I would be otherwise, so I suppose I will always have to be grateful. 
My plans for the future will always remain partially unclear. Living with CF can actually be very motivating because I have no other choice but to focus on my health and wellbeing. However, as much as I would love this to be the case every day, I do struggle at times. Cystic fibrosis can be both predictable and not, sometimes I know when I'm becoming ill but other times it's harder to detect. Although I try my best not to focus on the negative aspects and limitations of my illness, I do have to be realistic and I know that in the future I might not ever be able to have a full-time job and earn a stable income. It's just not realistic for the position I'm in.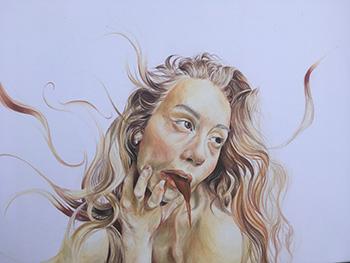 Despite this, I am extremely passionate when it comes to my ambitions and goals for the future. Art is one of my biggest drives in my life, and I know that I can always fall back on it as my own therapy whilst hopefully creating a career out of it at the same time. At the moment, my passion lies within Fine Art. I would love to explore Art Therapy and incorporate our human form and biology within my work in the future. I'm currently studying art full time at college and will be beginning my second year this coming September and I'm extremely excited to begin my future as a Fine Artist! I'd love to start my own business soon and display my artwork on a website which is accessible for clients to ask for commissioned pieces. One day I would love to be a renowned artist, and I think it could be possible.
To everyone who took time to read a part of my story, I am thankful. If you can take anything from reading this, please remember that we are all human and we will all experience suffering but if we can embrace this we can't feel anything but pride for the life we live. 
You can continue to follow my story and journey on my Instagram @myafiitness.