Holiday grants: making memories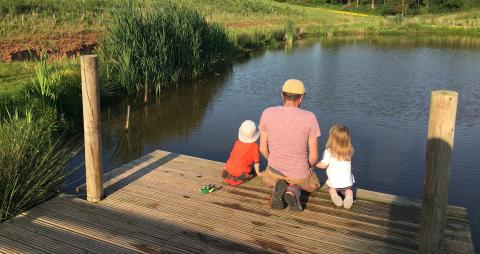 James' story
Earlier this year James, who has cystic fibrosis (CF), applied for a holiday grant from the Trust so that he and his wife could take his two young children on a family holiday to Thomas Land at Drayton Manor theme park in Staffordshire. James' health had deteriorated and he had recently been accepted onto the lung transplant list. A trip to Thomas Land was top of his 'bucket list', as his children are big fans of Thomas the Tank Engine and he wanted to be there to see their excitement at getting to visit the theme park.
The uncertainty of being on the transplant list means that finding the funds for a holiday has been difficult for James, especially as he is carefully saving and planning for his family's future. However, he wanted to take the trip while his health still allowed him to travel. His application for a holiday grant was assessed by the Trust's independent panel, who were delighted to award a grant of £300 as they felt the holiday would give James and his family a much-needed break and a chance to have fun together and build memories.
James recently got in touch with the Trust to report back on how the trip went:
"It was touch and go if we were going to have to cancel 24 hours before, because my lungs were in severe pain. But after a scary trip to A&E and a lot of 'mind over mucus', it subsided and I was able to go. It was a great couple of days – the kids loved every moment.
"I want to thank the Trust again from the bottom of my heart for helping us create lasting memories. Taking my family to Thomas Land this spring has been number one on my list for over a year now. I'm so glad we were able to go. I say this as I sit in my hospital bed."
Apply for a holiday grant
Holiday grants can be put towards the cost of holidays, trips and short breaks for people aged 18 and over who have cystic fibrosis. As well as being used to help fund a holiday, these grants can also fund costs associated with taking a holiday, like the cost of travel insurance or taking oxygen on holiday. Applications for the next round of holiday grants are closing on 6 July, after which the Trust's independent panel team will meet to assess all applications.
Apply for a holiday grant before 6 July to have your application considered for this round of grants. Find out more about holiday grants and the other financial support we offer.