Trust names Professor Bilton Honorary Vice-President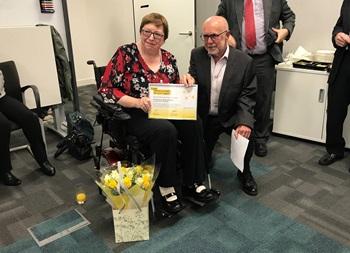 Professor Di Bilton has been named Honorary Vice-President of the Cystic Fibrosis Trust, celebrating a career that has included posts as CF centre director at Papworth's and Royal Brompton hospitals, and over 150 peer-reviewed research papers.
Beginning her career in CF research with a Trust-funded research fellowship at the Manchester Adult CF Unit, Professor Bilton's research interests include new approaches to therapies for lung function, registry-based studies and trial design, and she is currently leading a Strategic Research Centre exploring the harnessing of data to improve the lives of people with cystic fibrosis.
Professor Bilton was also instrumental in ensuring the sustainability and evolution of the UK CF Registry, transferring its hosting and sponsorship to the Cystic Fibrosis Trust in 2007.
In eight years providing clinical leadership of the Registry, Professor Bilton helped revolutionise the way CF care was funded by connecting tariff payments to Registry data, and set up a ground-breaking Registry-based drug safety monitoring programme.
Rebecca Cosgriff, Registry Lead at the Trust, paid tribute to Professor Bilton, saying: "Di was completely dedicated to the Registry and it simply would not exist today if it weren't for her. Di has an ongoing role in the Registry family as a safety study principal investigator and member of the Registry Research Committee."
In 2016 Professor Bilton received a lifetime achievement award at the European Cystic Fibrosis Society's annual conference, where she presented a lecture exploring the developments in CF research during her career.
Professor Bilton said today: "It's an honour to accept this award, from an organisation that I have been closely involved with since my research fellowship some 30 years ago. My career has given me the opportunity to work with so many brilliant clinicians and scientists, who share the same passion for CF care and research. People born with CF today face a brighter future than ever, but we need to keep pushing forward."
Trust Chairman George Jenkins, OBE, who presented Professor Bilton with the award last night at a special reception for Trustees past and present, said: "We are delighted that Di has agreed to become our Honorary Vice-President. She is one of the most distinguished figures in the field of CF research and care, and especially to the people she has cared for throughout her long career. The Trust owes her a great deal for her wisdom, dedication and guidance over the years."