Hosting a FeBREWary event can start a positive conversation about CF
Adjusting to Harper's diagnosis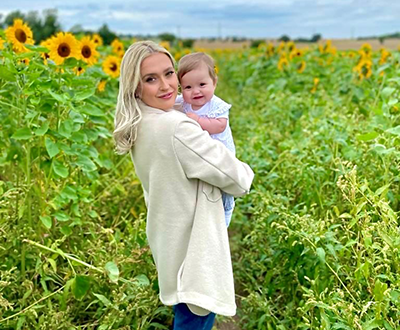 For two weeks after Harper was born, we thought we had a happy and healthy baby girl. But on day 16, I had a call from Sheffield Children's Hospital explaining that a nurse was on her way to speak to us about Harper and her heel prick test result. She turned up, sat down and explained that Harper had cystic fibrosis (CF).
We took Harper to the CF unit at Sheffield Children's Hospital that same afternoon and met the whole CF team. It was a complete shock to the system and I felt a sense of grief towards Harper; like I'd lost my healthy baby.
At first it was very hard to comprehend and process, I found it difficult to adjust to the medication and physio - it was like overnight I had become Harper's nurse and full-time carer.
We try not to let CF get in the way of living a normal family life. However, if any of the kids (I have two stepchildren) have a cough – especially a wet one - we have to be extra careful. One year on from Harper's diagnosis, the kids are really understanding with things like hand washing, Harper's physio and medication, and I think it's important to be open with them about her condition. In the beginning, talking out loud about Harper's CF was really difficult, but I started posting about it on my Instagram, like a diary, and it was my way of dealing with it. 
FeBREWary gave me the bug to keep fundraising for the Trust
The FeBREWary event was our first fundraiser for the Trust and it just felt right for us to hold an online event for our friends and family. We charged £5 per person to come along, but I also shared it on my social media and we ended up raising over £1,500! It felt amazing to raise so much money and it gave me the bug to keep fundraising for the Trust.
We hope to hold another event in 2022 and I would definitely encourage others to hold a fundraiser, as I believe it starts a positive conversation about CF and you're raising awareness as well as vital funds for Cystic Fibrosis Trust.
Don't let CF define you
The Trust means a lot to me and my family. For me, the Trust is non-judgmental space. There's always someone to reach out to and it has put me in touch with many mums in my position, and I've also had some mums get in contact with me for support. 
My advice to other parents is to remember that having a child with CF is not the end of your life. Staying at home may feel like your safe space, but there is so much for your child to see and do. Having CF shouldn't have to define their life or yours. 
Will you help us continue to be there for Harper and her family? Join us for FeBREWary and the money raised will help us make sure everyone with cystic fibrosis can live without limits.