"I hope Jacob has a bright, long, fulfilled life": Mum Morag shares Jacob's story
Jacob is your typical high-energy toddler. He is very grounded and gentle, but he's got a wild side too.
CF diagnosis
Jacob was born in November 2020. My pregnancy was relatively uneventful, and everything went smoothly besides a bit of morning sickness. All of our scans went well, and nothing was picked up, so the only real challenge was navigating appointments on my own, as my partner, Stuart, wasn't allowed into the room due to the pandemic rules.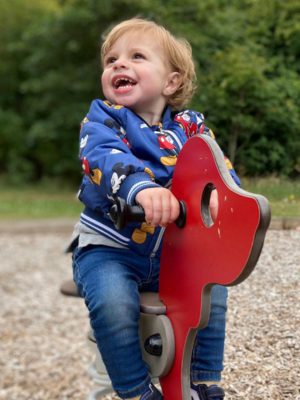 We then got to ten days past our due date when we reluctantly decided to go and get induced because my husband works offshore, and we didn't want him to miss the birth. Eighteen hours after being induced, I had an emergency c-section, and Jacob was born.
Initially, we had no concerns regarding his health, and everything seemed quite normal. But then things started to become stressful. The nurses were growing concerned that Jacob was yet to pass his meconium stool (a newborn baby's first poo). But I wasn't interested in that at the time. I was more worried because he wasn't feeding.
All around me, I could see new mums feeding their babies a lot, but Jacob was not interested. Whenever the nurses tried to get him to latch onto me, it seemed like he was in pain as he would arch his back or bring his knees up.
The nurses said he was being a normal fussy baby, so I took their word for it. But as we moved into day two, things took a turn. I could see that Jacob's colour had changed, and he was slightly jaundiced. Again, they told me this was completely normal for a newborn.
But then we got to two o'clock in the morning of day three, and Jacob still hadn't passed his meconium stool or had anything to eat. A student nurse came in to check on us, and I mentioned that he had just vomited up bright, aluminous bile, and his tummy was quite distended. I assumed it was because he hadn't been eating, but another nurse was called in to check on us. She contacted the on-call doctor, who said they needed to take Jacob for an X-ray.
That's when everything started to unravel. After the X-ray, the nurse told me that Jacob had been admitted to the neonatal intensive care unit. From there, they discovered he had a bowel blockage, which we would later find out was a meconium ileus (a condition where a baby's first poo gets stuck).
The next day, Jacob went for his emergency bowel surgery to have a stoma bag placed, and later that evening, the consultant came to see me and mentioned cystic fibrosis for the first time.
There was no history of CF on either side of the family, so it was a big shock for us. While waiting for the genetic test results to come back and confirm the CF diagnosis, one nurse told us that they used to lick babies' skin to test for CF back in the day to see if it tasted salty. So Stuart and I decided to try and taste Jacob's skin. I went to give him a kiss, and I could taste salt, so from that moment, I just knew he had CF. It was devastating, but it meant we were fully prepared for the blood test results six days later.
Two weeks later, Jacob had another surgery to reverse the stoma, and everything started working how it should.
After five weeks in the neonatal, we were discharged and got the sweat test for Jacob, which also confirmed the diagnosis.
Coming to terms with our new normal
I am an advanced nurse practitioner, and before having Jacob, I worked at a GP surgery, so I had come across some older patients with CF. So, while I was aware of it and the impact it has on the lungs, I didn't know the extent of how CF can impact the body.
All my medical knowledge went out of the window when I found out about Jacob's CF, and everything was just a complete blur.
It was tough to find out your baby has a lung condition during a pandemic, ultimately affecting the respiratory system. It became a nightmare to deal with as we were so worried about Jacob becoming unwell and we didn't know the prognosis at the time as he was really poorly.
It was terrifying taking Jacob home as COVID-19 was still all around, and the NICU felt like a really protected space. But one benefit was that we weren't getting many visitors at home while trying to adjust to the diagnosis.
Having a newborn baby is hard enough, but having a baby with a medical condition is something we weren't prepared for. Jacob needed to take Creon® after every feed, and it was hard to judge how much milk he had and how much Creon® he would need. The night feeds were tough to deal with, especially measuring the Creon® on a tiny spoon in the dark. The granules would go everywhere.
During the first few days at home, Jacob had a few episodes in which it seemed he had stopped breathing and was choking, but it turns out he had bad reflux and a lot of mucus. So he started on Omeprazole, and the reflux got better. Physiotherapy was introduced soon after, which helped to shift the mucus.
Growing up and facing challenges
During his first two years, Jacob had many infections, so he was on and off antibiotics a fair amount, but thankfully, we have not had an admission. I was worried that these regular infections would continue for the rest of his life, but I'm pleased his health has improved this past year.
When he was younger, we did go through a phase where Jacob was refusing to take his medication, and that was hard because we knew how important they were for him. It was really stressful.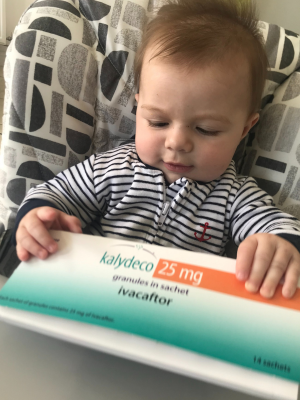 But he has done well since then; he's a trooper. He copes amazingly with his percussion physiotherapy. Obviously, there are times when it's hard to keep him still; after all, he is a toddler. But he knows that when we say "tap tap", he needs to come and have his physio. We also dance around to music to get him moving and clear the mucus from his lungs.
He does really well when it comes to taking his medication morning and night. He's currently on Ivacaftor twice a day, which he's been on since he was four months old and it's been transformative.
We are really lucky and feel so thankful that Jacob could start this at four months old, and hopefully, he will get Kaftrio by the end of this year.
Our hopes for the future
It's an exciting time for advancements in CF with all these new amazing medications and the continuous research efforts, so it's made me very hopeful for a cure for cystic fibrosis.
I hope Jacob has a bright, long, fulfilled life and will outlive us.
Fundraising efforts
Greater awareness of CF is essential to help raise money for future medications and research, and that's why Stuart and I do a lot of fundraising for Cystic Fibrosis Trust.
My sister teaches hot yoga, so we have held classes on the beach to raise money for CF, and last year, we also put on a silent disco using headsets that the Trust kindly gave us.
This year, we held a fundraising event at Jacob's nursery during CF Week, and everyone dressed up in yellow and raised a lot of money. We are hoping to do that again next year.
Support from the Trust
When Jacob was first diagnosed, the CF nurse at the hospital handed us a pamphlet from the Trust explaining what CF is. It helped us to have that information in one place and meant I didn't go searching on Google, which would have been the worst thing for me to do.
I also looked on the Trust's website, which was informative and helped manage my fears when first learning about the condition. It's great for newly diagnosed patients and their families to have all this information in a centralised place.
---
Past research, funded by our incredible supporters, has transformed the lives for many in our community. We've made some incredible progress. But we still have so much to do.
Will you join us this festive season to help fund more CF research and help change more lives?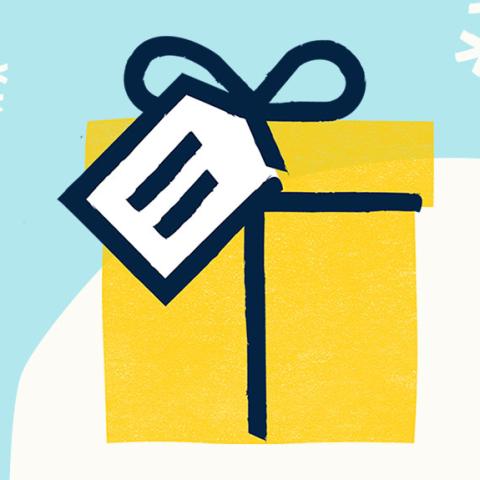 Will you help give the CF community the biggest gift of all?
A small gift from you could lead to the biggest gift of all – lives unlimited by CF