"I take my inspiration from my incredible, courageous sister": Stuart's story
I'm 50 this year. I was born in July 1971 and perhaps, in the genetic lottery, could have been considered to be unlucky having been born with cystic fibrosis. However, I was fortunate to be born to loving parents and I've enjoyed a stable and supportive upbringing.
My confirmed diagnosis of CF did not come until I was 10. My sister Jo was diagnosed as a toddler, and my brother John at a similar stage. This speaks to the relative severity and trajectory CF has taken with each of us. I consider myself to have been very lucky and, for me, my CF has mostly been mild until my late 30s.
"I can't imagine life without my wonderful daughters"
I married Zoe in April 2004 and we bought a house in Sandford, Devon. It was while there that I began my relationship with Royal Devon and Exeter Hospital (RDE). The CF team have been brilliant and I can report only positive experiences. Building trusting relationships with your centre is vital and when I later moved to Bristol, I made the decision to stay under the care of the RDE.
I assumed I wasn't going to have a family, but thanks to IVF, I have two wonderful daughters – I can't imagine life without them. There's a line in the Trust's strategy which says more people with CF will become parents. I don't think it's possible to overstate the importance of this area and how the Trust can support those who want children and those for whom it's not possible.
"My passions have carried me through life"
I was born to a musical family and played piano all my life – it's my sanctuary to switch off and regroup. My other great passion, which has carried me through life, is sport, and cricket in particular.
Sport has given me an outlet to meet friends, develop strategies to cope with pressure and stay fit and healthy – it made me feel normal, which I think is important – and I even met my wife through cricket.
I've been lucky to work with Chance to Shine, the cricket charity, since 2005. We work in schools and within the community to give children the opportunity to play and learn through the game. We operate throughout the country in over 5,000 schools and 200 community doorstep clubs.
"She was incredible, courageous and always positive"
I take my inspiration from my sister who sadly passed away following an unsuccessful lung transplant.
She was incredible, courageous and always positive. I am incredibly proud of the way she found ways to deal with both CF and the debilitating impact of arduous treatments.
In some ways, her passing liberated me to do more in the CF space, and prompted me to look at my life and try to take advantage of all the opportunities life throws at us.
Celebrating an "unthinkable" milestone
Since April last year, and in response to the pandemic I shook off the lethargy of many years and decided to get fit. Through daily exercise I've lost around 12 kilos and significantly improved my lung function.
To celebrate my 50th year, and provide a focus through the long winter and various lockdowns, I decided to raise funds for the Trust and Chance to Shine by cycling from John O'Groats to Land's End.
Not bad for someone who bought their first bike age 49!
This is an edited extract from 'My Life with CF', which featured in the Autumn 2021 edition of CF Life, our twice-yearly magazine. Read CF Life online or subscribe here.
As well as continuing his family's legacy as a long-standing fundraiser for the Trust, Stuart is a member of our Involvement Group, where he shares his insights into life with cystic fibrosis.
Cystic fibrosis (CF) is a genetic condition which causes sticky mucus to build up in the lungs and digestive system. It affects more than 10,600 people in the UK. One in 25 of us carries the faulty gene that causes it, usually without knowing.
Fundraising carried out by our community helps us fund vital research and support those living with CF. Find out more about what you can do to help everyone with CF live a life unlimited.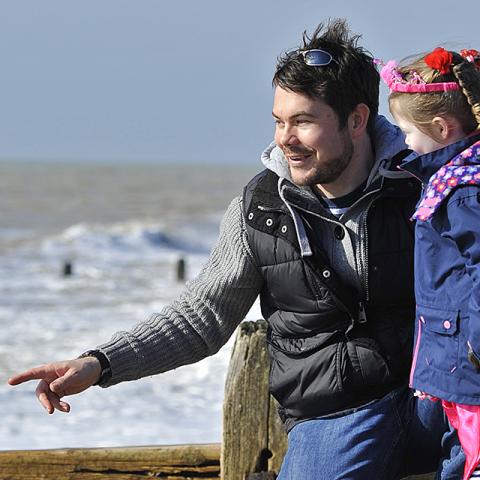 Our newsletter
Sign up to our e-newsletter for the latest news on what the Trust and its supporters are doing