In Remembrance: Lynne O'Grady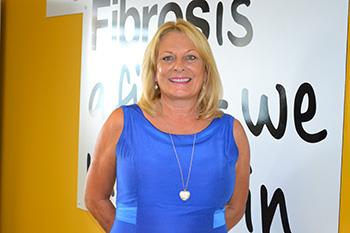 Lynne trained at the Queen Elizabeth School of Physiotherapy from 1977 to 1980 and following graduation, proud of her Birmingham roots, decided to remain in Birmingham and was successfully appointed to the basic grade rotation at University Hospitals Birmingham (formerly known as Heartlands Hospital). 
Following early career progression, Lynne found herself working in the respiratory medicine department where she first found her interest in providing physiotherapy care for the growing population of adults with cystic fibrosis (CF).
Passionate from the outset, Lynne identified the need for a dedicated physiotherapy service and soon secured funding for a Senior CF post initially funded by the Cystic Fibrosis Trust and then subsequent funding for additional physiotherapy posts as the CF service continued to expand.
Lynne was instrumental in fundraising to build the dedicated purpose-built centre for West Midlands Adult CF Service – and created the foundations upon which their physiotherapy team now stands.
Attendance at international conferences in the late '80s/early '90s gave Lynne the opportunity to network with physiotherapists across Europe and Australia as well as the UK. Participating in international standards of care and education within the European CF community she also recognised there were alternatives to the conventional UK-based physiotherapy techniques.
Lynne pioneered the introduction of Autogenic Drainage (AD) and use of adjuncts such as PEP and oscillatory PEP, through hosting regular Jean Chevaillier training courses. She soon became an expert and found her new passion in teaching and with her colleague Paula Agositini in 2009 went onto deliver her own courses, training physiotherapists across the UK and United States.
Always endeavouring to enhance the lives of people with CF, Lynne always went the extra mile, more often in her own time – arranging social events, gym excursions, badminton clubs and CF holidays (pre cross-infection). She used her charm, wit and persuasive powers to help patients fulfil their dreams and wishes; anything to make long difficult admissions more bearable, willingly stepping up as 'physiotherapy escort' to attend concerts at which she inevitable secured a backstage pass and a meeting with the key band members.
Members of the West Midlands team past and present will remember the fun they had on the coast-to-coast cycle in 1999 with Lynne on her Lady Shopper Bike, staying in youth hostels together to raise funds for the new CF Centre.
Lynne was a founding member of the ACPCF, the national CF physiotherapy group, when it was established over 28 years ago. As it approaches its 30th year the ACPCF has benefited greatly from her input and the initiation of the 'UK Standards of Care for Physiotherapy in CF' in 2002, which have gone from strength to strength.
Lynne was awarded the Fellowship of the Chartered Society of Physiotherapy in 2009 which reflected her passion and dedication to physiotherapy and the CF community.
Having been successful in achieving one of the first Clinical Specialist roles in CF and leading a team of physiotherapists, Lynne left Heartlands Hospital after 27 years to take on the challenge of Head of Clinical Programmes at the Trust and helped drive the national peer review programme for several years.
Lynne was a warm, funny, inspirational physio, a powerful patient advocate, decisive leader and fabulous storyteller, who passionately worked to improve quality of care in CF locally, nationally and internationally.
She was without any doubt a shining light in the CF community. Everyone who knew Lynne, both individually and as a CF community, will always be grateful for her dedication, support and inspiration. She truly touched the lives of all of us who had the privilege of knowing her through her work and in our personal lives.
Stay up todate with news from the Trust and the CF community with our newsletter.