Joseph Levy Education Fund awards 58 grants to support people with cystic fibrosis
The Joseph Levy Education Fund grants cover a huge range of courses. 16 grants were awarded to help with vocational training courses such as a British Sign Language course in London, a counselling course in Pembrokeshire and a barbering course in Oldham, while 42 grants were awarded to help with academic courses such as a Business Information degree in Belfast, a Law degree in Glasgow and an English Language degree in Brighton.
The Education Fund is not just for young people moving into higher education or vocational training, but also helps to support people returning to learning, including those who maybe 'missed out' on continuing their education immediately after school due to ill-health. We spoke to one applicant, Harry, who used his award to help him with the costs associated with studying at Swansea University and travelling to his CF centre.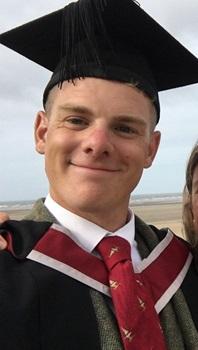 What inspired you to apply for a grant from the Joseph Levy Education Fund?
I found out about the fund via my local CF team at York Hospital. For three years we had discussed the prospect of me attending university to study biology and what I could apply for to make my transition from home life to student life that little bit easier, as someone with CF. I applied to Swansea University and made them my firm choice.
Wales on the whole is an awesome place and Swansea along with Gower Peninsula, is one of the best places in Britain to study biology. When I found out I had got the A level grades for my first choice, Swansea, I was thrilled but we knew that I would have to travel around 50 miles for my CF care, every two weeks which is where the grant came in.
What difference did the grant make during your studies/training?
The grant ultimately enables me to study at Swansea, one of the best locations to study geography and biology and also stay healthy. I don't have to make hard decisions between my health and my bank balance alongside my study because the grant enables me to get to my appointments and any extra visits whenever I need to! The grant also allows me to maintain my high calorific diet and exercise without financial constraints.
What impact did the course have on you?
Having the privilege to study Biology at a top university in the UK's first area of outstanding natural beauty, has been a truly awesome three years. So much so that I have achieved highly in my studies and have been offered the opportunity to stay on for an MSc in environmental biology.
What would you say to someone thinking about applying for a grant from the Joseph Levy Education Fund?
CF sufferers are not visibly disabled to the naked eye and as we are living in an appearance-based culture, we can dampen down our own view of our condition. In truth we are true fighters who maintain and go through a lot of very hard situations, daily.
Don't forget that you have a life to live to the full and if university is part of your plan, do it!
But get all the help and support you can, like the Joseph Levy Education Fund offers, because living with cystic fibrosis means each day we have to manage a constant battle with our bodies, even before we've eaten breakfast.
The deadline for applications for the next round of grants is 30 November, and applications will be assessed in December. The Education Fund also awards grants throughout the year for urgent cases. The Cystic Fibrosis Trust provides a range of other grants for families affected by cystic fibrosis, find out more here.