Licensing the triple therapy: what the latest developments mean for you
What is the EMA process and what does this mean?
Over the last couple of years, we have watched closely as Vertex's triple combination therapy progressed through clinical trials, and then was licensed for use in America under the brand name Trikafta last year.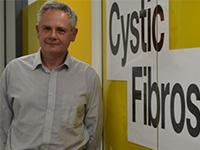 It was welcome news last Friday to hear that the EMA has evaluated the drug and found it safe and effective, meaning it can now progress towards being prescribed across Europe. We also learnt the brand name for the drug will change to 'Kaftrio' in Europe.
Previously, Vertex and the EMA had indicated that a licence shouldn't be expected until near the end of the year. We're pleased to see that this process was expedited. We wrote to the EMA in April, alongside over 40 other CF patient organisations as part of CF Europe, calling for such a move and urging the EMA to recognise the urgency of this medicine.
Now the EMA has given a green light to Kaftrio it will take approximately 67 days for the EU to formally issue a licence to the drug. Given these timeframes, we expect Kaftrio will likely receive its marketing authorisation in late summer or early autumn.
Access on the NHS
Following the EMA announcement, it is fantastic news that NHS England has already signed a commercial agreement with Vertex, to allow access to Kaftrio from the day its European licence is granted.
Speaking at the Health and Social Care Select Committee, Simon Stevens, Chief Executive of NHS England stated that:
"… NHSE have signed a commercial agreement with Vertex Pharmaceuticals to make available their new triple therapy, the very day it gets its European license. And furthermore, we have also agreed a flexibility so that clinicians will be able to use that not only within its European license and any other future indications but also other drugs in the portfolio for rare mutations that might be covered by licensing by the US FDA as well. And then the last piece of good news here, is that in negotiating, NHSE has also inserted "tag-along" rights for Scotland, Wales, and NI so that should those devolved administrations want to benefit from this agreement. This is a very significant day for cystic fibrosis patients that really tackles the underlying cause of the disease by helping lungs work effectively."
You can watch the clip in full here.
This is really positive news and shows the lasting legacy of our campaign for access to Orkambi and Symkevi. I would like to say thank you to everyone who protested, signed petitions, and submitted evidence to the Health and Social Care Committee's initial inquiry into access to cystic fibrosis medicines last year.
We are still awaiting the fine details of the arrangement and will keep our social media channels and web pages updated when we hear more information.
We are committed to ensuring that this drug is made available through the NHS to everyone with CF who could benefit from it, across all nations of the UK. It is great to see NHS England supporting their colleagues in the devolved administrations, and we are seeking more information and updates about negotiations and access in Wales, Scotland, Northern Ireland, and the crown dependencies of Jersey, Guernsey, and the Isle of Man.
Read more about NHS England's announcement.
What effect does Kaftrio have?
In clinical trials of Kaftrio, people with two copies of the F508del mutation had a 10% increase in lung function compared to treatment with Symkevi, and people with a single copy of F508del had more than a 14% increase in lung function compared to treatment with the placebo.
Who will be eligible for Kaftrio?
Initially, Kaftrio is licensed for children and adults aged over 12. We expect that following completion of clinical trials, the drug licensing will expand availability to children under 12. Trials are actively being conducted in six to 11 year olds and the next step will be to conduct trials in children under six years old.
We are still awaiting the fine details of the arrangement with NHS England, including for those with rare or other mutations which may be covered by the FDA in America but not the EMA in Europe. The initial EMA license is for people who either have two F508del mutations, or one copy of F508del and one 'minimal function' mutation. In America, the FDA has licensed Trikafta for anyone with one copy of F508del, and it doesn't matter what their second mutation is. We advocated for the EMA to take the same approach and while we're disappointed that the EMA hasn't felt able to support this broader licence, it's great to see this flexibility built into the deal with NHS England.
What can I do to help?
We would love to hear your story. If you would like to share this with us for potential media work, please contact pressoffice@cysticfibrosis.org.uk.
If you would like to stay up to date on this campaign, you can sign up for our newsletter.
Making sure no one is left behind
It's difficult knowing that not everyone will stand to benefit from Kaftrio or the other currently licensed modulators.
The Trust is fully committed to finding effective treatment for everyone with cystic fibrosis. You can read more about our research that leaves no one behind, and donate to support this vital work.
For some, the news will come too late, and others will have already reached the stage of transplant. If you are finding this time difficult and have any questions about today's developments or the support we can offer, our Helpline is available 0300 373 1000.