Luke's story: balancing challenges of COVID-19 and finding perspective
2020 – a year of plans and possibilities
2020 was supposed to be such a fantastic year for my family and I. Having spent the second half of 2019 recovering from a double lung transplant – an operation that had thrown up a series of major complications and challenges – we had so many fantastic plans in store. Not only would I celebrate my 48th birthday – an age that I never thought I would see – 2020 would also mark my one-year post-transplant anniversary. It would also be the year my wife and I would celebrate our 20th wedding anniversary, travel to Ireland for my parents-in law's 50th wedding anniversary party and spend the summer touring Australia with our two children.
However, the coronavirus pandemic changed everything and there seemed to be little to celebrate. All those plans my family had were replaced with shielding and home schooling for most of the year; being stuck at home, unable to do the things we wanted to, such as see family and friends. Occasionally I felt that, in some way, I had been cheated out of the second chance that had resulted from having my transplant.
Living with CF helps put things in perspective
It would have been so easy for me to let feelings of despondency and disappointment take over my life, with no end in sight to the pandemic and feelings of isolation and frustration bubbling away under the surface. Things could have gone very differently for me. But I have always found that living with CF has helped me put things into perspective to some degree.
Although 2020 might not be what I had wanted it to be, I found there were so many opportunities that I might not have been given had it not been for the pandemic. I chose to take control of my shielding experience rather than let it take control of me. After all, CF has tried to do that all my life, and I have always strived to find a way around the obstacles that have come my way before.
I threw myself into home schooling with enthusiasm, so much so that my children, aged five and nine at the time, probably wished they were back at school! My children have been through so much with me and my CF over the past few years that they have a degree of resilience that I can only aspire to and they rose to the challenge admirably. As a family, we all pulled together and knuckled down. Although there were days when fatigue, frustration or medical appointments stood in the way of a full day's school work, sharing the teaching role with my wife and the children's gritted determination to 'do a good job' made the home schooling experience a positive one: an experience that continues, at the time of writing this!
However, I would be lying if I said that this past year has been easy. I have had ongoing health issues due to my transplant and the feelings of isolation and loneliness have been ever-present, always lurking in the background and threatening to pounce at any moment. It has been a constant struggle to ensure that those feelings did not become overwhelming and that such feelings stayed away.
Taking the time to pursue personal goals
When we were able to, we would try to get outside for long walks as a family. After all, I had just spent the past few years leading up to my transplant struggling to achieve such activities, and with a shiny new set of lungs thanks to my donor and their family, I now have more energy. We also managed to escape to the North Norfolk coast during the easing of lockdown restrictions in the summer, to play and paddle on the very beaches where I myself had enjoyed many holidays when I was a child.
In 2020, I had more time to get involved with the work of the Cystic Fibrosis Trust, something I had always hoped to do but had never really had the energy for prior to my transplant. My involvement took on many forms, from sitting on patient focus groups and reviewing various patient-focused documentation, to giving several online presentations to corporate sponsors and fronting up the Christmas 2020 raffle campaign. I even had an online meeting via Zoom with my local MP to lobby for the eradication of prescription charges still imposed on far too many with cystic fibrosis. My MP just happens to be the current Health Secretary, Matt Hancock, and my lobbying remains ongoing.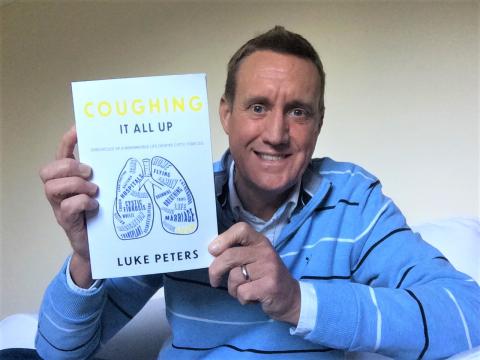 All the spare time I had in 2020 allowed me to achieve one of my life goals, which was to publish a book about my life with cystic fibrosis. I had started writing as a way to pass the time while on the transplant waiting list. I also wanted to produce a memoir for my children to learn more about me in case I didn't survive the time I spent on the transplant waiting list, or the operation itself, or if that lifesaving call never came. Having only completed half of the book by the time I actually had my transplant in May 2019, I decided that I would use my time spent shielding to finishing this project and get the book published by the end of 2020. I am so proud to say that the book, entitled 'Coughing It All Up – Chronicles of a Remarkable Life despite Cystic Fibrosis', was published at the start of December 2020. The book is available to buy on Amazon or order through major bookshops. A share of the proceeds of the book is to be donated to the Trust and I am grateful for the support many at the Trust have shown me during the culmination of this project.
Hope for better times
As I write this, home schooling and shielding continue, yet I believe there is so much more to be positive about. I have just had my first dose of the COVID-19 vaccine, my lung function post-transplant is the highest it has ever been, and my family and I remain safe and well. As with everyone, the past year has not been the easiest and has had its challenges, but nor has it been the hardest either.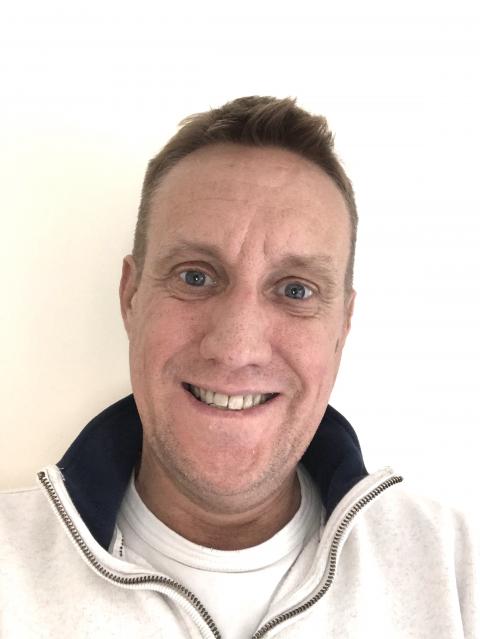 As a family, we have drawn on the positives where we could find them and have endeavoured to enjoy this time together. Many of the hopes and dreams we had at the start of 2020 can be brought back to life when the time is right. As I often remind the children, Australia will still be there when this is all over!
I fully appreciate that the past year has been challenging for so many in a multitude of ways and it would be disingenuous of me to say that I have been unaffected by the course of events. But, I remind myself daily that with my transplant behind me and new opportunities presenting themselves, with my wife and children healthy and safe, with the vaccine working its wonders within me and with a dose of optimism and good fortune, the future looks brighter than it has done for a long time.
I remain ever hopeful that better times lay ahead. As I say in one of the final chapters of my book, when all feels lost and broken, hope really is all that remains.
Our Helpline team are here to help you during this time. If you have any questions or concerns please email, call or send us a message on social media to see if we can help you.