Nikita's story: Staying positive and beating COVID-19 despite cystic fibrosis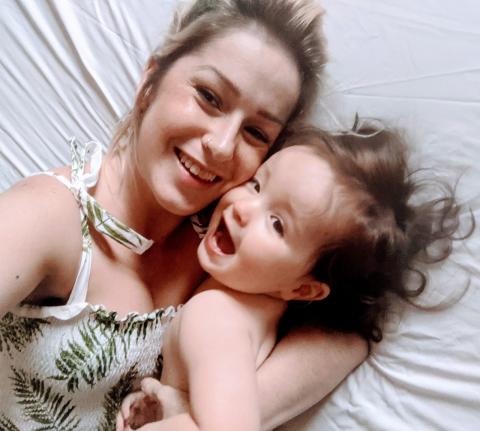 My name is Nikita, I am 28 years old and I have cystic fibrosis. I have a beautiful family and a daughter aged 21 months. My partner is in the army and is based in the Midlands – I have stayed based in London, close to my family support network and caregivers. This means I'm usually home alone with my daughter five days a week.
Casting my mind back to the end of February – before we really started to see the fallout from COVID -19 – I was at home ill and struggling to get out. I had a recurrent chest infection, which included feeling very breathless and tight-chested, extremely lethargic and generally unwell, and it didn't seem to pass with oral antibiotics. After a while of trying to push through it, myself and the CF team decided it would be best to go in for an admission as I just wasn't feeling any better.
I wasn't able to get a hospital bed until mid-March but once I had, I was so relieved to really start getting on track. My mum was having my daughter, Ivy, while my partner sorted out work commitments. I finally felt like I was on the road to recovery and I was excited to get my energy back.
Being tested for COVID-19 in hospital
I went in on a Friday and could see the hospital was already struggling to get ready for the storm that was coming. I felt for all of my nurses, doctors and physios as I could see they were under immense pressure to cope with the speedy, ever-changing government advice.
During my admission I hadn't been tested at all for COVID-19 and at no point was it discussed as a possibility. After all, I was only in for a CF-related exacerbation. Six days later, after being given a good boost, I was able to be discharged. The policy had been changed to test inpatients, so they tested me before I went home. 
The test was alarming as I hadn't suspected anything about having COVID-19. My typical anxiety set in, but then I reminded myself that this was just protocol. I must say it's quite scary seeing your normal caregivers dressed in full PPE, but of course I understood they needed to be protected. The test was a simple swab, much like the admission swabs they do, so I didn't need to focus much more thought on it. Plus, I was in the midst of packing up my room to leave.
So off I go, excited to be going home and ready to continue on the long haul that we now know as isolation. My partner, Jack, had come to pick me up with my daughter in the car and we made our way back to our south-west London flat. It's was a beautiful sunny day and I was relieved to be back with them. Emotions had been running high due to the hysteria that was breaking out surrounding the pandemic, plus I wasn't able to have visitors as the ward had put new safety measures in place. Six days was the longest I'd been away from my daughter since her birth, needless to say I was back in my happy place.
Getting the unexpected diagnosis of COVID-19
I got a call from my consultant the day after being discharged. I knew it was strange as I would very rarely need to talk to my consultant personally – it must be important news. In that phone call he in fact confirmed I had tested positive with COVID-19. To say I was shocked is an understatement. I felt a sudden wave of heat rise over my whole body and I looked at my partner and burst into tears. The next part was to break the news to my mum.
The thought of the unknown left me in a complete state of worry and fear. My anxiety went through the roof – I just didn't see how I was going to cope with the following weeks unfolding.
I started to get mild panic attacks that left me feeling increasingly more tight-chested and breathless, which in turn made me even more worried that it was my symptoms getting worse! For the first three days it was a vicious cycle of worry and panic, all the while trying to do my course of home IV's and being available for my daughter who did not understand and just wanted a cuddle.
But everyone around me insisted that I would get through this. My CF team were convinced I would get through it considering my lung function was at a good place when I was discharged – but that still didn't satisfy my need for clarity. The situation was developing daily globally, so a lot was still unknown.
Coping by talking about it 
To be honest, I don't really know how I got through the following week. All I could do was take each day at a time.
I wanted to tell my immediate community how important it was to be strict with cleanliness and reducing the spread. I was so angry that still so many people were not taking the early guidelines seriously considering I had no bold symptoms. So many people I know were completely oblivious to the guidelines and how it was affecting people, not just the vulnerable. I recorded my story of testing positive to show how real this was and how important it was that people listened. I got a wave of appreciation messages and it really started to hit home with people just how vulnerable we all were to this. My coping strategy was to talk about it.
A week went past in which I nearly called an ambulance twice, but deep down I knew I wasn't at that level of needing serious treatment yet. Incredibly, I didn't need oxygen and I still had not had any fevers, nor was I gasping for breath. The little symptoms I did have didn't get worse and I didn't start seeing any new COVID-19-related symptoms Plus, I still needed to give the IV's a chance to help my body fight my pre-existing infection and be in the best state possible to fight the virus.
Keeping a positive attitude
After around a week of being very tight-chested and tired, I started to see a slight change. I no longer was feeling too unwell to even care for my daughter and I suddenly started to feel more positive. I knew that being in a bad mindset was certainly not going to help me. Previous to lockdown, I had organised events around mental health so I know how important it is to try and hold a positive attitude. I think us CF patients are better equipped for occasions like this as we spend so much of our lives fighting that we learn how to deal with life's hardships in an incredible way. 
My main aim was to focus on mindfulness and cognitive behavioural therapy. I used to think this was so wishy-washy and there was no way it would help in a real situation, but after many years of suffering low moods and terrible anxiety, I have found it to be the only thing that helps! I am obsessed with looking on the brighter side of life. Because if you don't you will be consumed by the negative thoughts.
I am so grateful that I can live a normal(ish) life while fighting cystic fibrosis. Every CF patient needs to know: they are all stars who have the amazing capability of getting through life's crap! Don't get me wrong, I do have bad days and I do have days where that negative thought creeps in, but I've learnt how to recognise it and turn it around. We as a community have an incredible outlook on life and that's something I pride myself on and speak about so highly. 
Yes, most of the time it is easier said than done, but I was determined not to let my low mood take over.
Recovering from the virus
Slowly but surely I started to see light at the end of the tunnel and gradually started to pick up little tasks to start getting me back to normal. Jack and Ivy had still not shown any symptoms of COVID-19, incredibly. Yes, it was hard not being able to see my extended family beyond my partner and daughter, but we are all in this together and we had to be supportive of one another and had to be responsible for the safety of each other. This lockdown has been hard on families and the CF community is hit hard by this, but just think of all the celebrations we are going to have with our loved ones once this is over and we are all safe.
The whole situation is a scary one for all, but my main stance has been to see the positives – really focusing on turning bad thoughts into good. During this lockdown I have had a chance to really rest and recuperate and spend quality time with my daughter. The army has been so amazing with allowing my partner to be home to care for me, which I am so grateful for.
Ultimately, I don't know how I was lucky enough to get through COVID-19 and I am so fortunate to have gotten through it in the way I did. However I was very weak for a good few weeks after finishing my IV's and I was expecting to not be back to normal for a while. I was lucky, I didn't see a huge deterioration – it was mainly my energy levels which took a beating. But now, almost two months on from the original diagnosis, I am pretty much back to normal and have a lung function back to the existing number of 73%. I got through it!
Pride in the CF community
The one thing I want to say is we need to stay positive and, as a community, help each other get through this (virtually). Us CFers have a very unique outlook on life and we have the ability to educate and empower people who may not have any understanding of what it's like living with a chronic illness. I would like to be a beacon of positivity and inspire others that you have the tools to adapt and grow and get through the hard times.
We will all look back on this time of isolation and be proud and tell ourselves, "Wow, what an incredibly unique time in our lives that was. We got through that!"
Find all the latest support on advice on COVID-19, or contact our Helpline.