Marking three years since Orkambi
Marking three years of denial of Orkambi to people with cystic fibrosis (CF) in the UK was never going to be easy and it has been a busy and emotional week for all who have taken part.
We have been across the UK, raising the issue with decision-makers, politicians, government agencies and the manufacturer, Vertex Pharmaceuticals, and we, alongside people with CF and their families, have pressed home the tragedy of lives and health lost unnecessarily as a standoff on price drags on interminably.
However, it has also been a week of positivity and renewed optimism, and having been to Cardiff and the Welsh Assembly, the Houses of Parliament in Westminster, and the Scottish Parliament in Holyrood in the past seven days, I know that we have powerful forces pulling with us toward a positive outcome.
In Westminster particularly, November has seen the fight for precision medicines for CF reach a new level, as Dr Sarah Wollaston MP, Chair of the Health and Social Care Committee, called upon the negotiating parties to provide evidence of their discussions, offers and counter-offers so that we can begin to unpick why people with CF are being forced to wait.
The Prime Minister comments on Orkambi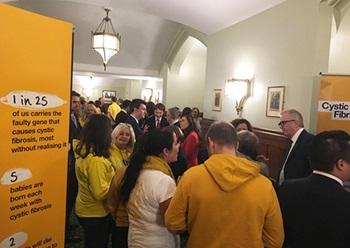 On Wednesday, Prime Minster Theresa May addressed the House of Commons, responding to a question from Heidi Allen MP, and said that she will make sure that the Department of Health and Social Care works to get the right outcome for people with cystic fibrosis.
Heidi Allen's question was prompted by listening to the Cystic Fibrosis Trust's Lynsey Beswick at an event in Parliament (pictured) hosted by Ian Austin MP on Monday, which was attended by 63 MPs.
Lynsey, our Public Affairs and Advocacy Manager, spoke powerfully and heartbreakingly of her personal experience of living with the condition and the struggles of watching her fragile health decline over the last few years. She fought back tears as she spoke of watching her friends with the condition dying and feeling helpless to do anything, whilst knowing that there is a drug out there that could help.
The room was hushed, and Lynsey's voice and message carried all the way to the Prime Minster two days later.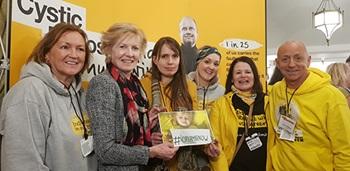 The Westminster event was attended by another 20 people from the CF community, families representing loved ones back home – and we were (unexpectedly!) joined by a young man living with CF who works in the office of a Member of Parliament.
People in Northern Ireland were represented by three families who joined the event and met with five Northern Irish MPs (pictured), who committed to represent their interests in Belfast, while the Stormont Assembly remains suspended.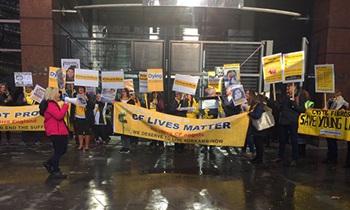 Petition for Orkambi reaches Vertex
It was a very special event in a very special day that also saw the CF community march to Vertex Pharmaceuticals headquarters in Paddington and hand in a petition of 70,000 signatures asking them to make their medicines affordable for the NHS, before heading to NHS England's London Headquarters, where a small group met with officials to discuss the issue.
At 6pm, after a very long day, we all gathered in Parliament Square (pictured), as rain fell on a cold, dark night, to reflect on lives lost to CF, in a vigil of remembrance.
Campaigning for access to medicines across the UK
This flurry of activity had followed a cross-party meeting at the Senedd in Cardiff. David Rees AM chaired a meeting that took evidence from the Welsh Government, Vertex Pharmaceuticals and the Cystic Fibrosis Trust, including the testimony of a woman with CF and a young mother of a child with the condition. Assembly Members present spoke of how moved they had been by the stories and pleas of their constituents and committed to a series of actions that they hope will put Wales and Welsh people with CF back in the driving seat on pushing for access to new medicines.
David and his cross-party colleagues will meet privately with Cabinet Secretary for Health and Social Services, Vaughan Gething AM, and have offered their support and assistance with Sarah Wollaston MP's Westminster inquiry.
On Wednesday night, Jackie Baillie MSP hosted us alongside representatives of Scottish government, a dedicated group of supportive, cross-party MPs (including Anas Sarwar MSP, Alex Neil MSP, Alexander Cole-Hamilton MSP and Miles Briggs MSP), and more than a dozen families.
People with CF were represented by their mothers, fathers, aunts, uncles, grandparents, husbands, partners, brothers, sisters, and a son and daughter.
It brings home the shattering cruelty of the disease that the only person with CF who was due to and could attend (because of the risk of cross-infection), Kelli Gallagher of Glasgow, was too unwell, as she starts a new course of IV antibiotics.
Why Orkambi and Symkevi matter
We heard stories from families where Orkambi is transforming lives, and we heard the heartbreaking story of Stewart Kelly, from his mother and aunt, for who Orkambi and latterly Symkevi, were granted on compassionate grounds, far too late to save the life he lost in June this year, aged just 30.
It was a hugely poignant and engaging session as MSPs looked for every way they can work together to move the situation forward and collectively support the Cabinet Secretary, Jeane Freeman MSP, to find the right outcome. They agreed a plan of action and we have offered all our support to help them take the issue forward.
Attention turns now to Vertex Pharmaceuticals as we call on them to make full submissions relating to all their licensed medicines to both the Scottish Medicines Consortium (SMC) and National Institute for Health and Care Excellence (NICE), the bodies responsible for advising governments of investment in medicines.
We need access to medicines now
We understand that Vertex is speaking to both bodies, but talk is cheap. All parties must find the compromise and flexibility to end the wait and give so many families more than just hope, but the guarantee that they will be able to benefit from the latest advances in CF care.
To be crystal clear, we want Orkambi now, we want Symkevi now and we want the next generations of drugs on the very first day they are available.
Our campaign ends when we've beaten CF for good. Until then, we're not going away.
Be the first to hear about the latest campaign actions in your area by signing up to our campaigning mailing list today.