Meet CF Trial Coordinator Shobonna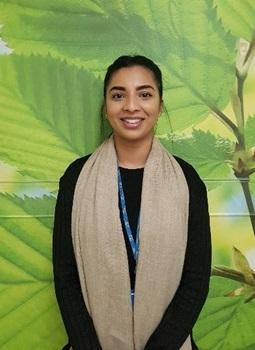 Tell us about your centre
Our centre in Southampton sees around 450 adult and paediatric patients . We have an active South West network and close links with centres in Exeter and Plymouth, who will sometimes refer patients to us to take part in a trial
What does your role as a Trial Coordinator involve?
As the Trial Coordinator, I look after our portfolio of studies and see them through from set up to completion. I'm the first point of contact for patients, the CF Trust's Trials Accelerator co-ordinating team, our different local clinical teams and the trial sponsors (or pharma companies).
How do patients find out about the clinical trials?
When we're recruiting for trials, we'll identify eligible patients that meet the criteria of the trial. We can then talk to them about it when they come in for clinic, or I'll contact them directly to see if they would be interested in taking part. Sometimes patients will also get in touch with us if they've seen something they're interested in online or listed on the Trials Tracker.
Has COVID-19 impacted the delivery of clinical trials?
Our sponsors have been responsive and helpful, and we've worked closely with them to ensure that ongoing trials could continue to run smoothly. We carried out remote visits for participants on therapy, and they were given their own spirometry to carry out tests at home. Participants have been coming into the centre to carry out blood tests when we think it's needed, but we have also done these at home where patients didn't want to come into clinic.
It's been a transition for us all and some participants have been a bit apprehensive about the changes. We've made sure that everyone has been able to continue on their trial, making sure we have open channels of communication and are regularly checking in with our participants.
What trials are coming up at your centre?
We're really excited to be one of the Trials Accelerator's six newly established Early Phase Trial Centres. There were a couple of trials in set-up stage which were put on hold, but these Phase 1 studies alongside some others will soon be restarted and open for recruitment when local guidance allows
If you would like any further information on taking part in clinical trials contact your local Trial Coordinator or visit our Digital Hub.