Meet Team CF: Craig's story
The tighter restrictions and wintery temperatures make this lockdown feel a lot like the first one back in March – something Craig remembers all too well.
"The first lockdown really got to me mentally," he says. "Shielding had taken its toll, on top of having a baby and struggling in a new job. I rarely went outside and, when I did, it was no further than a short walk away from my house.
"I had been signed off sick with anxiety and stress and was having regular therapy sessions to try and rebuild my confidence. One of the things that was brought up in these sessions was about being more active. I had been doing a weekly workout with an exercise therapist, but I knew having a challenge would give me goals that I found achievable."
Finding a focus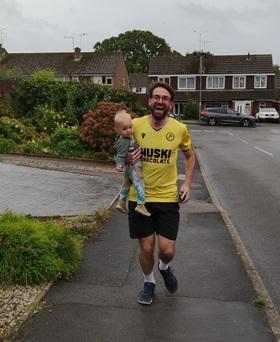 To give himself something to work towards, Craig signed up for last September's Team CF Running Festival. "Having an event was just what I needed to focus on, to stay on top of my physical health and improve my mental health as well," he says.
With the aim of completing 100km over the month, it initially took a while to build up the pace after the time spent in lockdown. "I had to start off with shorter runs, which was frustrating to begin with as I knew I had the capacity to run longer and quicker runs. However, after about four weeks, I started pushing myself a bit more and built up to a 10km where I could enjoy the buzz of running at a comfortable pace.
"I timed the challenge so that I would complete the 100km on the last day of the month in September, and finished it with my wife Robyn and my little miracle son Dustin. It was tough going when I felt I had fallen behind, so there were a couple of long runs put in towards the end, but it felt amazing to have done it!"
As well as completing a marathon of a challenge, Craig was also determined to beat his personal best of a 10km under 50 minutes. "I wasn't taking Kaftrio at that point, and I wanted to prove to myself it was possible. It was the middle of the night when I finally did it; I stopped in the middle of a pitch-black causeway and screamed a huge 'YES!!!'. People in their homes nearby must have been wondering what was going on!
"I've been on Kaftrio since October and I've managed to break my 10km personal best again, without really thinking about it, and did over 100km running again… which is nuts!"
The benefits of virtual events
Although different from a typical event-day experience, Craig found there were lots of positives to taking part in a virtual event – a lie-in, being one! "Doing a virtual event means there's no start time, or journey you have to make to get to a particular place. I could start straight from my front door!
"Planning my own route gave me the freedom of having as much space to run as I wanted, which is a relief when you have cystic fibrosis. I didn't have to worry about people running too close to me, and I could just focus on running and not on whether I'd be risking catching coronavirus!
"It also allowed me to see parts of where I live that I wouldn't normally see. I went through forests, across beaches and up steep hills that made my legs whine more than my lungs at times! The beauty of these virtual runs is that I could change it up and increase the difficulty if I wished."
A reason to run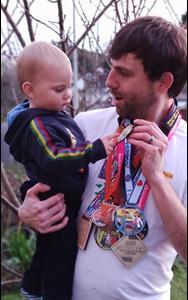 Having grown up with relatively few CF troubles, and inspired by his family and the wider CF community, Craig feels passionately about supporting the Trust. "I feel extremely lucky that I have CF and am relatively well, so I want to do something for those who aren't as fortunate as me and to try and make some good of a terrible situation for many people with cystic fibrosis. Supporting the Trust is always at the forefront of my mind. I've run for Team CF on a number of occasions before, even completing two London Marathons back in 2008 and 2012.
"Being a member of Team CF means a lot to me as I feel that I'm doing this not only as part of a team, but as part of a community. It really makes me push that little bit more, as I don't feel like I'm doing this all on my own. We are all doing this for a vital reason, and that's to give every person with CF the best chance to live as long and as full a life as possible."
Tips for staying healthy and connected 
Looking back at his journey – from shielding to smashing personal challenges – Craig is incredibly proud of how far he has come. "I had a real crisis of confidence, and I needed something that I could find as a challenge but was achievable too. The Team CF Running Festival definitely helped keep me motivated.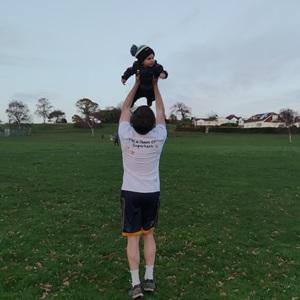 "Looking back now, I'm so chuffed with how I did – with the level of fitness I gained, and the incredible support I had from friends and family, near and far, despite the pandemic keeping everyone separated."
Craig's words of wisdom especially resonate in these harder times of the pandemic. "Know that you are not alone when you are going through this pandemic. I have connected with so many people with CF and people fundraising for the Trust by being a part of Team CF. Just start by joining the Team CF group on Facebook, say hello and share your experiences.
"Keep talking to others, and don't be scared about 'spamming' people online about how you are doing. The Team CF community will always be supportive, and sometimes that gives you that little lift that you need to do something – if not for a great cause, then for yourself."
Looking for a lockdown-specific challenge? Take on a virtual fundraiser and get active with Team CF, in a place that's right for you, while helping us fight for a life unlimited for everyone affected by cystic fibrosis.