Meet Team CF: Rachael's story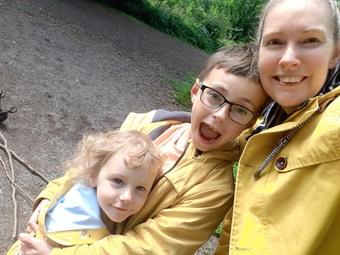 Rachael is a Paediatric Diabetes Specialist Nurse and mum of two young children, she also lives with Behçet's disease, a rare auto-inflammatory vasculitic disease. As a nurse, Rachael often works with patients with CF, but it was a special friendship that inspired her to join Team CF.
"I first met Kayleigh at a rare diseases event in 2014, and we instantly clicked," says Rachael. "She was there representing the Cystic Fibrosis Trust and I was there representing Behçet's UK. We sat together, chatting and laughing and sharing experiences of our diseases. Kayleigh was very sick when I met her and was awaiting a double lung transplant. I'll never forget how glamorous she looked though, bow in hair, wheeling her oxygen behind her ready to make a difference for other patients with cystic fibrosis.
"As our friendship grew and I saw the impact living with CF was having on her, I promised her that if I felt well enough I'd apply for a charity place with the Cystic Fibrosis Trust for the Virgin London Marathon for my 40th. In true Kayleigh style, she said she hoped to be there to cheer me on."
Fulfilling her promise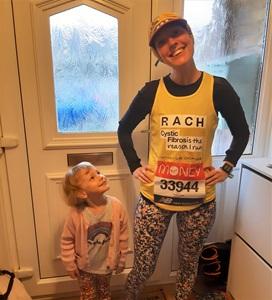 Kayleigh did get her double lung transplant, but it was not a smooth recovery and, on 13 May 2018, she sadly passed away. "It's a date I won't forget, as it's also my daughter's birthday," says Rachael. "Two people I love share a very special date.
In 2019, Rachael took up running again – "After a very long break," she adds, "otherwise known as having children!" Having had poor health for three years, she felt a huge sense of achievement as she built up her fitness and her mileage, enjoying the headspace and what it did for her mental wellbeing.
"I kept my promise to Kayleigh and applied for a charity place for the 40th Virgin London Marathon. I was excited and nervous when I was accepted! I turned 40 in the April, so it was even more special to me."
A slightly different set up
"When the pandemic hit, I really thought that the marathon was a no-go," says Rachael. "But with the announcement of the Virtual London Marathon, it was amazing to realise that all the running in the dark and the rain, building up my miles and undertaking all the fundraising, was going to lead somewhere. Being able to take part virtually meant that I could take my time, which is something I had to do as I'd lost a lot of training due to shielding."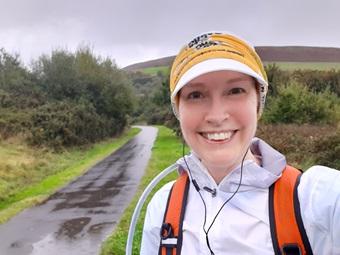 Rachael took advantage of the virtual set up of the event by scheduling in motivations for each mile. "I set up phone calls with my friends at different times throughout the day, to keep me going while running; some even joined me virtually for a run or walk while we chatted! My husband and children cheered me on for the final miles, holding up banners, and a friend joined me to walk the final miles to achieving the marathon distance.
"In the quieter moments I took the opportunity to think about Kayleigh – to reflect on our friendship, her incredible strength, her dedication to improving outcomes for other people with CF, the laugh she was so renowned for and her generosity as a friend. Not just gifts, but the generosity in her support, the messages of her encouragement, the pride she felt for you if you achieved something, and the gift of her time. I know she was with me that day. The robin that kept flying across my path, almost dancing in front of me when it was pouring with rain was proof of that, and an emotional symbol for me.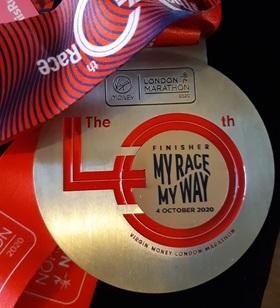 "My family and friends knew how important it was for me to complete this event and appreciated the determination it took. I had so many messages of support and congratulations when I finished and a flurry of donations which made me feel very emotional. It was difficult being on your own for an event like this but having my friends on the phone, spurring me on, and being able to think about my friendship with Kayleigh was so important. I sent photos to Kayleigh's mum on WhatsApp during the "rather long run" (as I tended to call it) and her messages of support and love, saying how proud they were made it feel that little bit more special.
"I feel hugely proud of myself. It is not easy when you are battling a health condition to keep the balance right and ensure you don't push yourself too hard, it takes determination to succeed. Kayleigh was my motivation and always will be."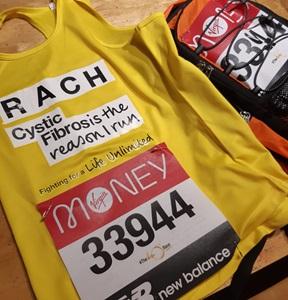 Despite the reschedule, Rachael and our London Marathon runners raised an incredible total of £178,000 – enough to support two early career scientists through a four-year Strategic Research Centre.
"Fundraising for better treatments, for better care, and supporting research to achieve better outcomes for people with CF is hugely important to me," says Rachael.
"I really hope the money I raised by being part of Team CF can make a small difference to someone out there – whether it's to provide support to a family, or whether it goes towards an important research study into new treatments."
Inspired by Rachael's story, or want to run for someone you know with cystic fibrosis? Sign up to the Team CF Running Festival, where you can choose any distance to run throughout April while raising as much money as you can.