Meet Trial Coordinator Juneka
Tell us about your centre
Our hospitals, Birmingham Heartlands and Birmingham Childrens, are at the heart of the local regions Cystic Fibrosis Network. Although they are both based in Birmingham, they are two separate trusts of the University Hospital's Birmingham Foundation Trust and Birmingham Women and Childrens Foundation Trust. Overall, we see over 600 adults and children with cystic fibrosis.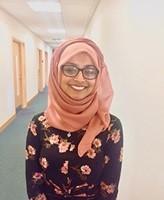 What does your role as a Trial Coordinator involve?
I work closely with the CF clinical team, sponsors and the research team with the day-to-day running of our current trials and the setting up of new studies for our patients. I'm also in regular contact with the other Trials Accelerator Trial Coordinators across the UK network too. It's lovely to have a group of friendly colleagues from across the nation who are going through similar experiences and willing to share their expertise. 
I also bridge the gap of CF research between the children's hospital and the adult site by running monthly research meetings for everyone to catch up and keep updated - which is a lot easier to organise now, thanks to the popularity of video calling software!
How have things needed to adapt in the last year?
During the first wave of the pandemic, things changed quite quickly. We went from on-site patient study visits to 100% virtual consultations, using couriers to get patient medication from the site to their home address. 
Some patients simply didn't feel safe leaving their homes for a non-essential research visits at a hospital. So where available and appropriate, we offer patients virtual clinic appointments. At the moment, patients are only coming in for blood tests or physical assessments in our separate research, building away from the main hospital site. 
What are you and your team excited about seeing in 2021 and beyond? 
Clinical research has been in the spotlight a lot recently, and portrayed in a positive light due to COVID-19 and development of the vaccine. I hope this translates to more patients being open to research, as well as more investment in research. 
Pharmaceutical companies have had to change their protocols to involve little or no face-to-face patient visits using methods such as the use of at-home spirometry and smart watches. It would be interesting to see more trials developing in this way that would allow for remote participation. 
Our team are also excited to see our patients face to face again, and to catch up on everything they will get when lockdown has eased! 
If you would like any further information on taking part in clinical trials, contact your local Trial Coordinator.