My CF family: love in all its forms
I am writing this blog, a love letter of sorts, from my luxury Chelsea pad hospital bed at the Royal Brompton Hospital. I've been thinking about the effects my being incarcerated at short notice, for unspecified amounts of time, has on those around me. The IVs and their side effects are clearly making me sentimental, and this year my valentine is not just to my husband, but to all those whose relationship with me is impacted by CF and those whom, without CF, I would not have a relationship with at all.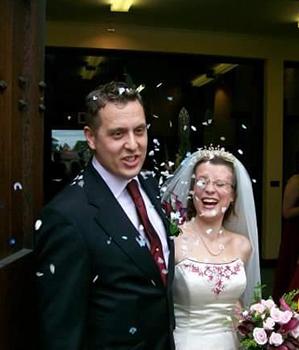 To my husband
You receive top billing for loving me despite your needle phobia and still coming to visit me in hospital with a smile, even though you are exhausted from working and worrying and travelling back and forth. Your first duty as my husband saw you holding up the back of my wedding dress in a disabled toilet when the dreaded CF bowels struck, and no bridesmaid was brave enough. I worry that you don't think I appreciate the many things you do. I do, even when it makes me cross, and I am sorry that CF can make you feel more like a carer than a lover. Thank you for clearing up the messes my body makes, but still telling me I am sexy. You are an excellent liar.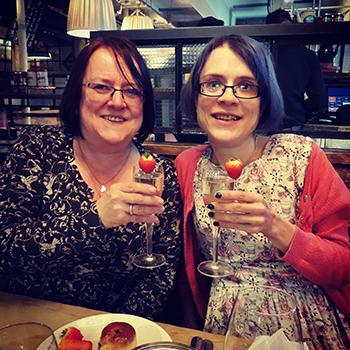 To my parents
For being the Creon police. For never letting me have a day off from treatments but managing to ensure those treatments were done so we could live, not the other way around. For letting me have custard for breakfast and go away on school trips even though they sometimes ended in hospital stays. I am honestly sorry for being a teenager who threw all that hard work back in your faces. It must have been heart-breaking. Special shout out to you mum for often sacrificing your own sleep and bed to have me coughing the night away in your flat so Geoff can have a break and a decent night's sleep. I suspect this might be the only reason I haven't been smothered to death by a pillow in the night; you are truly a life-saver.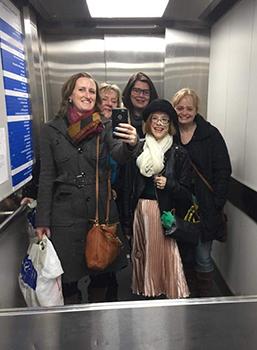 To my friends
For knowing far more about my bowel habits than another person should have to and still speaking to me. For coming to visit me when I am unwell, even though being unwell can make me an unpleasant person to be around. For being there when I need you, but not getting offended when I can't or don't want you around. For ignoring me when I am coughing (although sometimes I think we need to invent a signal for when I do need attention, like that time at a quiz when I was coughing so much that I threw up under the table and one of you merely lent down to ask for the pen). You all still apologise for making me laugh, even though it makes me sad.
It can be tough seeing your peers doing all the things you want to be doing (while being secretly glad that CF was a perfect excuse for those I don't - case in point, nightclubs were never my thing; thank goodness, as I was a young adult in the pre-smoking ban days), but you all try your damn hardest to make sure I haven't been forgotten. Thank you for ensuring I am first and foremost your friend Emma, who loves dinosaurs and regularly tucks her dress into her knickers and/or wears it inside out (and thank you for telling me!), not the girl with wheezy lungs.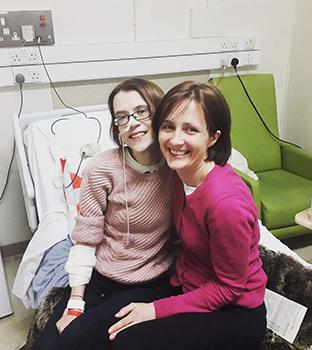 To my CF team
I've snotted, wept and vomited on most of you and you still have my back. You keep going even when in the path of a flying bowl of NHS custard (sadly a true story), you simply wipe it off your chin and continue supporting me. Thank you for putting up with me even when things have been at their darkest, when I've hated you all and behaved more like a stroppy teen than a sensible married lady. When I'm less angry about everything, I realise that it is only because you actually care, that it must be so bloody tough to be unable to fix someone. Thank you for continuing to be the strict parent (seriously, has my mum been in and given you all a training course?), and saying the hard truths, but also celebrating the wins, CF-related or otherwise. I think I am most fond of you because you actively seek my opinion on poo and don't roll your eyes when I ask stupid questions. I used to think of you as an unwanted relation, that I visited out of duty, but if I am honest, you have extended my time, and I am humbled by your efforts and dedication.
To my CF friends
You are the people I love because you answer my 3am WhatsApps when I am panicking or unable to sleep, because you too are in hospital awake (sometimes in the next room or just down the corridor). Thank you for the in-jokes and understanding why a Bristol Stool Chart birthday cake is totally appropriate.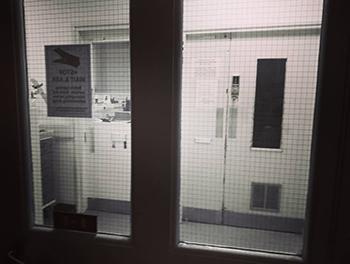 It can be challenging to be friends with other people with the same disease as you, and there have been phases of survivor's guilt, of unhelpful comparisons and needing to step away from you for the sake of my own sanity, but you don't make me feel bad because you get that too. I rarely dream about CF, but when I do it always involves meeting in person people I've connected with (cross-infection apparently having no place in my dreaming brain). Not being able to physically comfort another person can hurt and has sometimes made me weep with frustration. At the same time, the friendships I have with you all highlight the brilliance of connections with others and our ideas of what friendships look like; and underline the limitless human capacity for loving different people in different ways.
To the wider CF community
I am lucky to chat to so many of you every day in my role and in real life. You are all amazing. Thank you for teaching me so much about living with cystic fibrosis. We are a community with so many different experiences of life and life with CF, and I feel privileged to hear and share your experiences, many of which are my own, but so many more are not. Your constant encouragement and support can get me through my worst days and I hope I have responded in kind. I love most that you guys are super funny, it's often a dark funny admittedly, but who else are we going to make regular poo jokes with?