What sparked your interest in cystic fibrosis?
While I was doing my A Levels, I worked as a health care support worker part time. It was my first exposure to people living with CF and other respiratory diseases, and it piqued my interest in learning about cystic fibrosis.
How did you hear about our summer studentship scheme?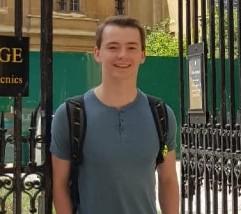 As part of my degree, we are given the opportunity to complete a six-week placement in a specific area of clinical medicine. I approached clinical academic and CF paediatric respiratory consultant Dr Malcolm Brodlie, based at the University and the Great North Children's Hospital in Newcastle, to organise this.
While we were discussing the placement, I mentioned my interest in learning more about cystic fibrosis. We put a plan together to do an additional, lab-based project over the summer with Dr Brodlie and NIHR clinical lecturer Dr Iram Haq. We applied to the Cystic Fibrosis Trust summer studentship scheme for support.
How did your plans change due to the pandemic?
Like many other workplaces in the COVID-19 lockdown, university and hospital research labs were closed from March and began re-opening in June. When they reopened, access to the labs was very limited, so I couldn't do the project we'd planned.
I was offered the opportunity to work on a remote-based research project instead, helping to analyse data and draft research papers on children with CF who had been infected with COVID-19. It was a great opportunity to learn new skills!
What were you doing on a day-to-day basis?
For the majority of the project, I was based in Newcastle where I lived with my partner over the summer. Day to day, my work initially consisted of drafting research proposals to access the data required from the CF Registries around the world via the Cystic Fibrosis Registry Global Harmonization Group. Once we had access to the data, my role was to analyse and write up the data into a manuscript.
Malcolm, Iram and I had online meetings two to three times a week, where we would review the work I had done. We would also meet weekly with Rebecca Cosgriff and Keith Brownlee from the Cystic Fibrosis Trust to discuss progress and next steps. Once we had a draft of the paper, we were invited to discuss it at an online meeting of the Cystic Fibrosis Registry Global Harmonization Group. 
I was initially quite nervous about this meeting – there were around 20 leading experts in CF care on the call from around the world. Some participants joined at 5am local time! The call was a reminder of the impact this work would have on both CF clinicians and people living with CF and their families. 
Regular meetings and discussions kept me motivated throughout the project. Although I know it may seem a little boring to work like this, I found it extremely rewarding and enjoyable. I felt I was making a contribution to understanding how COVID-19 impacts people with cystic fibrosis. I was thrilled when the results of my analysis were published in December 2020.
What did you gain from the experience?
The summer studentship gave me the chance to develop my interest in CF and also hone my analytical and writing skills. These skills will be transferable to all aspects of my career going forwards. I am indebted to my supervisors Drs Malcolm Brodlie and Iram Haq, as well as the Cystic Fibrosis Trust for the mentoring and support they have given me throughout.
Working with data from children and young people with CF and with inspiring paediatricians has been a phenomenal experience. It has made me want to continue looking into CF when I graduate and begin training as a paediatrician. 
Applications for our summer studentship scheme should be submitted by an established researcher within a UK university or research institute, with a named student in mind. Please visit the summer studentship page to find out how to apply.