Natalie's marathon journey: part three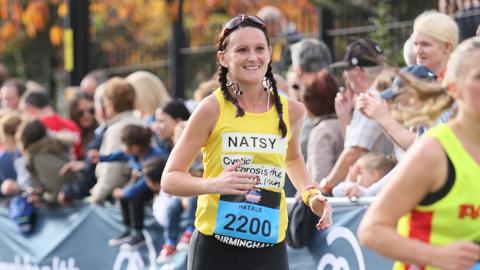 I write this blog at 3am, as my lungs are refusing to let me sleep. They are exhausted and it hurts every time I move my fluffy hot water bottle from my chest. As I nebulise my hypertonic saline in between sips of warm honey and lemon, I smile silently to myself, and I feel like the luckiest person ever to have breathed. Because although my body craves much needed sleep to function as a mother, my children are sleeping soundly next to me, knowing that their mummy has run a marathon.
Crossing the finish line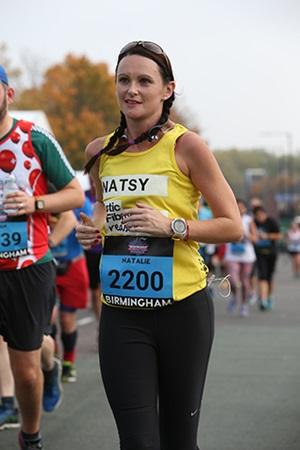 I did it! Four days ago I pushed my body and my mind through 26.2 miles at the Birmingham International Marathon. I was trying not to get caught up with a time, I wanted to just enjoy the experience as my first, but was aiming for five hours. So when I crossed the line at 4 hours 53 mins I was prouder than I could ever have imagined! Especially as I escaped blister and chafe free!!
These little CF lungs of mine did me proud, and if I could only bottle up the feeling I had when I crossed the finish line and share it amongst the population, the world would be an amazing place!
Standing at the start line at Alexander Stadium, looking at the thousands of runners around me was a moment that I will never forget. The fact that I had dreamt of this day for so long and it was finally here filled me with so many emotions. I knew that I had to stay focused on my race plan and couldn't get caught up with any doubts or 'what ifs' so I decided to put on my headphones and get lost in my music, which jumped straight to 'Despacito'.  I laughed to myself as I always let the children put their favourite songs on my playlist so that I can dedicate a mile to them, and this just happened to be Preston's choice!
I could feel the energy of the runners around me, the anticipation and fear of the unknown, but as the gun went off, in that second my body began pumping with adrenaline and the finish line was all I could see.
Marathon dreams
In the lead up to race day, I experienced many crazy marathon-related dreams. From sleeping in and missing the marathon, to one where ants were crawling in my trainers. Another was that someone had cut my race number into a million pieces so I was disqualified, and there was one where I had been abandoned on a mountain and couldn't reach the start line!
This is apparently normal, but the night before the race I dreamt a dream that carried me through on the day. A dream about my inspirational friend, Liam McHugh, who has dedicated his life to fundraising and campaigning, and has completed 18 marathons to date for the Cystic Fibrosis Trust, as his beautiful daughter also has cystic fibrosis. In this dream Liam ran the marathon with me and as clear as day, I woke up hearing his words of encouragement.
When I told Liam about this after, his words made me cry. He had tracked me the whole way and said that it wasn't a dream, he really was running that marathon with me.
An incredible team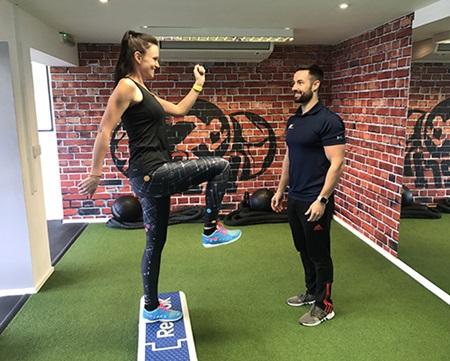 Marathon training was, without a doubt, the hardest challenge I have ever taken on. Not only because of the complete dedication required, but the juggling act, as I have previously talked about, with the children. The small but tight circle of positive people I built around me for support, which included Liam, became my team. Those who helped block the negative and held me together when I was too tired to function, when I needed support with fundraising or to pull me through health blips along the way.
My team were not only there at every training milestone, but they ran in their hearts with me on those 26.2 miles. I could write a whole blog dedicated to Aaron, head of the team, and now a successful running coach of a CF marathon runner (so I guess thanks to me, his CV looks more appealing!). But the truth is, he was the man who planted the marathon seed, and gave me the tools to succeed.
I have met many uneducated professionals in the fitness industry, with little knowledge or understanding of cystic fibrosis. I have been belittled by their ignorance in gyms or classes as they judge me on my cough or poor posture, or fear as I ask them to push me harder instead of showering me with pity as I request they look past my diagnosis.
Alongside Aaron and the support at Tier 1 training and rehab centre, I also have to thank the very experienced Ann Howgego. Training with Aaron is very gruelling! But he did factor in my need to mix things up, which is where Ann came in offering her lively functional fitness and trigger point pilates classes, which proved to be excellent for my lungs and breathing techniques, complimenting all I was doing at Tier 1. Between the pair of them, I was never going to fail, and I thank them both for putting up with my annoying cough!!
It takes guts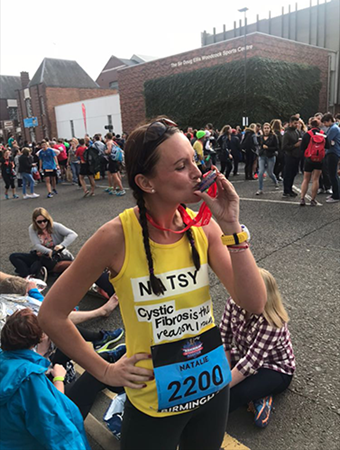 By training properly, I ran strong and steady from the start through to the finish, without jelly legs, dizzy spells or even hitting that dreaded wall that is commonly talked about. and that was because I had been trained to a top standard, I had been trained to become a distance runner, and that means that you never stop. Some call it stubbornness, some call it determination. All I know is that it hurts to train to that level, but it is worth it. I was trained to dig deep and to know that the pain of quitting would always cut deeper than pushing through the wall to succeed. It takes guts and a desire to be better, that is the reason only one per cent of the population have ever run a marathon.
I have been asked about the general marathon experience by so many. I often thought beforehand that I would describe it as utter hell! That I would have to talk about moments when I crumbled, cried and wanted to throw in the towel.
I can honestly say that I completely loved the whole experience! The atmosphere along the course was like no other race I have ever experienced. I think I smiled the whole way, apart from mile 18 when my lungs decided to throw up a whole lot of mucus, and mile 23 when my lungs decided to cramp, and seeing my dad who told me, "You don't even look like you're running a marathon, you are making it look too easy" followed by: "Nearly there, three miles to go." Trust me, if you are ever supporting a marathon runner, NEVER tell them that they are nearly there... because even with 400 metres to go, my body did not want to process "nearly there!"
Prove them wrong!
The biggest achievement of my life, from day one of my training to crossing that finish line has been a journey of self-discovery and the realisation that anything is possible. My advice to you all is to chase your dreams, find what sets your soul alive and become a better, fitter, healthier version of yourself.
For all those looking for hope, this is it. Never be defined by any diagnosis, PROVE THEM WRONG!
To my precious babies, my absolute world and the reason I dedicate my days to health, along with all those in the fight against CF, this medal is for you... and it won't be the last.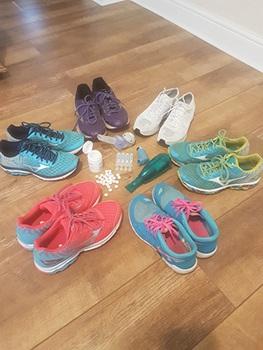 A year in numbers
One final thought – my year of training for the marathon involved approximately:
624 hours of training 
800 miles of road running
1,800 puffs of my inhaler
2,500 salt tablets 
6 pairs of trainers 
Along with 500 tears cried but over a thousand smiles!
You can still donate to Natalie on her Just Giving page! Or why not check out some of our fundraising events?