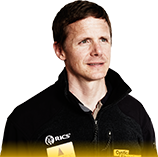 This week, intrepid fundraiser Nick Talbot, who has cystic fibrosis, reached Base Camp and is hoping it will be 'third time lucky' for his bid to reach the summit of the world's tallest mountain over the coming weeks.
While preparing for the campaign, Nick said: "I want to achieve something unthinkable for someone with a life-threatening respiratory condition – to conquer Mount Everest. Not only for my own achievement, but to pay tribute to the thousands of people in the UK and beyond, who climb a mountain every day battling cystic fibrosis.
"I am lucky to have a relatively mild form of cystic fibrosis, and to benefit from a transformational new drug for people with my particular genotype, because the Cystic Fibrosis Trust campaigned for it to be made available on the NHS."
In 2015, Nick's last attempt was cut short by the earthquake that tragically devastated Base Camp. His journey was captured by a team of documentary film-makers; watch the Breathing on Everest trailer, make a donation or keep an eye on the Trust's news for updates on his progress.