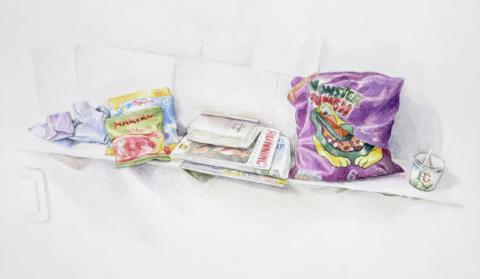 Tell us a bit about yourself.
I've been working as an artist for eight or nine years now, but I've never really made work involving CF before. It's not something I usually talk about, unless it comes up, but it's been really nice having a chance to have contact with other people with CF, in a context that's not about how ill we all are.
What is 'Island Collaborations'?
'Island Collaborations' is about what it's like to be in a single room for weeks on end – it's about what you see and what you hear, rather than what's happening to your body; your hearing and your sight, rather than your breathing.
I was very interested in the idea of parallel experience; where you don't meet your neighbours because of the cross-infection risks, but you're going through something very similar in a lot of cases. The participants' comments about the project were quite touching. A lot of people said that it was nice to feel like there was someone else there, in the same situation.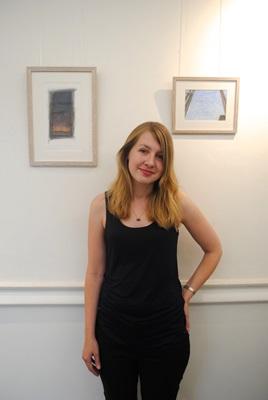 What inspired you to start the project?
During one of my stays on Foulis Ward about two years ago, I heard there were plans to move all hospital services onto one site, and move CF patients to newly built facilities. Fulham Wing, where Foulis Ward is located, is a really old building – it was a tuberculosis hospital originally, and was the site of the first adult CF unit. It's a building with a rich history, but it also has an impact on the history of people's lives.
For me, I started going there before I was even a patient, because both my mum's sisters had CF, and one of them was a patient there, so it has a sense of continuity to it.
By a strange coincidence, my flatmate's grandfather started the CF unit at Royal Brompton. After he passed away, she came across photographs of drawings of patients and nurses done on Foulis ward in the 1970s and '80s, which was amazing, and really added to the sense of history.
So I wanted to look into the history of the building, but I wanted it to be a virtual collaboration. In the past I collaborated with another artist with CF via post, but I thought it would be really nice to get people involved who weren't professional artists.
During my stays in hospital, I sometimes do a bit of drawing. When I've been bored I've plaster-casted the old drip bags, or one day I did some drawings and I made a little exhibition space inside my bathroom for my visitors!
What does 'Island Collaborations' mean?
It's the idea of being far from home, especially because you tend to start going for inpatient treatment when you're a teenager or a child, and it can make you quite homesick. Since the cross-infection rules came in, patients have been isolated, but as I went along with the project I began to think less of islands cast out adrift, and more of an archipelago, a little collection of islands grouped together.
Were there any contributions that surprised you?
There was a lot of humour, which was great! Debbie, one of the contributors, sent me a photo of her painting her toenails blue. It was really nice that there was a light-heartedness to it.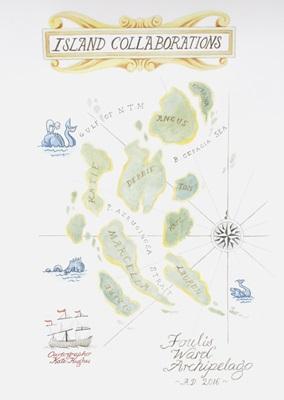 The original focus of the project was on how people make the room their own space during their stay. So I asked people to take pictures of their bedside tables as a starting point. Then people started sending me their own ideas – someone sent me a picture of their partner falling asleep in a chair next to them. People took pictures of stacks of books. There was one person who took a photo of the view from their window, which had pigeon netting in front of it and created this beautiful grid.
People took recordings, and it was really nice being able to hear their voices. I'm hoping that if we can continue the project, I'll get to do a lot more of that kind of work, and start to create an oral history bank about what this particular place is like. If  Foulis ward does close, it would be great to have a record of it.
What piece are you most proud of?
I really like 'Buzzers and Buzzards', which is a video of a contributor, Katie, talking about the different sounds that she can hear from her room. I made the text and the images to fit in with her recording, and it was exciting to be given the opportunity to turn someone's recorded material into something visual.
What's next?
We're going to apply for funding to extend the project, because it seems like a lot of people are getting something out of it, and enjoying it, and I think it's giving a sense of community to us as a group that's not just to do with our condition. So it would be great to think that this could run for another year. We'll see!
'Island Collaborations' is at the Chelsea Old Town Hall until Sunday 2 October, and will then be exhibited at Royal Brompton Hospital from 10 October to 13 November. The project is produced by rb&hArts and was made possible thanks to the Royal Borough of Kensington and Chelsea Arts Grants Scheme, Royal Brompton & Harefield Hospitals Charity, and the contributors that sent Kate their work.