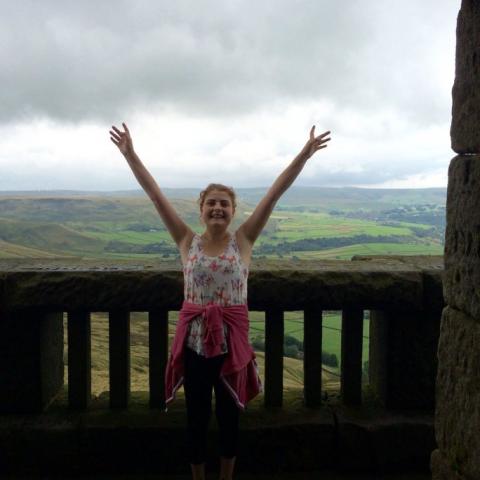 Orkambi is the second drug to be licensed that treats the underlying cause of cystic fibrosis (CF) and not just the symptoms. While it's not suitable for all people with CF, those with two copies of the F508del mutation - which is the most common genotype, affecting around 40% of people with the condition - stand to benefit from this transformational treatment. According to a 2014 report by the UK CF Registry, that means 2,789 people in England, 236 people in Scotland, 113 people in Wales and 111 people in Northern Ireland. And yet, despite having been licensed for people over the age of 12 in the UK, Orkambi is not currently available on the NHS because it is not considered to be cost-effective.
On Monday 26 June the Cystic Fibrosis Trust is holding a day of protests for Orkambi to call on Orkambi's manufacturer Vertex and governments across the UK to agree on an affordable price. To find out what Orkambi means to the thousands of people that could stand to benefit from it, we spoke to Maisie, who has CF and has been granted access to Orkambi on compassionate grounds, as there are currently no other treatment options available to her.
The best birthday present
Last year Maisie celebrated her 20th birthday, but the best present that she could have hoped for arrived a few months before the big day: her first dose of Orkambi.
In recent years, Maisie's health has been in serious decline - every day is dominated by a huge treatment regime of pills, needles, inhalers, nebulisers and physiotherapy, all of which take several hours a day to complete. Her bedtime routine can take up to an hour as she has to repeat her daily treatments and prepare her overnight feeds.
Maisie says: "I feed through a percutaneous endoscopic gastrostomy (PEG) tube overnight to help me gain weight. This means that at night I have to get the feed ready, set up machines and flush out my PEG with sterilised water.
"I used to be admitted into hospital every couple of weeks, as I was always very poorly. Every time I was admitted into hospital I would stay for up to two weeks, three in some cases. Home intravenous antibiotics (IVs) have kept me stable for the past two years, and because of this I have only been hospitalised a few times, for procedures such as needing a new feeding port."
The most crushing moment in Maisie's journey came at the age of 19, when she was told that a lung transplant – at that point her only hope for a better quality of life – was too dangerous for her because she grows the bug Mycobacterium abscessus which could seriously damage a new set of lungs.
Plan B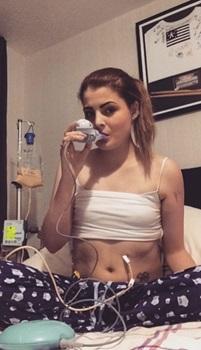 "I've been on continuous IVs for over two years," says Maisie. "When I started on them, my lung function was at its lowest, at 29%. I had transplant appointments only to be told a lung transplant would be too dangerous for me and that they couldn't put me on the list. Orkambi was plan B."
Plan B, thankfully, turned out to be the gift of hope that Masie had been wishing for.
"On the 29th of July, while in hospital, I took my first dose of Orkambi. I started on just one tablet a day instead of the full dose, which is four tablets a day. This was because I took a medication that could interact with Orkambi. For one full week I took one tablet of Orkambi every day. I then went up to two tablets a day, then eventually up to the full four-tablet dose.
Maisie says: "Since taking Orkambi I have suffered no side effects at all, and within a week I started to notice massive improvements. I felt so amazing. My resting heart rate used to be around 110-120 beats per minute (bpm). Now, for the first time in ages, my resting heart rate is normal, at 70-80 bpm.
"For the last four years I have slept sitting up with the help of a wedge as my lungs couldn't handle me lying down flat and I would struggle with my breathing if I did. But for the first time I was able to sleep without my wedge and it was amazing to sleep lying flat. I could breathe!
"But the biggest change for me is that I haven't had one of my coughing fits since starting Orkambi. Usually my mornings consisted of sitting up in bed and struggling to catch my breath while I coughed, bright red in the face and dizzy. That's all stopped now. I no longer cough until I can't breathe.
"On the 18th of August, just 10 days after coming home from hospital, I did my first set of lung function tests. The last test I had done recorded my lung capacity at 36%. The test I did on the 18th came out at 50%! I haven't had a result that good since I was eight or nine years old. I never thought in a million years I would be able to get a lung function result that was higher than 40%, never mind 50%!"
A bitter-sweet victory
Maisie is delighted to have been given access to Orkambi, but her thoughts are with the people with CF who still can't access the life-changing treatment.
She says: "As happy as I am to have started on Orkambi, I still wish that more people had access to the drug and the hope of a better quality of life that it offers."
For the people who can benefit from it, Orkambi could be transformational. To people like Maisie who have been allowed access to the treatment, to see others have it dangled just out of reach seems cruel beyond belief.
Maisie's story originally appeared in the blog 'CF Stories'. Since publication, Maisie says: "After being on Orkambi for nearly a year, I have had my ups and downs. At the moment my lung function is around 38% and I think if I wasn't on Orkambi my health would definitely be a lot worse."
Join the fight for Orkambi by attending our day of protests on Monday 26 June, taking place in Downing Street in London, the Senedd in Wales, Holyrood in Edinburgh and Stormont in Belfast. If you can't attend, join us online and tell us why you neeOrd #OrkambiNow!