Poppy's story: Coronavirus, mental health and staying fit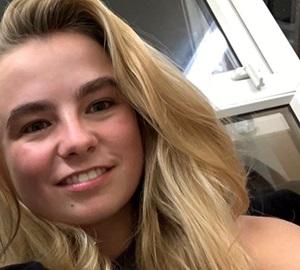 Day 40 of isolation due to coronavirus and another 50 (possibly more, hopefully less) days to go. Cystic fibrosis can be a pain at the best of times but throw in a global pandemic and things get evenmore complicated! We (people with CF) are classed as extremely vulnerable and therefore are shielding until future notice. For many, this means not being able to go outside at all - especially if you live in a city - and not seeing family and friends for three months. This is inevitably going to have a huge impact on our lives, mentally and physically. But not all hope and optimism is lost…
Staying busy
Many people have said lockdown should be seen as an opportunity, rather than a drawback. I know this is hard to try and get your head around, particularly when it is easy to see all the negatives. However, isolation can be used to get all those small jobs done that you have always wanted to do but never had time for – for, example organising your wardrobe (which is actually a bigger task than you think and took me several days). It can also be a time to try something new that you have always wanted to but was never a priority, such as learning the guitar. Making sure you do something every day will make the time pass quicker and keep you distracted from constantly thinking about the situation. Personally, I am using this time to do a lot of art and creating, whereas my brother is doing Open University courses.
Staying active
Another issue with isolation is the limitations on exercising. Thankfully, I am lucky enough to live in the middle of nowhere, so can still go running around the fields, however I know many people cannot. In a situation like this it can be hard to find motivation to work out and it is very tempting to just wallow in your own thoughts, leading to a downward spiral of your mental and physical health.
I was training for various sporting events this year, which have all now been cancelled or postponed until further notice, and therefore no longer have a certain date or event to be working towards. Some people may lose all hope at this point and question the point of still training at all, but we have to accept the situation we are in and know there is nothing we can do to change it. We have to trust the system and our amazing healthcare to find a vaccine and cure the infected. There is nothing we can do to speed up the process other than stay at home and wait. Fitness and working out are proven to improve your mental health and outlook. I, for one, can definitely say that I always feel better and happier after a workout. Therefore, it is important to still exercise even in lock down.
There are more ways of working out at home than we may think. I do live virtual Pilates and Yoga a few times a week with a company called 'Andra Health'. They run classes via Skype, so - unlike classes on YouTube or an app – you are told if you're doing it wrong and how to improve your form, which is essential for both these types of exercise. I can also highly recommend the Nike Training app, which has a huge range of workouts for all muscle groups and durations. Whether you want to work out for six or 60 minutes, there will be a workout for you. There are workouts with equipment if you have it but also many without, which work you just as hard. 
It is not essential to have weights or pull up bars etc. to get fit and gain muscle. There are also more wacky and creative ways of keeping fit. One of my friends in London is unable to go outside at all due to the risk of infection and having CF, so is taking on The 2.6 Challenge for the Cystic Fibrosis Trust. She has measured the height of her stairs and is going to climb them enough times to reach the height of K2 at 8,611m. This will mean going up her stairs almost 3,000 times! You can sponsor her here.
I have also found a good way of tracking my fitness is with my running watch. I usually only wear this when running; however I have started wearing it every day in isolation, to ensure I am getting the amount of exercise I want. If you don't have a sports watch then there are also many apps you can use to track steps and exercise, such as Apple health. 
Staying in contact
Some days are easier than others to see the positives of the situation and to keep busy. Other days you simply can't see the light at the end of the tunnel and, to an extent, think all hope is lost. On days like these I find talking to my friends always helps. Laughing with them on the phone or via Facetime always helps and often makes me lose track of time – I have had calls with friends which have lasted almost five hours! I have no clue what we talked about for that long, but I know it was fun!
I also remind myself that I am definitely not the worst affected in the current situation. All of the key workers are having a far tougher time and thinking what they are going through every day compared to me, sat at home working out and drawing, helps give me a little perspective. I just need to keep filling my days with things I enjoy and jobs. I know this is only temporary and will eventually come to an end. However, if you do need to speak to someone there are many helplines you can call.
In short, to ensure you stay mentally and physically well during isolation, keep busy! Every day might not be super productive, but doing at least one thing each day will make the time go quicker and keep you healthy. Workout, call family or friends, pick up a new hobby or paint your house… Whatever it is, find some pleasure in having the time to be able to do these things. 
Find all the latest support on advice on COVID-19, or contact our Helpline. Read more about Poppy's thoughts and experiences with CF on her blog 'Sticking two fingers up to CF'.