Annual data shows Pseudomonas infection in decline in the UK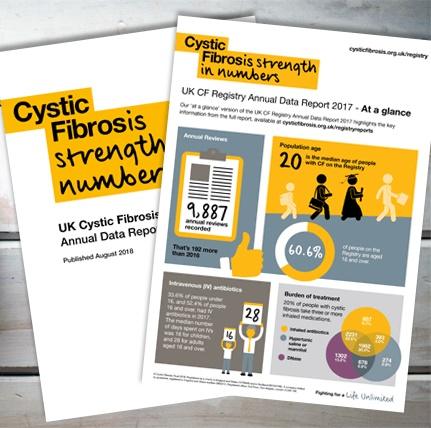 The annual report features data from over 99% of the UK cystic fibrosis (CF) population, who give consent for their data to be securely entered by their CF clinical teams with the aim of improving care for people with the condition. 
This data is used to help funding of services to reflect the complex needs of individuals, and to provide an evidence base for research and drug safety studies.
Pseudomonas
While the data shows the overall prevalence of Pseudomonas falling compared with 2013 data, it increases with age, and 44.5% of adults were classified as having chronic Pseudomonas infection, compared with 28% for the population as a whole.
The latest data shows the CF population at the end of 2017 to be 10,469, with a median age of 20 (60.6% of the UK CF population are aged 16 and over).
Burden of care
As well as a demographic snapshot of the UK, the report reveals some of the burden that CF care places on those living with the condition, with 20% taking three or more inhaled medications, while 33.6% of under-16s and 52.4% aged 16 and over, had IVs in 2017.
The number of lung transplants performed rose to 51 (from 46 in 2016), with 121 joining a transplant waiting list and 235 put forward for evaluation.
A vital source for CF data
Registry Lead Rebecca Cosgriff said: "The Cystic Fibrosis Trust began hosting the UK CF Registry in 2007, so we are delighted to publish a report on data that reflects a decade of driving evidence-based improvements in CF care. Only through the commitment of people with CF, and tireless work of their clinical teams, do we have this invaluable key to gaining insight into the past, present, and future of CF in the UK."
In his foreword to the 2017 report, Trust Chief Executive David Ramsden highlighted the mutually beneficial relationship between the Registry and the community that shares its data: "The Registry is critical to improving the health of people with CF, while at the same time it is the CF community who make the Registry the world-class resource it is, by sharing their data. 
"The Registry supports funding of CF services that reflects the complexity of the needs of individual people with the condition, and the excellent quality data it holds enables innovatively designed clinical trials and ground-breaking research."
Visit our Registry Reports section to read the full report or check out the key figures in the 'at a glance' report.