Remembering your special stars
I am always devastated to hear of someone losing their life to cystic fibrosis. We know that many of those lead a full life, albeit too short, and that their friends and families will never forget them, which inspires us to keep working hard to beat this condition for good.
Cystic Fibrosis Trust 'Stars' tribute funds
In 2014, we developed our online 'Stars' tribute funds as a way of remembering someone special. Many of our supporters set up a tribute fund as a place to post photos that other family members may not have seen before, and share stories as an act of both affection and remembrance.
During 'Dying Matters week', we're highlighting our 'Stars' tribute funds and all of those supporters who have set pages up and contributed towards them with photographs and memories, as well as donations and fundraising activities on behalf of the Cystic Fibrosis Trust. We appreciate all of your efforts, and will carry on fighting for a life unlimited.
Meet some stars
I would like to share two funds with you, with the agreement of the families involved, showing the importance of the funds to them, the memories they have, and their efforts following the loss of a loved one.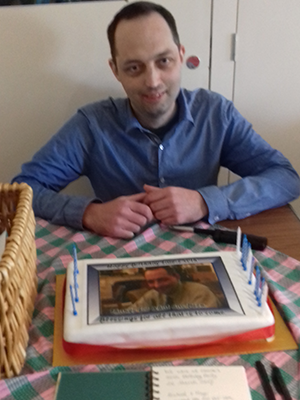 Francis' story
Francis' brother, Laurie, sadly never had the chance to meet him. For his fortieth birthday, Laurie asked for donations to be made to the Cystic Fibrosis Trust in memory of his late brother. 
Laurie told me: "Although I never met my older brother Francis as he died from cystic fibrosis one year before I was born, nevertheless I have always felt a very strong connection and that is why I fundraise  on behalf of the Cystic Fibrosis Trust in memory of Francis."
The tribute page has been visited by many family and friends who have generously donated in memory of Francis. Laurie tells us that the tribute page holds a very special place in his heart and allows him to feel closer to his brother. 
He hopes that his efforts and fantastic support can inspire others to give in memory of a loved one, to help the Trust continue to fight for a life unlimited.  
Stephen's story
Stephen's loving family set up a tribute page so that they had a special place to remember him. His family and friends have since been fundraising for the Trust to raise awareness of this cruel disease. They have hosted a BBQ, football match, bike ride and a fun day and cupcake competition. 
We're very grateful to them all for getting involved and raising vital funds for our work; it will help us continue investing in research and providing information and support to families just like theirs.
Set up a 'Stars' tribute fund
It's free to set up one of our Star's tribute page, and we're very grateful to everyone who fundraises or donates via these funds in honour of their loved ones.