Research project is more than an exercise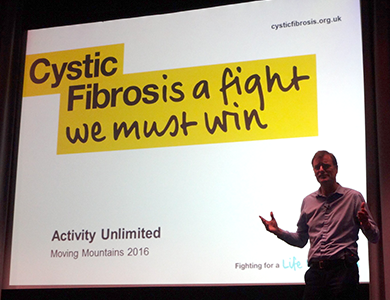 The Cystic Fibrosis Trust has unveiled a new £750,000 Strategic Research Centre (SRC) to explore how exercise and activity can benefit people living with cystic fibrosis, alongside a new programme called 'Activity Unlimited', aimed at helping people with the condition access activities they enjoy.
Led by Professor Craig Williams at University of Exeter and involving collaborators from the University of Toronto and Sickkids Hospital, Great Ormond Street Hospital and UCL, and the Universities of Swansea and LaTrobe, Melbourne, Australia, the innovative four-year SRC study will explore why activity should be prescribed, what frequency, intensity and length should be encouraged and the best ways to promote physical activity. 
Trust Chief Executive Ed Owen announced the major new investment at the 'Moving Mountains' conference at Churchill College, Cambridge, on Saturday, which brought together experts from various disciplines to explore how to motivate people with mental or physical chronic health conditions to engage with exercise.
Talking about the new SRC, Professor Williams said: "Adolescence is characterised by a marked decline in physical activity participation, particularly in girls and is known to track into adulthood. This reduction can have long-term consequences for people with CF, including reduced lung function, health-related quality of life and aerobic fitness, which is a key predictor of patient mortality.
"We know that the promotion of physical activity and more formal exercise training are two ways in which people with cystic fibrosis can manage their condition, but they are still often underutilised.
"The difficulty can be that while each individual will need different levels of exercise, it is not always easy to recommend what that will be. This centre has some of the world's leading experts in the field and will help clinicians determine what the type and in what context activity and exercise can be recommended."
Dr Keith Brownlee, Director of Impact at the Cystic Fibrosis Trust said "Being physically active has important clinical benefits for cystic fibrosis, including improved lung function, aerobic fitness and lung clearance. It also brings psychological and social benefits such as improved self-confidence, socialisation and self-esteem.
"We are very grateful to all of our supporters, without whom this and other vital research programmes would not be possible."
Find out more about Strategic Research Centres and how you can get involved with 'Activity Unlimited'.
Make a donation now to support this and other vital investments in cystic fibrosis research.