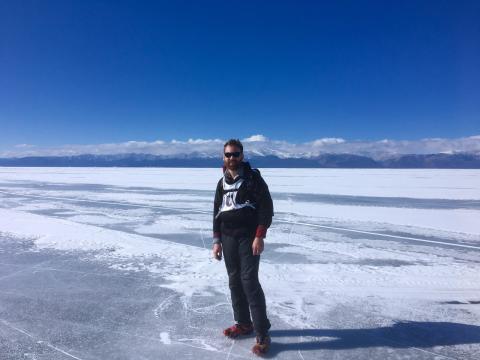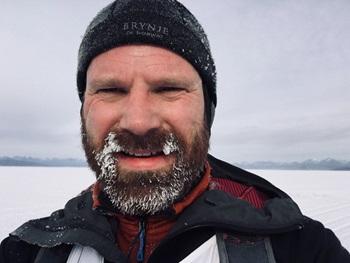 Despite saying he'd had his fill at the Marathon des Sables, a seven-day six-marathon route through the Sahara desert, considered one of the hardest races in the world, Richard Atkins, along with wife Lily, decided to get out again and take on the 'Mongol 100' for the Cystic Fibrosis Trust last month.
From video to adventure
The race sees entrants cross a frozen lake in North Western Mongolia, covering 100 miles in just four days. When asked what made him want to take part in this epic challenge, Richard said: "It started with a simple video ad I saw on Facebook which peaked my interest, and then it went from there. Lily has previously cycled across the country on a tandem bike and was keen to go back to see the people and amazing landscapes."
While entrants can choose any method to cross the lake – by foot, bike or skates – Richard and Lily chose a mixture of running and walking, crossing the metre-thick ice in -29˚c temperatures.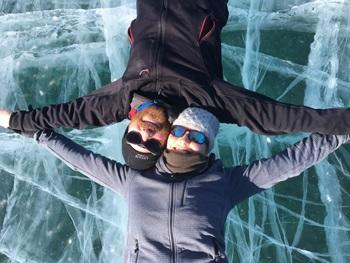 Richard said: "Lily walked each day whereas I attempted to run as much as I could with some trekking in between. But we spent the whole of the second day together walking – it's a very different experience and was a really tough day - it's just such a long time to be out on the ice and it means you have far less time at the end of the day to rest, get food down and sleep. However, every time you pause out on the ice and look around you, the scenery is awesome."
A family connection
The 'Mongol 100' is the latest challenge that Richard has taken on for the Trust to support people like his five-year-old niece Flora who has cystic fibrosis. Richard said: "CF is in the family, if there's anything I can do to support it then I'll put my hat in and give it a go."
And how can you possibly train for a challenge like this? Richard said: "it's more about recognising what you can't train for - then focussing on what you can.
"Having previously been to the heat of the desert and the cold of Antarctica, you make sure that the only thing you have to focus on is the 'difference' – ie the temperature. You make sure you have the right kit, and you trust in your fitness, knowing you can cover the distance."
You don't have to stray far from home to become a full-fledged member of Team CF! Take a look at all the runs we have on offer – whether it's one of the UK's biggest marathons or a city fun run, we want you!