Cystic fibrosis researcher Ruth Keogh recognised for her work
Last week, the latest recipients of the 'Suffrage Science' awards were announced. Dr Ruth Keogh, Associate Professor at the London School of Hygiene and Tropical Medicine was one of the recipients.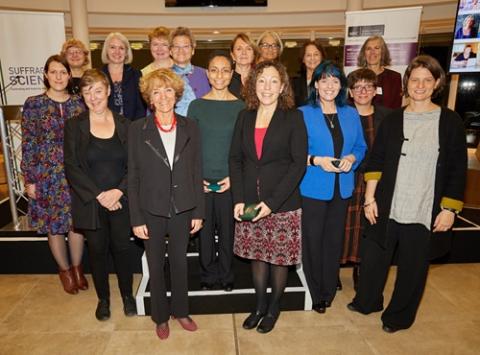 The idea behind the Suffrage Science awards is to celebrate the achievements of women in science, particularly in mathematics and computer science, and to inspire the next generation of researchers, with the October awards focusing on mathematics and computer science. The first Suffrage Science awards were given to eleven researchers in 2016. As part of the prize each of the scientists were given a piece of specially-designed jewellery. Two years on, the prize winners were asked to nominate the 2018 winners, and pass on their jewellery to the next generation of Suffrage Scientists, expanding the network of women working in science.
Dr Keogh's research, which is funded by a Medical Research Council Fellowship has used data from the UK CF Registry to to provide up-to-date estimates of  the life expectancy of people with cystic fibrosis and to develop methods for obtaining personalised predictions of life expectancy. Ruth is also a co-investigator on the CF-EpiNet strategic Strategic Research Centre, which aims to harness the data within the UK CF Registry to tell us more about what happens when someone is living with cystic fibrosis (CF) and to contribute knowledge to improve their lives. This includes research into quality of life, the long-term effects of treatments, how socioeconomic factors affect health, and how health in childhood affects outcomes in later life.
Dr Keogh was nominated for the Suffrage Science prize by Professor Christl Donnelly of Imperial College London. She said: "Ruth is an excellent statistician and epidemiologist. She has pursued both methodological and applied work, with a recent emphasis on making personalised predictions of health outcomes for people with cystic fibrosis. She is an inspiring role model demonstrating the importance of rigorous statistical thinking both through her own work and that of her students."
In two years' time, Dr Keogh will nominate the next recipient of her Suffrage Science prize and pass on the 'heirloom' bracelet.
Dr Keogh said: "It is an honour to receive a Suffrage Science award and to be nominated by Christl Donnelly, a scientist who I greatly admire. To receive this vote of confidence from Christl gives me huge encouragement, and I look forward to passing this award on in the future."
Dr Keogh gave a presentation at this year's UK Cystic Fibrosis Conference, which is still available to watch again (Day 1, session 1, talk 5).