This week we're taking part in the Health Conditions in Schools Alliance's (HCSA) campaign 'Safe in School'. The Cystic Fibrosis Trust is a member of the HCSA, which successfully campaigned for statutory guidance on supporting pupils with medical conditions in English schools. This is important guidance, which ensures that the two million children in England with medical conditions have access to a full education. Schools in England are legally required to develop a medical condition policy and, in consultation with parents and healthcare professionals, write individual healthcare plans for children with medical conditions.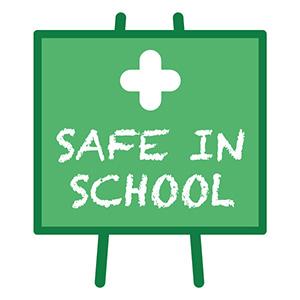 Whilst this guidance only applies to English schools, policies and guidance in Scotland, Wales and Northern Ireland recognise that written planning for supporting children with medical needs is good practice. In a recent consultation on policy in Wales, the Trust has called for a strengthening of current guidance to ensure the best possible support for pupils with medical conditions.
The 'Safe in School' campaign centres around a petition started by Louisa, the mum of a 12 year old with type 1 diabetes, whose life was put in danger after she experienced severe hypoglycemia (low blood sugar) at school because her school didn't know that they needed a plan to care for children with medical conditions.
Worryingly, research by the HCSA has shown that the majority of schools in England couldn't demonstrate that they had a policy in place to support children with medical conditions, including cystic fibrosis. This is often reflected in calls to our helpline, where callers tell us that their child doesn't have an individual healthcare plan, or if they do, that it is out of date or has been written by the school without any consultation with parents, the child's CF nurse or the child themselves.
Responding to these issues and based on further consultation with parents and teachers, we recently published our new 'Starting School' information pack, which provides information for families and schools, including a template individual healthcare plan (PDF 476 KB). The key message from our consultation and helpline experience is the importance of communication, particularly between parents and schools. Putting together an individual healthcare plan is a really positive way to facilitate communication and ensure everyone is clear about how children with CF will be supported at school. Our template covers day-to-day management, such as where medication will be stored and whether children are competent at carrying their own medication (Creon for example), but also encourages parents, teachers and CF teams to talk together about what the child knows and understands about CF, and how they talk about it at home. However, we know that these discussions and the written plan don't always happen.
The HCSA and the Cystic Fibrosis Trust want the school inspector, Ofsted, to make sure schools are aware of their legal responsibilities. We're asking the CF community to sign and share this petition calling for the Minister of State for Children and Families, Edward Timpson MP to ask Ofsted to check whether schools in England are keeping children with medical conditions safe in school. If you have any concerns or queries about school and cystic fibrosis, contact our helpline on 0300 373 1000 or helpline@cysticfibrosis.org.uk.