"Achieving balance": Sean's story
Treatment 
There is no doubt that the biggest burden of having CF is treatment. The best way to manage treatments – for me, at least – is routine, although I'm sure that goes for most of us. When I've got a straightforward day ahead of me, I have no problem remembering tablets or having enough time to do my nebulisers. Having grown up with CF from an early age, not knowing any different has been a blessing in disguise. Although the specifics have changed over the years with changes in medications and treatments, always having tablets to take, physio to do and nebulisers to use has been second nature to fit treatments in around school, university and work.
The only problem with that is, life happens! Sometimes it's the simple things, like leaving the house for a day or a couple of weeks, where it hits home just how much extra there is for people with CF to think about. "Have I got enough Creon if we choose to get food?", "Have I got contingency meds if my flight home is cancelled?", "Am I going to get searched by security and have to explain all the pills and the syringe?". These are regular thoughts for me, and I am sure they're familiar for you too, whether you have CF or care for someone with cystic fibrosis.
The way I deal with it is not too dissimilar to the way a boy scout goes about their business: be prepared. Now, I grant you this is not exactly ground-breaking, but it has taken me more of my 29 years than I care to admit to learn what proper preparation is and also how valuable it is to your physical and mental health.
In the past, I have struggled with anxiety about packing for a holiday or going out for the day, and I have come to realise that a lot of this stress is based on a lack of routine, or being away from thesafety net of home and my stocks of medication. I knew that if I prepared well enough, if I made sure I had enough of what I needed, then I could alleviate a lot of the problems. Some useful things I've found that help me have been incredibly simple solutions include:
Having pocket-size Creon containers, or having a small bag that's big enough to carry sufficient medication but without having to wheel around as a suitcase everywhere I go
Making sure I request medication far enough in advance, so that I can go away on holiday with plentiful supplies but also have enough for when I come back home
Getting a letter from my doctor, explaining the tablets and medical paraphernalia to airport security – I've never been stopped and questioned, but it does wonder for my peace of mind
These are just some examples that have worked for me, but have a think about simple changes you could make to your life that could make things easier. 
Relationships
Nobody is perfect but it's important to remember that the majority of the population are good people. If you surround yourself with people you like, they are even more likely to be good people. 
With that in mind, I have found the best tool to help you manage relationships is honesty. Having gone through school, moved away to university and worked in numerous environments, I have had the "What are they [Creon] for?" conversation more times than I care to count. From my experience, if you are open about having CF and what that can mean, you will get the understanding of those close to you. Now, you don't have to bare your soul and give everyone a detailed explanation of CF, and you should only share what you are comfortable doing so when the time is right for you. However, a little honesty goes a long way, and even sharing a little bit of information with someone shows how you respect and value them. You might find that people will do their own research on the condition and come back to you with questions, but will also appreciate what you go through and be more forgiving and understanding when needed. 
I am very lucky to have the friends, family and partner I have, who never put pressure on me to do something when I am unable to – whether unwell or simply just too tired. And that is exactly how it should be, whether you have CF or not. You want to surround yourself with people who appreciate your circumstances, just as you would appreciates theirs.
Wellbeing and balance
Wellbeing is rightly something we are all talking about more and more. It's a happy balance of all different aspects of life: being healthy, happy and comfortable... no easy feat for most people, let alone when you throw CF into the mix! To me, you have to be healthy to be happy and be happy to be comfortable, and so the foundation of wellbeing is undoubtedly your health. And for those with CF, the best thing you can do to support your health is keeping on top of your treatments. 
Long before I understood the concept of wellbeing, I had the mindset that, as irritating and time consuming as treatments can be, they are key in allowing you to enjoy the best parts of life. I still have this mindset now and it's useful to remember, to keep the bigger picture in perspective when things get on top of you.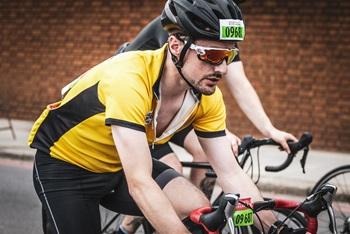 It is important to understand what you enjoy and what makes you feel good, so not only can you get the most out of life but you have the tools you need to clear your head and hit the reset button when you are struggling. For me, this could be heading outside and listening to the birds, going to the gym and working up a sweat, or heading out into the countryside on my bike. Whatever it is, make sure it's something that makes all the time and effort you put into keeping yourself healthy worthwhile. 
Having CF can be rough at times but, while I wouldn't go as far as saying I'm grateful for having it, it has shaped who I am today and given me a positive outlook on life that some people never achieve. I follow my treatments to give myself the best chance of doing what I enjoy with whom I love, for the longest possible time. And that is when balance in life is truly achieved – when you do everything you need to do, but also give yourself time to do what you want to do.
Lockdown life
Lockdown has been a tough pill to swallow. I was supposed to be getting married in May, and not only has the wedding been postponed but my partner and I are now living apart to try and reduce the risk of me picking up the virus. While at first it was hard to come to terms with, the severity of the situation across the country and the world has brought everything into perspective. Hopefully when we look back on this time we stayed at home it'll be a small snapshot of our lives, and coming out of it with our health is a fair trade to make. 
I am fortunate enough to still be working from home, which has been a welcome distraction from the strange reality that has become the new normal. At the start of lockdown, I  found the weekends the hardest time: not being able to leave home or having work to punctuate the day, I found myself feeling a bit lost and useless on the two days I normally look forward to the most. 
I have now managed to settle a bit more into the isolation life, and have found a couple of useful tips to help stay happy and healthy that you can hopefully use as well:
1. Exercise!
You can't have missed the messages about how important it is for us all to keep moving during lockdown. For those with CF, I think it is even more important. Although we can't leave the house, there is still plenty we can do. Whether you have equipment or not, there is a wealth of amazing people sharing workouts on Facebook, Instagram and YouTube (shout-out to Sophie Grace Holmes, who also has CF and has uploaded over 70 workouts to her Youtube channel!).
It's important to find a way to keep up regular exercise and form good habits. You don't have to work out every day but keep your body moving. My brothers, friends and I have been setting each other workout challenges to do, which has been a great substitute for the social aspect of exercising I usually enjoy. If you're in a bit of a slump, get up and move for as little as 10 minutes and I promise you'll feel better. I am yet to feel worse after doing exercise - the power of endorphins cannot be overstated!
2. Lists!
Who doesn't love a to-do list. After the first couple of weeks of feeling like I'd wasted my weekends, I didn't want the four-day Easter weekend to pass by while I felt sorry for myself about not being able to leave the house. So, I wrote a big old to-do list. This list had everything on, from jobs to do around the house and exercise routines to reading my book. It doesn't have to be an exhaustive list and you don't have to complete everything but I felt so much better after ticking things off, with a sense of achievement and purpose.
3. Talk!
I have been living on my own for nearly seven weeks (at time of writing), and with working 9-5 I can go for long periods of the day without talking to people… which is not good! My advice is to pick up the phone: call people, text people, video call, do it all! Seeing the faces of loved ones, talking through a problem with colleagues, doing quizzes or whatever you do to talk to catch up is so important at the moment. And the people on the other end of the call probably need it as much as you.
4. Shower!
Bear with me on this one - I am not suggesting that you have not been showering up until now! However, during lockdown I have found that moving from bed to the office (dining table) to the garden and then to the sofa does not quite cut it at breaking up the day. What does break things up is a shower! I often have a shower in the middle of the day, just to wake myself up a bit: it is like hitting a reset button.
5. Treat yourself!
My final lockdown tip is to treat yourself. This is an utterly unprecedented and strange situation we find ourselves in. You're bound to have worse days than others, so do what you can to get through it and know that tomorrow is a new day. Some days, getting up and out of bed is enough of an achievement, so treat yourself! Make sure you are doing things you enjoy doing. If we can't do it now, when can we do it!
Do you have a story like Sean's about how you balance the challenges of CF with everyday life? Visit our CF Week page and find out how you could be featured in this year's CF Week.