Sister act Pip and Nikki take on third Great Strides challenge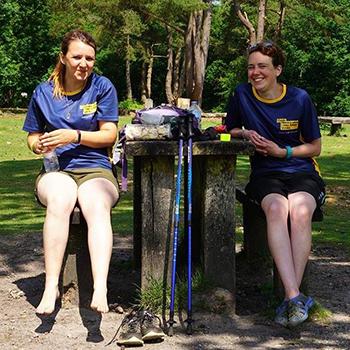 Over the years, Nikki and Pip have taken turns to decide which challenges they'll take on. This year, it was Nikki who decided the two of them would tackle Great Strides Brecon Beacons for the first time, and the decision marked two important events.
"It is my 10-year lung anniversary and also my 35th birthday," Nikki says, "a date which I never thought I would see."
From "never again" to round two
The sisters began their Great Strides journey in 2017 after Pip saw an advert for the Surrey Hills event and convinced Nikki to join her on the challenge. Pip says: "That year we rounded up friends and family and just gave it a go. We all really enjoyed the experience but swore never to do it again by the end."
However, a few days later they had changed their minds and decided to take on the challenge again in 2018, where they were joined by their cousin and his fitness fanatic friends. In this event, the sisters put together two teams – one faster and one slower – to help those who found the walk more challenging, like Pip, who also has multiple sclerosis (MS), which causes weakness in her legs.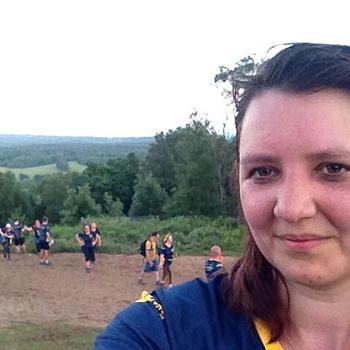 The highs and lows
When it comes to the highlights (and lowlights!) from their Surrey Hills challenges, Pip and Nikki both have conflicting relationships with St Martha's Hill, a 574-foot climb with a summit that offers panoramic views. For Nikki, the climb was her least favourite part of the walk.
"Oh my god that is a long way up," she reminisces. "I had to stop a few times to catch my breath on the way up, which upset me slightly as, up to that point, I was feeling very fit and healthy. It did cheer me up when some of my super fit team mates also had to stop. They said it was for the scenery, but whatever!"
Yet, despite hating the climb, the summit is where Nikki has her favourite memory of the walk: "I am very proud of the one and only selfie that I have, which is a very red faced, sweaty, exhausted me with the hill dropping down behind me."
Pip hasn't climbed St Martha's Hill, as by that point in the walk, she had to take a stage out of the walk so that she could finish it with the rest of the team. However, this has made her even more determined to complete it one day. To this, Nikki offered some sobering advice: "Don't do it!"
Pip's favourite spot is looking out over the Devil's Punch Bowl, where they usually break for lunch. She says: "it's not just about the food, but that does help." She also had a photo taken in that spot that is now used in the Trust's Great Strides fundraising materials to inspire other walkers.
"That's me on page two!" Pip says.
Lending a helping hand
While some sisters would find spending 16 hours navigating through the countryside together a challenge in itself, Nikki says that "the company is always good". Walking together also allows her to help Pip who needs support "in case her legs give up".
"But then," Nikki says, "it is always fun to take the micky when she stumbles or falls."
"We do get on well and always have," Pip says. "As children it was us against the world as no one else understood what was wrong with us (least of all ourselves in many cases)."
Nikki agrees: "We often meet for lunch at work, go on weekend walks and drive each other to hospital appointments. During the walks we are always chatting, well I am at least!"
A shared life
Outside of their training for Great Strides, Nikki and Pip are thick as thieves, and even work in the same university, where Pip works in student support and Nikki works as a communications and events coordinator. Both sisters have also followed an academic path; Pip has a PhD in history and has worked as a lecturer, tutor and secondary school teacher, while Nikki has two Masters.
Over the years, however, Nikki and Pip have moved apart in terms of their health. Nikki had a double lung transplant in 2010 after falling very ill. Her health decline meant she had to give up her love of horse riding, but since her transplant she has been back in the saddle and uses her new-found fitness to ride five times a week, muck out the stables and "chase after runaway ponies".
As well as having CF and MS, Pip also has what was first diagnosed as type 1 diabetes and CF-related liver disease, but these setbacks haven't stopped her from living life to the full. In the past, she competed internationally as a figure skater, even training with Olympian Jayne Torvill. Today she finds pilates, walking and running act as good physio, and she attempted a couch-to-5K challenge last year, getting half-way through and receiving a 'valiant effort' certificate from her gym.
"We both collect degrees and diseases," says Nikki, "it's just what we do."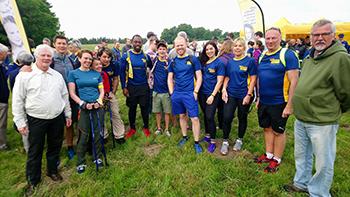 Top training tips
In previous years, Pip has used some crafty methods to get fit for her Great Strides challenges. "I took part in competitions to get a personal trainer for six weeks at the gym, getting one both times," she says. "Those helped me to build muscles and train effectively around the medical hold ups."
When it comes to training for the Brecon Beacons walk in June, she plans to call on the support of friends at the university gym: "They continue to support and encourage me, so I will try to catch their attention and get some pointers as I go..."
Nikki's top training tip is simple: start early.
"But not just early in the morning, early in the year," she says. "Mainly because it takes that long to break in a pair of boots. The problem with that is that by the time you walk, you have already destroyed your boots and need to break in a new pair!"
Nikki also advises getting used to the challenging conditions that a Great Strides walk can present. She says: "I also suggest a night walk, get used to walking with a head torch. It may sound silly, but at that point in the walk you are tired, hungry, and more likely to trip, even without the enclosing darkness."
However, if you're really struggling, Nikki says, cheating with the help of a four-legged friend is always an option: "If in doubt get a horse, they keep you fit, and if the worst comes to the worst, sneak it in and ride it around."
Raising awareness and raising funds
While for Nikki, it's the fundraising rather than the walk itself that poses the biggest challenge, as "year on year it gets harder to ask people to sponsor you," the sisters have a few tricks up their sleeves gathered from their previous challenges.
Pip says: "We usually make a big push after April as that's marathon season and it's easier not to compete with people's desires to sponsor marathon runners. We're most successful fundraising in May and June."
They also plan to use their university connections again and see if they can get their challenge featured in their university newsletter. "I'm feeling things out a bit at the moment to see if we might be able to do some of that again," Nikki says, "as that should help us to raise awareness."
In the lead up to their third challenge, Nikki remembers their first. "It will always be my favourite," she says, "because it was such a relaxed and happy atmosphere. Even when we got lost multiple times, and then ended up at the back after other teams 'overtook' us (almost certainly not on foot…)! But it's the memories you make along the way that we hold on to for ourselves."
If Nikki and Pip have inspired you to take Great Strides for the Cystic Fibrosis Trust, take a look at the four treks we have to offer, explore our three peaks series, or see if you've got what it takes to attempt the Ultra Marathon!