Speedy science students shortlisted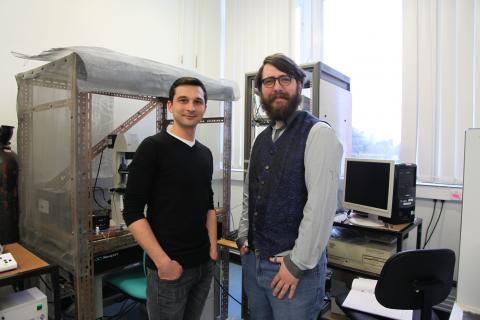 Students Bartholomew Harvey and Sam Bose were shortlisted for the BBC Focus Prize at this year's Bristol Science Film Festival for their film 'Everybody's Free (To Cure Cystic Fibrosis)'. Their video, which was filmed over two days, was inspired by Baz Luhrmann's 1999 viral video, 'Everybody's Free (To Wear Sunscreen)' and explores the long term goals of cystic fibrosis (CF) research, enhancements in the understanding of the condition, hopes for the future and the huge potential of gene therapies.
Both PhD students study at the University of Bristol. Bartholomew is working with Lead Principal Investigator Professor David Sheppard on the F508del Strategic Research Centre (SRC), which receives £750,000 of funding from the Cystic Fibrosis Trust and is investigating the genetic mutation. Sam is a third year PhD student working on a project in Professor Sheppard's lab identifying how drugs that treat CF, including ivacaftor (Kalydeco), interact with the CFTR protein. His project is supported by funding from the Medical Research Council (MRC).
When asked about applying to the festival, Bartholomew said: "We decided to enter only two weeks before the deadline so the process was, in a word, frantic! That being said, it was incredibly rewarding when looking at the final product."
Sam said: "We had to squeeze all of the filming into two days. I managed to put together the soundtrack and record the voiceover in my bedroom, and Bartholomew edited the footage we had recorded together with some stock video samples over a weekend. This is the first time I have put something like this together but it is definitely something I would love to do again."
Both PhD students specialise in CF research. When asked what had attracted him to studying the condition, Bartholomew said: "I originally had no intention of studying at university level, but after experiencing the effects of an incurable disease myself I decided I wanted to help people going through the same thing, so I returned to school. Professor Sheppard was one of the lecturers during my undergraduate degree at the University of Bristol and I became interested in CF through his lectures. When the opportunity arose to study an incurable disease and be Professor Sheppard's PhD student, I jumped at the chance."
Sam's own interest in CF research also came from having Professor Sheppard as a lecturer during his undergraduate degree in Physiology at the University of Bristol. He said: "As an undergraduate I developed an interest in ion channels and electrophysiology, and I jumped at the chance to complete a PhD with Professor Sheppard. Since becoming involved in CF research I have been lucky enough to attend a number of conferences run by both the Cystic Fibrosis Trust and the Cystic Fibrosis Foundation in the United States. At these conferences I have been fortunate to meet with families of people with CF and I always find these meetings incredibly inspiring in my research. There is a real feeling in the CF research community that the next big breakthrough is just around the corner and it is a really exciting time to be working in the field."
When asked how they felt to be nominated, Bartholomew said he was shocked and incredibly pleased. He said: "I have never done anything like this before so I didn't have high hopes of being nominated but it appears me and Sam make a great team. I just hope everyone who watches it enjoys it as much as I do."
Sam agreed that it was a pleasant surprise to hear that the video had been shortlisted, considering how quickly they put it together. He said: "I really hope that the video manages to reach a wider audience and helps spread the word of the work that is being done in CF research."