SRCs - making a world of difference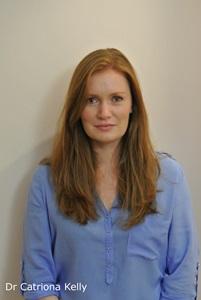 Dr Catriona Kelly is a lecturer at Ulster University in Northern Ireland, and Dr Anna Edlund is a postdoctoral researcher at Lund University in Sweden. They are just two of the many researchers working around the world on our ground-breaking CFRD SRC to better understand diabetes in people with cystic fibrosis.
How did you get involved in the CFRD SRC?
Dr Kelly: The Cystic Fibrosis Trust funded my first PhD student in the area of CFRD in 2013 and I've been lucky enough to continue that research through this SRC. I'm the Principle Investigator for the Ulster project and have a PhD student (Ryan Kelsey) and a postdoctoral researcher (Dawood Khan) working on the project.
Dr Edlund: In my PhD I investigated the function of CFTR in the part of the pancreas where insulin and glucagon, two of the hormones that control glucose levels in the blood, are produced and secreted. After my PhD the Trust made it possible for me to continue my research in the field of CFRD.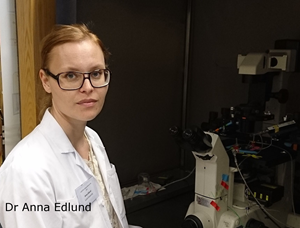 What different areas of CFRD research are you working on?
Dr Kelly: Each group in the SRC is addressing a different question with the aim of contributing to the understanding of how CFRD develops. At Ulster University, we are interested in determining how CFTR affects the way that cells in the pancreas interact with each other and how this contributes to differences in insulin signaling. Normally cells in the pancreas secrete insulin in response to high levels of glucose in the bloodstream, or anti-diabetic drugs. However, with CFRD, the processes that regulate the secretion of insulin are interrupted and we are trying to understand why this happens and the specific contribution of mutations in CFTR.
Dr Edlund: The focus of the Lund University part of the SRC is to address how CFTR regulates the secretion of insulin and glucagon. We have a special interest in glucagon secretion, and we aim to determine the role of CFTR in the cells that secrete glucagon in the endocrine pancreas.
How does working in different countries from your fellow researchers affect your research?
Dr Kelly: Being in separate locations might be seen as a negative thing, but we stay in touch via conference calls and are planning to have regular meetings in person. It can be a really good thing as it allows us to learn from other perspectives and to benefit from the different facilities and resources at each of the SRC labs. We have plans to travel to other labs within the SRC to undertake collaborative research that will further our understanding of CFRD.
Dr Edlund: Overall it is a good thing to collaborate over several nations, since the expertise and the research focus is different and therefore it is possible to cover a bigger research area. In the SRC we can exchange knowledge, ideas and methods to answer the questions raised and ultimately increase our knowledge of CFRD.
What drew you to study cystic fibrosis?
Dr Kelly: My research into CF started with lung disease, but as someone who undertook their PhD in diabetes research I was always interested in the effect of CFTR in the pancreas. When I eventually got my own lab and had the choice of what I would research, CFRD was the first thing on my list!
Dr Edlund: I started my PhD in 2009 with the aim of determining whether CFTR is present and functional in insulin-secreting cells in the pancreas. Our results were very exciting and it turned out that CFTR is important for insulin secretion. CFTR is an intriguing protein and I really want to know how it works in terms of hormonal secretion in the endocrine pancreas.
What are your big hopes for this SRC?
Dr Kelly: I hope we can produce a much better understanding of how CFRD develops and the independent roles of the endocrine pancreas (which produces insulin and glucagon) and the exocrine pancreas (which secretes digestive enzymes). Our ultimate goal is that a better understanding of CFRD will lead to better treatments and an improved quality of life for people with CF.
Dr Edlund: I agree with Catriona that the SRC will increase the basic knowledge of how CFRD develops and will in the end improve the treatment of glucose intolerance and CFRD.
Find out more about our cystic fibrosis-related diabetes SRC and take a look at other SRCs we are funding. We couldn't continue our work without your support - by setting up a regular donation you can help ensure we continue funding research like this long into the future.