Studies reveal impact of precision medicines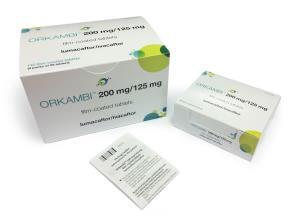 Research presented by drug manufacturer Vertex at the North American Cystic Fibrosis Conference (NACFC) in Orlando, Florida, shows that Orkambi slows the decline in lung health by up to 42% in people aged over 12 with two F508-del CF mutations, comparable with the 47% slow in decline caused by transformational treatment Kalydeco. 
A separate study also presented at NACFC uses data from the UK and US patient registries to illustrate the real-world impact of Kalydeco on those with G551D and nine similar mutations.
Precision medicines for brighter futures
Orkambi
Orkambi (also known as 'lumacaftor/ivacaftor') is currently licensed for people aged over 12 with two copies of F508-del: around 3,200 people across the UK. Declining lung function can mean that people struggle to work and stay active and is ultimately the main cause of death among people with cystic fibrosis. By reducing this decline, precision medicines like Orkambi can help people with cystic fibrosis stay healthier for longer. 
In July, the National Institute for Healthcare and Excellence (NICE) published guidance recommending against the use of Orkambi on the NHS in England for people with CF aged 12 and older who have two copies of the F508del mutation. This is despite recognising Orkambi as a "valuable new therapy for managing cystic fibrosis" with significant clinical benefits as well as "wider benefits to society for people with cystic fibrosis and carers of people with cystic fibrosis." 
The Cystic Fibrosis Trust proposed a solution that would allow access to Orkambi while more data is gathered, and is calling for the NHS and Vertex to come to an agreement. 
Kalydeco
Further research announced at NACFC draws on data from US and UK CF registries to demonstrate that Kalydeco (also known as ivacaftor) continues to be effective in the long run, significantly lowering the risk of death, transplantation and lung infections (exacerbations).
One of the main reasons for NICE deciding not to recommend Orkambi was a lack of data to demonstrate the longer-term impact of the treatment, and these findings highlight the importance of the UK CF Registry in supporting access to new medicines. 
Following extensive campaigning from the Trust, Kalydeco was approved for use in all four UK nations in 2013, bringing hope for a brighter future to the 5% of the UK CF population that respond to the drug. However, two-to-five-year-olds living outside of Scotland are yet to be granted access to Kalydeco. The Trust is calling on Governments across the UK to follow Scotland's lead and resolve this situation.
Looking forward
Rebecca Cosgriff, Registry Lead at the Cystic Fibrosis Trust, said: "These UK and US Registry studies show the power of Registries in providing reliable evidence about the lasting impact of new therapies. These results show huge potential for a UK CF Registry-based appraisal model for medicines not currently available to people with CF in the UK, a model that we have proposed, to avoid medicines being denied to people with cystic fibrosis because of a lack of data."  
James Barrow, Head of External Affairs at the Trust, said: "The results of this study show the importance of precision medicines in preserving health by significantly slowing down the progression of the condition. It is unacceptable that people have been waiting almost a year for access to Orkambi and we urge Vertex Pharmaceuticals and Governments across the UK to reach agreement." 
The announcements come before the publication of the full details of this research in a journal, and highlight the importance of our Stopping the Clock campaign for access to these treatments.
Add your voice
To stay up-to-date with our Stopping the Clock campaign fill in our contact form and add your voice to our fight for access to precision medicines like Orkambi.