How Helen Barrett Bright Ideas Award helped tattoo apprentice Callum make it permanent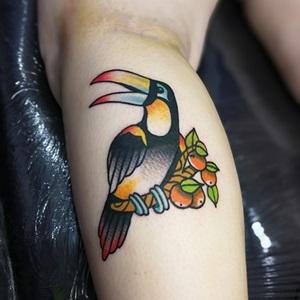 When did you first decide tattooing was in your future?
I grew up listening to punk music, and a lot of the members of my favourite bands are heavily tattooed. I always knew I wanted to be heavily tattooed like they are, and one day it sort of clicked that tattooing could be a career path. It's all I've wanted to do since I was about 14 years old and it's great to finally get an opportunity to learn from some of the best artists in the country!
How has your award helped you to pursue your dream career?
With the money I received from the Helen Barrett Award I was able to purchase a lot of equipment that I otherwise wouldn't have been able to afford for a while. My main purchase was two tattoo machines of my own. I bought a good-quality work station and a bunch of inks too. At the time I received the award I was still working full time in a printer's, alongside my apprenticeship. I had been saving up money with a plan to cut down my hours and eventually leave that second job at the end of the summer. Plans sort of changed as I was paid off from that job in May, so with the money I'd saved and the leftover money from the award I decided to just put 100% of my focus into tattooing.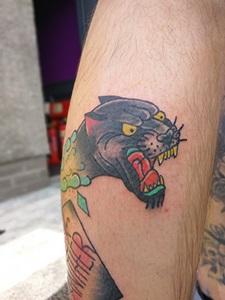 Juggling work and CF can be tricky. Has starting your new career helped you to manage your condition more?
Managing my CF has become so much easier since I started training as a tattooist. Everyone in the tattoo shop is really close, and that certainly eliminates any potential awkwardness or embarrassment from doing treatments at work. It's not uncommon to see me mopping the floors with my iNeb on at the same time in the mornings! When it comes to clinic appointments it's as easy as just slipping away in the afternoons without having to go through the rigmarole of explaining to upper management why I need to leave early, which was a problem I had in almost every job I've had previously. Although not directly related to tattooing, my work is now way closer to home, so I am able to get in earlier each day which leaves more time for evening treatments and stuff as well!
Lots of people in the CF community have had tattoos that relate to their condition, or even sometimes to cover CF-related scars. Do you have any tattoos that relate to your cystic fibrosis?
I don't personally have any cystic fibrosis-related tattoos, although I too have noticed the trend in people getting them! I wouldn't rule out getting one in the future though. Whilst on the subject, I have an idea floating around in my head for next year during CF Week in June. I'd like to try to do 65 rose tattoos in one week and donate the proceeds to the Cystic Fibrosis Trust. There's obviously a lot more planning needed on my half, but hopefully I could get the whole shop involved and we could raise a whole bunch of cash! It's certainly much more appealing to me than a terrifying bungee jump!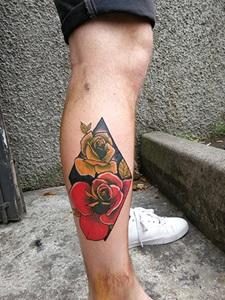 What's have you got planned next for your career?
Keep my head down and learn as much as I can from my mentors! I've been tattooing almost every day for the past few months and I'm really happy with my progress. I've still got a long way to go before my apprenticeship is over. Every day is a blast though, the positive impact it's had on my physical and mental health makes everything CF related so much easier to deal with.
Finally, what's your favourite tattoo?
My favourite tattoo on myself is probably the demon head tattooed on my knee. It's a really sore spot to get done so I'm glad I chose something cool! Hard to say what my favourite tattoo that I've done so far is, I just love tattooing traditional style pieces, I could tattoo in that style all day every day and never get tired of it. My mate Craig has a large mole on his forearm that he got some wee legs and stuff added to that makes it look like a big hairy cockroach, that's probably my favourite tattoo that I've seen on someone else!
Bright Ideas Awards now open!
Who was Helen Barrett?
Helen Barrett was an entrepreneur with CF who set up her own gym. She sadly died a week before her 32nd birthday, but her gym is still thriving.
What are the Helen Barrett Bright Ideas Awards?
The awards were established in memory of Helen, and offer applicants a grant of up to £5,000 to help them develop a hobby, business idea or career, or fund training or resources to help their business venture grow.
Apply today – applications close on Thursday 31 January 2019 and winners will be announced in April!