Helen Barrett Bright Ideas Awards
The Bright Ideas Awards have been established in memory of Helen Barrett, a successful entrepreneur who, together with her partner, set up a gym that is still thriving today.
Whatever you need to kick-start your dream career, if you're over 18 you can apply for a grant from the Cystic Fibrosis Trust to help you on your way. Maybe you have a creative hobby and need the resources to turn it into a thriving business. Perhaps you've already started your business and need some funding and support to help you expand and reach your audiences. Whatever it is, a Helen Barrett Bright Ideas Award can help you on your way.
Award winners can receive a grant of up to £5000 to boost their business idea, as well as access to expert support and guidance.
Helen Barrett Bright Ideas Awards 2021
Applications are now closed. Good luck to all those who applied! Our judging panel will meet at the end of November 2021 and we'll be sharing news of the winners in the new year.
Who was Helen Barrett?
Helen Barrett dreamed of setting up her own business, and she didn't let her cystic fibrosis hold her back. Sadly, having fought a hard battle, Helen died a week before her 32nd birthday - but her gym is still thriving today, and through these awards set up in her memory we hope to inspire others to make the leap too. Working for yourself can offer great benefits – you plan your own hours, earn your own money, and do what you love. We want young people with cystic fibrosis to use the grants and mentoring to follow in Helen's footsteps and live the life they want to. With funding and support from the 65 Roses Trust, we are delighted to be able to offer these awards to help entrepreneurs with CF set-up thriving businesses.
Is self-employment right for me? 
Choosing to start your own business or become self-employed is a big step. For some, the freedom of flexible hours that can fit around treatments and fluctuating health means that work and CF can fit together more easily. For those who are in secure employment there are things to consider, such as sick pay and holidays. It's a personal decision, and if you have any concerns about how pursuing your business dream may impact your health, you can talk to your CF team. 
If you are in receipt of benefits and have any concerns about how earning through self-employment could impact your benefits, our Helpline team can put you in touch with our specialist Welfare & Rights Advisor for advice.
This year's winners!
Thank you to all those who have submitted an application for this year's Helen Barrett Bright Ideas Awards. Despite the pandemic, we received a record number of incredible applications, meaning choosing winners was very difficult. 
This year, 10 talented individuals were chosen to receive an award to help them advance their small business. Read on to hear from this year's winners: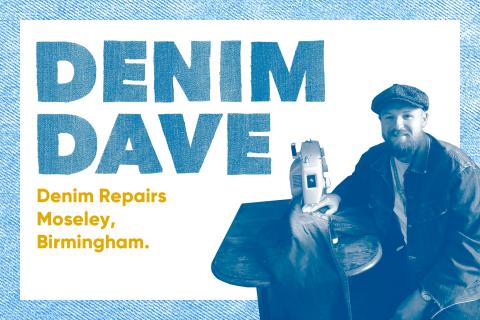 Dave's denim
I've set up a denim repair business for my Bright Idea. In my previous job at a well-known global denim brand, I saw a lot of ripped jeans that people would naturally throw away. Given some care and attention, these jeans could have an extended life, not only saving the customer money but also saving on textile waste. Denim as a material is hard wearing and lends itself well to repairing; the denim industry also creates a lot of water pollution from the use of dyes, so if I can contribute to people buying fewer jeans then I will be happy.
I was inspired by Helen's story to apply for the Awards. I felt that I had a good idea but didn't have the right tools to do the job properly. It made my year winning this Award, knowing that someone had faith in what I wanted to do!
I've used the funding from the Award to purchase a reliable, heavy-duty sewing machine and overlocker machine. It's already helped me save people's favourite jeans from the bin. Ultimately, I would like to be seen as the person to go in Birmingham and surrounding areas for denim repair! I also hope people appreciate the clothes they have already and always think twice about throwing them away.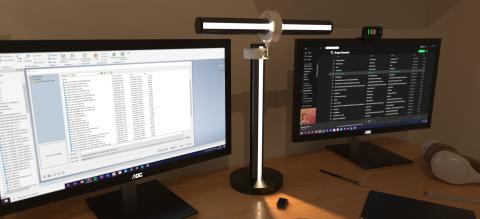 Greg's flexible desk lamp
In my current job, I design lights for companies who want specific luminaires. I've designed around 700 lights throughout my career so far, but my Bright Idea came from seeing everyone working from home during the first lockdown who didn't have good lighting in their offices on their webcams. My idea for this desk light was one that didn't have exposed wires and was able to rotate in all directions for people to use flexibly. I'd already designed half of it, when my wife found out about the Helen Barrett Awards and suggested that I apply to see if I could make it a real task light that people could buy.  
The Helen Barrett Award will allow me to make one of my own designs in my own time. I am going to use the funding towards 3D printing costs, to test the design and make sure it works. In the later stages, I can use it for the manufacture of parts and also possibly the tooling of an extrusion die, which is very expensive.
To be given a lump sum of money to be able to test out an idea is a rare gift that I am incredibly thankful for. If it goes well, I will have a side income to rely upon that I can grow over time. Even if the design does not go well, I will learn much along the way and also generate some level of interest in a design that is completely my own. It also gives me something to work and focus on that I enjoy, and will probably still be doing even when I have to stop working due to health.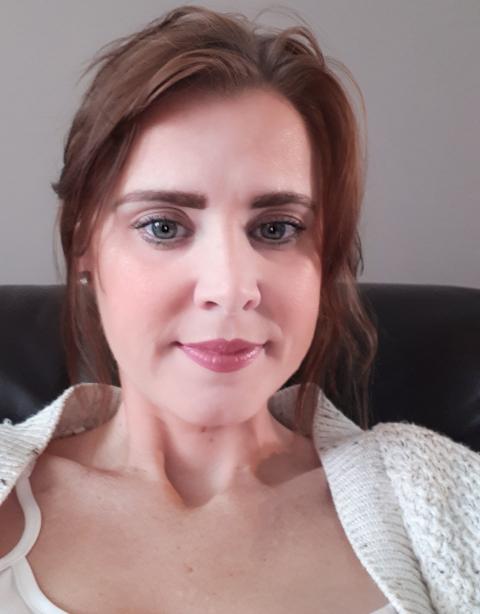 Melissa's upholstery business
I've always enjoyed crafting and restoring old furniture – I lose myself in it and it helps me relax. My Bright Idea is to create my own upholstery business where I can help others with their vision for a piece of furniture, whether it's bespoke or an heirloom in need of love and affection. This will also stop items ending up in landfill, helping the environment in my own way.
I was gobsmacked when I found out I had been chosen as a winner. I know a lot of people apply, so I never expected to be chosen. I'm planning to use the funding to do an upholstery course, so I can widen my range of revamping and set up my own business with different types of furniture.
Working for myself will make time off less stressful, and I can take as much time to rest as I need if I am unwell.
Jonny's swimming support
Today, swimming training can be inaccessible to many people who may not know exactly what to do. I first thought of this when I went to the pool to train on my own; I didn't have a coach to tell me a swimming set to complete, so I totally lost focus and became bored. I couldn't find a product like it, so I made it myself!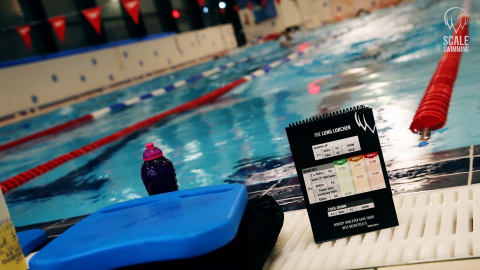 'Scale Swimming' designs and develops products to help people in the pool. Our first product is a waterproof training book which contains professionally designed swimming sets to help swimmers and triathletes focus in the pool and improve their training. We have also developed a water bottle with swimming sets, a pool buoy and kickboard. I believe our swimming training books can change the sport, help people learn and focus in the pool.
Having someone to point you in the right direction to help you and your business is the biggest attraction of the Helen Barrett Award. Winning the award has already helped me learn from other entrepreneurs and be able to connect with many other business owners. Of course, the money helps too! I will be using the funding to boost our advertising strategy when pools re-open and create new swimmer and triathlete bottles.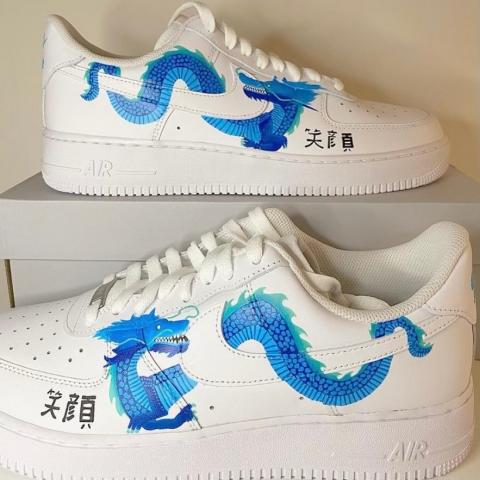 Emily's custom trainer designs
My Bright Idea is a custom shoe business, using professional leather paints and materials to hand paint shoes. I have always had a passion for art and, during lockdown I decided to make a pair for my boyfriend, as he loves trainers and cartoons. After posting about them on social media, many of his friends wanted their own, so my small business started! So far, I have completed 50 pairs, with designs ranging from distinguished cartoon characters, todainty flowers and pop culture design. I have so many innovative ideas of how to develop this venture further. So far, I have a business Instagram account, a Depop page, and an Etsy shop.
This Award will help me develop my small business, which I will be able to continue to do from home, and around my medication and college work. I plan to use the funding to grow my business, improve the quality of my art and promote myself to a wider mainstream audience.
When life returns to normal, I plan to go to conventions, such as Sneakercon, to sell my trainers and promote my business to the niche audience of trainer-lovers. I also want to buy equipment, such as a camera and lights, to start a YouTube channel to document the process of customising shoes and hopefully inspire others with CF to start their own business.
Mark's creative services
I was made redundant in October 2020, after 18 years with the same employer as a Studio Manager/Graphic Designer. I found myself in the unenviable position of being out of work at 49 with a chronic health condition in the middle of a global pandemic. I've always dreamed of working for myself in whatever capacity that may be and have always loved the creative arts and graphic design in particular. Therefore, I decided to give it a go as a freelance designer and set up my own creative design business.
The name of my Bright Idea is Junction Five Creative, and I offer a full range of creative services associated with a design agency, such as brand identity, brochures, signage & displays, illustration, websites etc. The idea behind the brand is a Junction; where things come together ie ideas and creativity and I have also lived near to Junction 5 of the M61 for the last 49 years!
Winning the Award gave me a much-needed confidence boost after what had been an awful year. The funding has already gone towards the creative software that I need for a year, as it is an annual subscription, along with my own website and a high capacity back-up drive. The rest will go towards any other ongoing costs I may encounter along the way. I hope to create a successful small business creating brand identities and everything that comes with it for small to medium enterprises. Working for myself would hopefully offer me more flexibility to work as many hours as I feel comfortable with and manage treatments and give a better work/life balance.
ShannonAnn's photography passion
Photography has been my hobby for as long as I can remember. I love the fact you can capture a memory and look back at it in years to come. I've always wanted to turn my passion into a career. I was interested in the Helen Barrett Bright Idea Award as I knew it could help me get that one step further towards making something of myself.
The funding from this Award will help me buy more equipment, software and develop my brand, and will also help me gain more confidence in my photography. You can find all my work on my website. I feel so incredibly grateful winning this Award; I felt like I wasn't good enough to pursue my photography any further, and the realization that this grant could help me get to where I want to be in life is amazing.
I also set up the #cfphotochallenge last year, as a way for CF warriors to be creative during lockdown. I hope this challenge also raises awareness, as well as other people getting creative and sharing my passion for photography.
Kate's ceramic landscapes
I have had a passion for art ever since I was young. I completed my degree in Art & Design in 2002 and subsequently worked within the museum sector for a number of years. I began working with clay as a therapeutic antidote to the stresses of work and life, but became fascinated by the creative process of making ceramic art.
My work has developed over time, as I continuously explore the relationship between colour and texture, with particular emphasis on ceramic materials, glaze reactions and natural processes. Using glazes and oxides in a painterly way, the detail and intricacies of the low relief technique brings a unique aesthetic quality to each piece. Inspired by the natural environments of Lincolnshire and Yorkshire, I look to local land and seascapes as inspiration for my work, creating abstract versions of the world surrounding me.
The Helen Barrett Awards are a wonderful platform to allow small businesses to grow and improve. With the grant money, I would like to continue working with clay, glazes and oxides and develop my ceramic artwork further, aspiring to eventually exhibit my pieces in art galleries. My primary aim for the next year is to improve my social media presence through Instagram and Facebook and develop my website, as a platform to market and sell my work.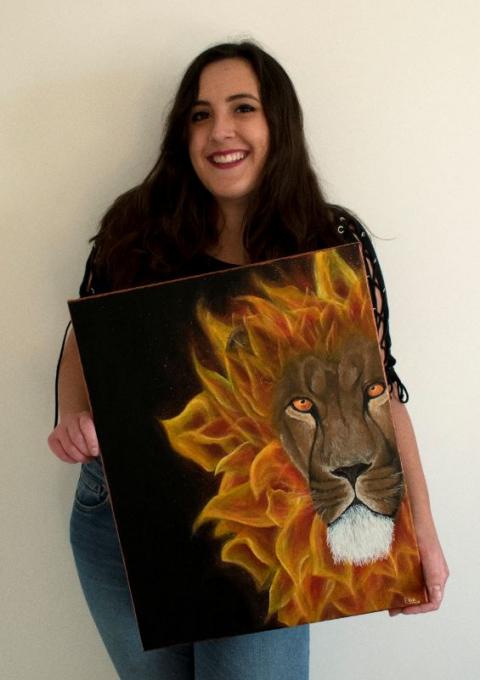 Ellie's fantastical paintings
I love being artistic and painting is my happy place. Some of my earliest memories are of painting with my dad and grandad, who taught me how. My art is inspired by mythology from all over the world, from right here in the United Kingdom to the far reaches of Tibet. Painting is something that I can do regardless of my health, so I would love to be able to make it into a career.
There are quite a lot of set-up costs involved in selling limited edition fine art prints, so when I found the Helen Barrett Award I was very excited. I loved the idea of a platform to support independent businesses created by people with cystic fibrosis. When I read through previous winners and saw all of the fantastic creative ideas, I thought perhaps my fledgling business would fit in.
It means the world to me that I have been chosen from amongst so many applicants. The Helen Barratt Award has given me the ability to set my business up on a solid foundation that can support my future. Every print I sell is one step closer to my dream of creating art full time, and the Award will allow me to reach so many more people and hopefully paint many more paintings! You can find me on Instagram and Facebook (@EllieWilkinsonArt), and buy prints on my website.
Callum's unique t-shirts
My Bright Idea is to expand the business venture my partner and I have recently set up during lockdown. We were sat one night browsing Facebook when we stumbled upon an idea to begin printing t-shirts for niche markets. We had the equipment to make up some samples and so far sold some t-shirts and started creating more designs. 
With the funding from the Award, we plan to invest the money into a sublimation printer so the designs we print can become more intricate and full of colour. I'd also like to grow our clothing range. 
You can check out our t-shirt on our website or our Facebook page.
Research we fund
We fund research to tackle some of the most pressing issues in CF today. Find out how your donations are making a difference.
What is CF?
Cystic fibrosis, or CF, affects the lungs, digestive system and other organs, and there are over 10,600 people living with it in the UK.
Contact us
Get in touch with us to speak to someone on our Helpline, find out about an event or speak to our Press Team.